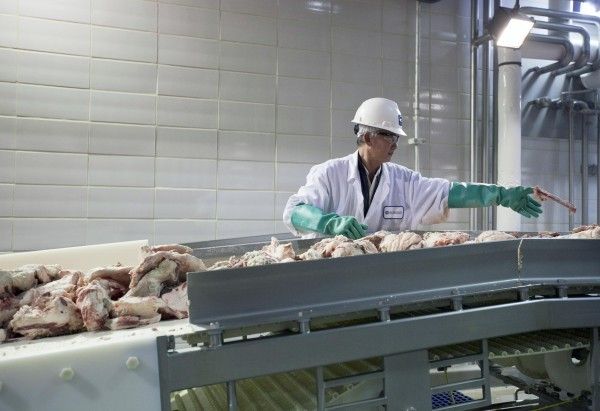 SIOUX CITY | With global beef supplies pinched, Beef Products Inc. continues to regain business lost to a media-driven controversy over its signature lean beef product, an executive for the Dakota Dunes-based firm said Monday.
"Our business continues to grow," Craig Letch, BPI's director of food quality and food safety, told the Sioux City Rotary Club. "Demand continues to grow,"
In 2012, BPI closed three of its four plants after losing more than $400 million in business in the aftermath of a series of news reports and social media postings that cast its Lean Finely Textured Beef in a negative light.
Only the South Sioux City plant continues to process LFTB, which is mixed with conventional ground beef to create a product up to 95 percent lean.
The South Sioux plant employs about 450. Companywide, BPI's employment now stands at 673, Letch said. More than 100 jobs have been added since the 2012 downturn that forced a series of layoffs, he said.
"We're a strong, healthy company," Letch, the son-in-law of BPI co-founders Eldon and Regina Roth, told the Rotarians on Monday. "We're 100 percent dedicated to Siouxland. We're 100 percent dedicated to our business, and we continue to prosper."
BPI adds $400 million to $500 million per year in value to the beef industry, he said. That's particularly significant with the industry's current constraints.
You have free articles remaining.
With domestic cattle herds falling to their lowest levels since the 1950s, lean beef supplies have tightened, causing consumer prices to more than double in recent years.
BPI's high-tech, largely automated equipment separates lean beef from fatty trimmings from slaughter plants after carcasses are cut into steaks or roasts.
The bits of lean meat are heated and separated from the fat with a centrifuge before being treated with small amounts of ammonium hydroxide gas to kill E. coli and other potentially deadly pathogens. The meat is quick frozen in large rolls and packaged and shipped to customers.
Letch said the company is working to restart production of LFTB at its Garden City, Kansas, plant. A year ago, the company reopened the plant in southwest Kansas to collect trimmings from an adjacent Tyson Fresh Meats beef plant.
The added trimmings have been sent to BPI's South Sioux City plant, which also gets trimmings from Tyson's flagship beef plant in neighboring Dakota City.
During Monday's Rotary meeting at the Sioux City Convention Center, Letch deferred questions about BPI's ongoing litigation with ABC News.
In September 2012, BPI sued ABC News and other defendants for $1.2 billion in damages, claiming the network's coverage of LFTB in March 2012 defamed the product, causing consumers to mistakenly believe it was unsafe. In a series of reports, the network anchors and reporters repeatedly referred to the product as "pink slime."
The civil suit is currently in the discovery phase, with trial set for 2017 in Union County Circuit Court in Elk Point, South Dakota.