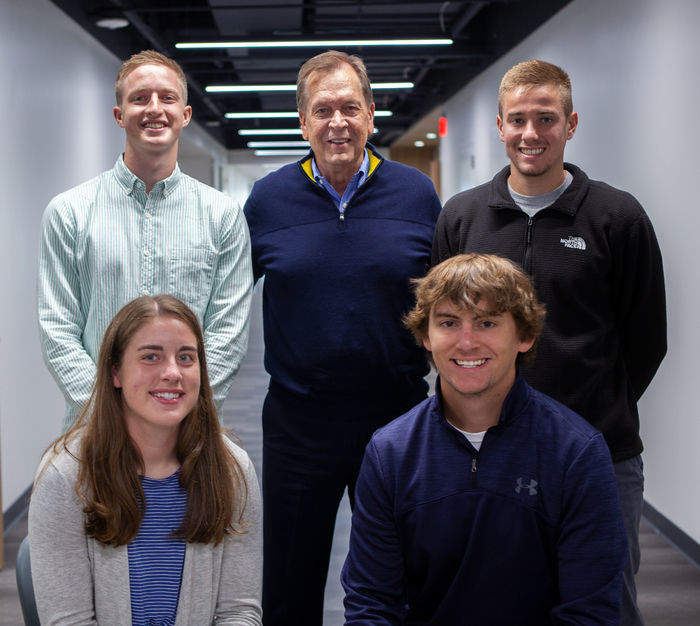 OKOBOJI, Iowa – Four Buena Vista University students participated in the annual Okoboji Entrepreneurial Institute (OEI) at the Iowa Lakeside Laboratory on West Lake Okoboji.
Students participating included: Tyler Tennyson, a senior from Truman, Minnesota; Hannah Wuebker, a junior from Grimes, Iowa; Lincoln Rock, a junior from Peterson, Iowa; and Joe Lind, a senior from Belton, Missouri.
OEI is an advanced study of entrepreneurship covering entrepreneurial simulation, seminars with business and community leaders, and networking and mentoring to enhance understanding of entrepreneurship opportunities in Iowa.
"I've been to entrepreneurship workshops, bootcamps, seminars, academic and experiential learning programs like this in the past, and this was, as good as the best I've seen. I especially enjoyed the many comments from conference facilitators praising and acknowledging the strength of our students and their engagement," says Gary Sterling, BVU instructor of management and director of the Donald F. and Charlene K. Lamberti Center for Rural Entrepreneurship. "Everything done at the Okoboji Entrepreneurial Institute allowed students to put their classroom knowledge to work in cooperating to get an entrepreneurial venture going."
You have free articles remaining.
The Institute is a cooperative effort of the Iowa Lakes Corridor Development Corporation, the Iowa Board of Regents, Iowa Department of Economic Development, and the Pappajohn Entrepreneurial Centers serving the University of Iowa, Iowa State University, and the University of Northern Iowa. Thirty-two students participate, coming from BVU, Iowa, UNI, and Iowa State.
"The OEI was something I will never forget," says Tennyson, an accounting and business double major. "I learned so many things that will benefit me when it comes time for me to find a job after college. My main reason for applying to the OEI program was to network, and the networking opportunities it gave me were incredible."
"Thank you for the opportunity to attend OEI! I honestly had no idea what I was getting myself into and was a little skeptical of how it would be, but as the days went by, I realized everyone was right when they said these days would be a life-changing experience," says Hannah Wuebker, an accounting and business double major.
"OEI was an amazing experience. I was able to expand my business knowledge with the start-up simulation and pitch the business to real venture capitalists," says Lincoln Rock, a distributive major in business and a member of the winning team. "I'm thankful BVU allowed me this opportunity."
"When you are not in the class, you are either with your host family or at networking events," says Lind, who studies financial decision making and sport business. "All host families are extremely kind and awesome people. They let us into their beautiful homes and offer up a great place to stay. At the networking events you will meet a ton of successful entrepreneurs. Overall, OEI was the best part of my summer."