SIOUX CITY -- City officials have confirmed that construction on a long-awaited ALDI grocery store has begun at the corner of Floyd Boulevard and Outer Drive, but the company has largely declined to reveal much information about it. 
Sioux City Mayor Bob Scott said at a June City Council meeting that the company was "getting ready to build" on the parcel, part of the city's Northern Valley Crossing development. ALDI paid the city $775,000 for the 2.61-acre lot in 2018. 
Economic & Community Development Director Marty Dougherty said construction on the store began "in earnest" in June.
Recently the community seems to have rekindled its interest in the new grocery store, and Dougherty -- something of a local purveyor of ALDI information and news -- said he's fielded more than a few ALDI-related phone calls. 
"Over the last few months, people keep calling. They must really like the store. So, that's good right?" Dougherty said. 
The store is expected to be roughly 22,000 square feet and employ around 15 people, according to city documents. It would be situated squarely at the corner of Floyd and Outer Drive, not far from the Pizza Ranch. 
For its part, ALDI -- a German discount supermarket chain with a massive U.S. presence -- has said little on the subject of the Sioux City store during the past two years. 
"Thanks for your interest in ALDI. At this time, we do not have any information to share about ALDI opening a new store in Sioux City, Iowa. As soon as there are any updates to share, we will reach out," Matt Lilla, Faribault division vice president for ALDI, wrote in a statement June 30.
But 2019 came and went, and there was no ALDI in Sioux City. In August, a Facebook user asked the company in a post when it would open a Sioux City location. The company's response seemed to conflict with its announcement the year prior. 
"We don't have any plans for a Sioux City store right now, but we'll let our real estate team know that you're interested! Thank you for reaching out with your suggestion!" ALDI USA wrote in its reply. 
In written statements in 2019 and in January of this year, Lilla said there would be a Sioux City store opening in 2020, but he provided few other details other than to confirm the store would open by the end of the year.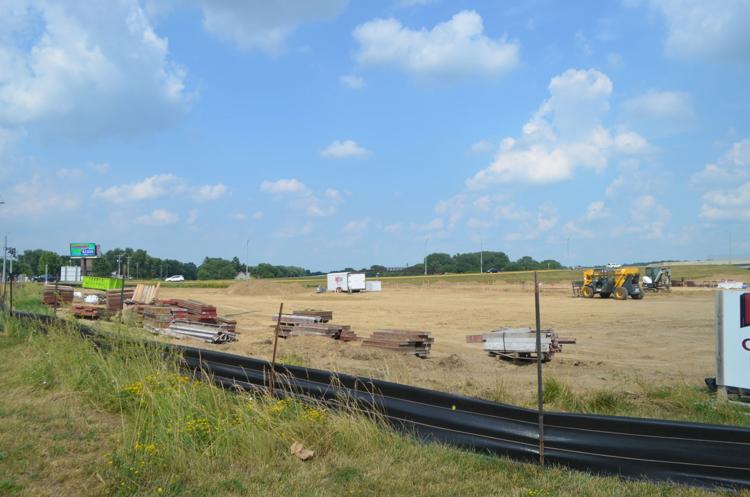 Though the public generally has been aware of the store's probable location for some time, ALDI never really publicized where it would be; the company did acknowledge the site back in 2018, in a development agreement with the city.
The store's location is one of the ALDI inquiries often fielded by Dougherty. 
"I told them, would you please put a sign up?" he said with a laugh. "They said they would be putting a sign up shortly, so people can tell exactly where it is."
ALDI has engaged in a huge expansion across the U.S. during recent years. As of 2018, the company planned to spend $1.6 billion to remodel 1,300 existing stores by 2020 and announced a $3.4 billion capital investment to expand to 2,500 stores nationwide by the end of 2022.
Their supermarkets are known for their modest physical footprints and highly efficient operations -- shoppers have to deposit a quarter to use a shopping cart, and bag (or, commonly, box) their own groceries. The vast majority of ALDI merchandise consists of in-house brands. 
The postponement of the store's arrival in Sioux City has generally been attributed to a lengthy delay in obtaining a U.S. Army Corps of Engineers permit to build the store in the vicinity of the Floyd River. 
Dougherty said the delay was largely, or at least partly, the result of a Corps of Engineers clerical issue, and he stressed that the area is not under any particular flood risk -- the Corps had a backlog of permits during 2018, for reasons that are not quite clear. 
"A couple years ago, the Corps was very far behind in all those," Dougherty said. 
"They (ALDI) always intended to build here, but there was a delay related to getting a permit," he added. 
Though the company has never confirmed this, it appears possible that ALDI could eventually build more than one location in the Sioux City area. 
In many of the metros in this region where ALDI has built a store, it has built more than one, though some are scattered into the suburbs. The Omaha and Des Moines metro areas each have eight ALDI locations (or more if locations farther outside the city limits are counted), while Sioux Falls has three. 
"We anticipate there'll be other stores around the area," Dougherty said, though he cautioned that he couldn't speak to any specific expansion plans. 
The business news you need
With a weekly newsletter looking back at local history.