MARCUS, Iowa — Lisa Frye of Storm Lake, Iowa, drove nearly an hour Monday to check out Marcus Lumber Co.'s new and improved store and she wasn't disappointed.
"I think it looks awesome," she said. "I love all the models."
The home improvement store named after the Cherokee County town it is housed in recently underwent an extensive remodel and expansion aimed at making the family-owned business a destination retailer akin to Cabela's or Nebraska Furniture Mart.
"We're trying to be a dealer where we can draw people in from a large area," said Grant Leavitt, a fourth-generation member of the Leavitt family, which has owned the 137-year-old business since 1920.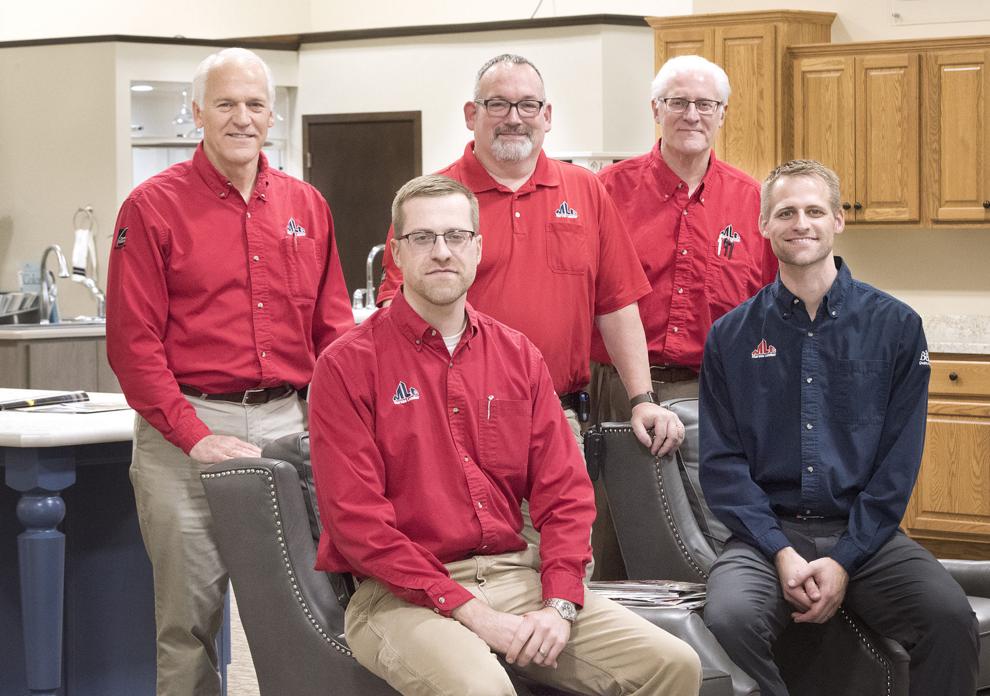 Entering the 25,500-square-foot store, visitors see the typical markings of a hardware store: Tools and accessories on one side of the building and a cashier/office area on the other.
However, where Marcus Lumber starts to stand out is in its wide center aisle, which provides a direct path to the store's immersive and expansive showroom aka its "wow factor."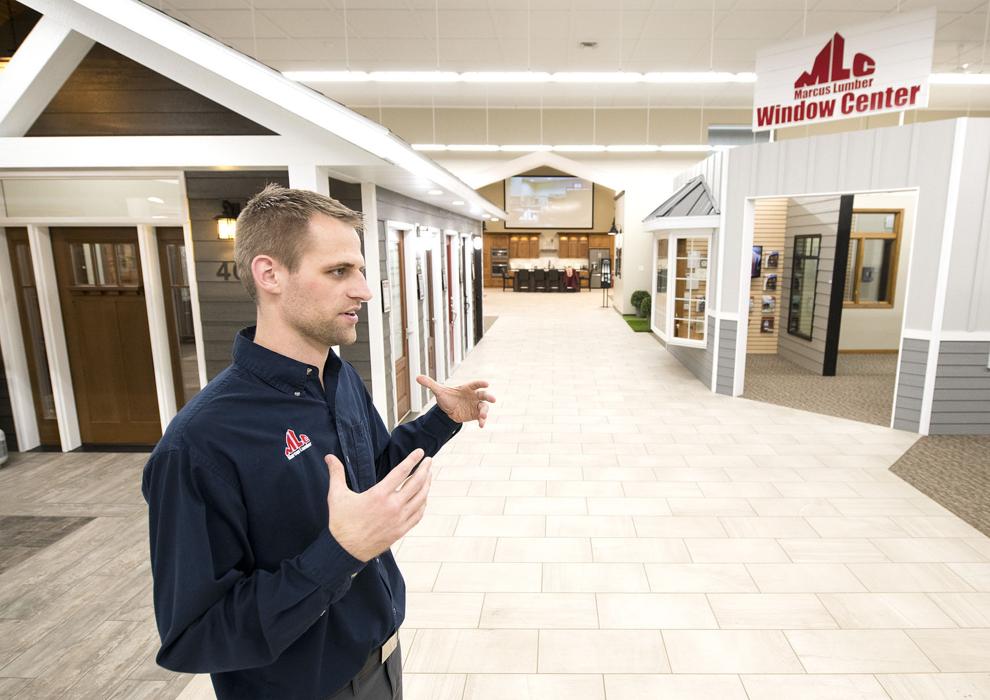 Entering the area, customers can find a window center with 30 installed models on display that look like they were sawed off of a house and drug into the store.
This portion of the showroom also features home-like structures equipped with siding and stone, 80 types of doors including exterior, interior, patio and storm doors and a composite deck complete with artificial turf and photorealistic picturesque view of a quaint forest.
Although Marcus Lumber offers the traditional browsing options often found in similar stores such as paint swatches and catalogs, the Leavitts wanted to offer next level product visualization to customers.
"Customers have a hard time making decisions," Grant Leavitt said. "So we tried to create as realistic set-ups as possible."
Another highlight of the improved showroom is a fully-functional test kitchen that sits beneath a 12-foot wide screen that showcases the store's ads and can tune into a camera stationed above it. One of a dozen kitchen displays, this model will be used for demonstrations and event hosting.
There also are 27 bathroom vanities, working shower and faucet displays and an in-house interior designer who can help customers create their dream room and then view it in 3-D through a virtual reality app.
Grant Leavitt noted the store does well in bringing in customers from Le Mars, about 20 miles west of Marcus, but if it wants to attract people from Sioux City and other distant communities ownership had to give them a reason to come.
"We wanted to try and create something that's so special and so different that this store in itself is worth driving 45 miles to," he said. "That's what kind of drew our desire to have a better showroom to show off things."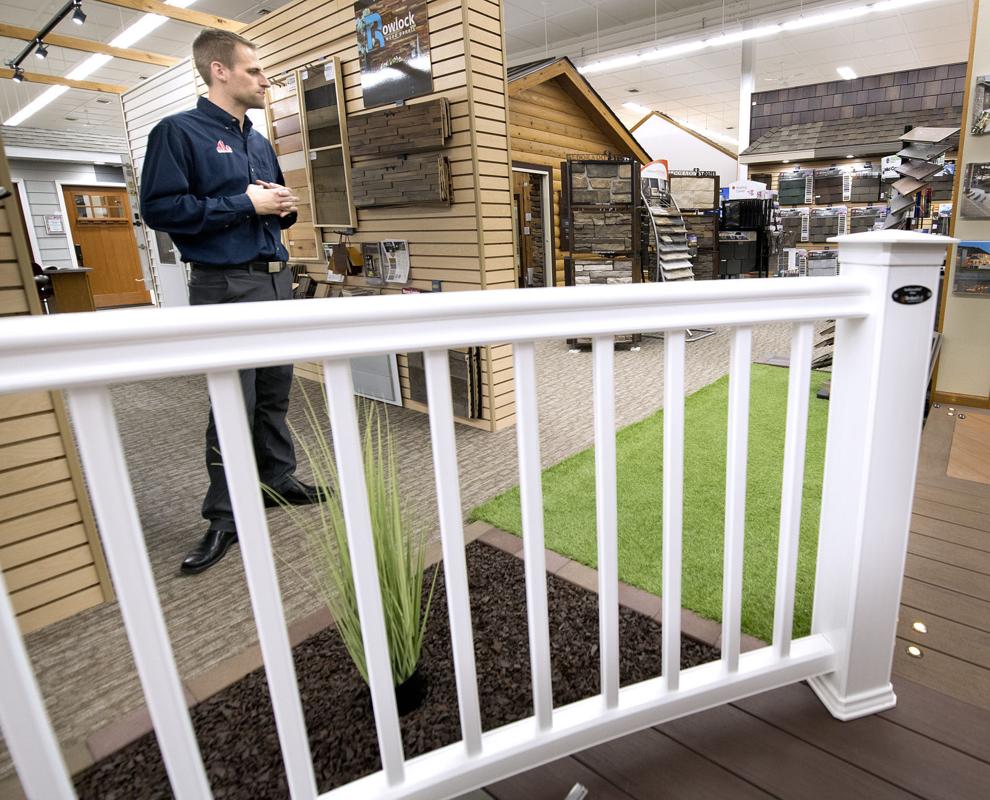 It took about a year for the new showroom, part of a 7,500 square-foot expansion, to be physically completed but the planning of it dates back further.
Grant Leavitt said he and other members of the family traveled across the country to builder shows and other independent hardware stores to find the best concepts so they could implement them at Marcus Lumber.
One store that really struck a chord with him was Hartville Hardware in Ohio, a 305,000-square-foot family-owned hardware store that bills itself as America's largest.
This recent project is the second major revamp the store had undergone in a little more than a decade.
A 2004 fire wiped out Marcus Lumber's primary lumber shed and shop buildings, which were part of the store's complex that now stretches about a block and half on the north side of town.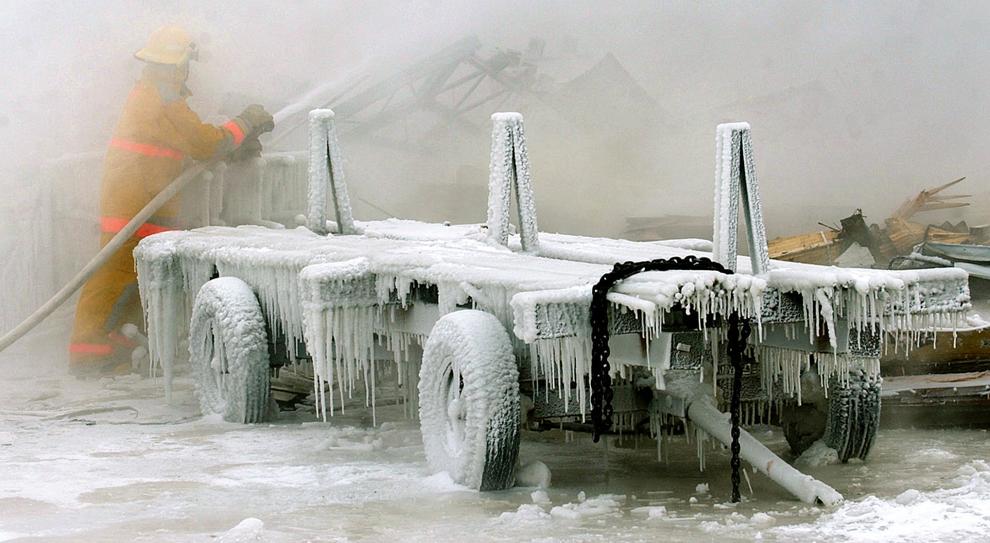 Instead of rebuilding things as they were after the fire, the Leavitts chose to build a new 18,000-square-foot store/office over the space where the previous buildings were.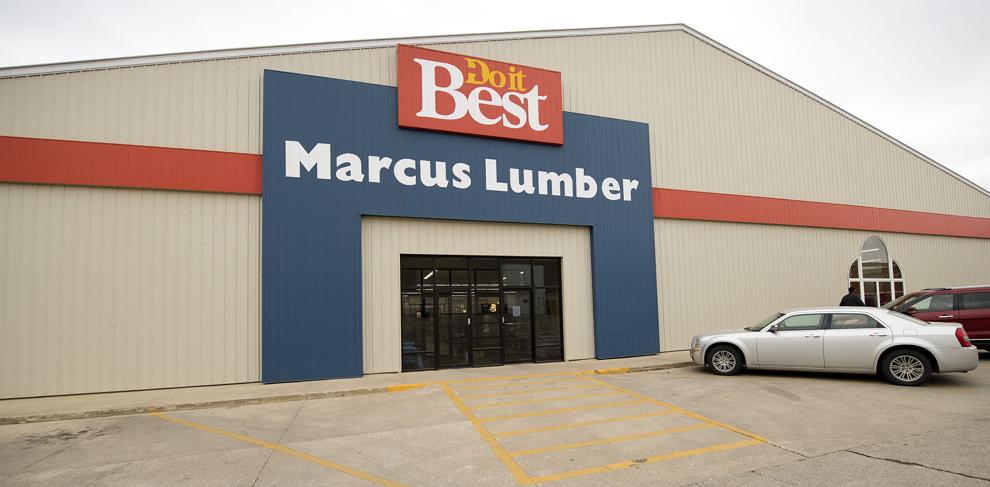 "We were actually in the process of expanding our existing store when the fire happened and no one was really happy with the layout at that time," Grant Leavitt said. "It was a blessing in disguise, they just said, 'Hey, no one is super pumped about the layout we had to go with here, we can just flip-flop and build the whole thing here exactly how we want it and turn this into warehouse?', and they just jumped at the chance."
Inadvertently, the fire that leveled multiple structures at Marcus Lumber is what set in motion the major expansion a little more than a dozen years later.
"In a family business that's four generations, there's always a little bit of, 'Hey, what about 10 years from now, 20 years from now? If we want to grow, will there be space?', and that kind of thing," Grant Leavitt said. "So I think there was some consideration (for future growth) you never really know, but it was a hope for sure."
The third generation of Leavitts involved in Marcus Lumber — Bob, Tom and Jim —  took a chance more than a dozen years ago and it paid off.
This expansion was spearheaded by the fourth generation, which also includes Grant's brother, Clay. Although it was pricey and bold, Grant Leavitt thinks that decision is already paying off.
"It was obviously a significant investment for our company and we feel like it's definitely going to pay dividends in just the short-term based on the success we've so far early on," he said.