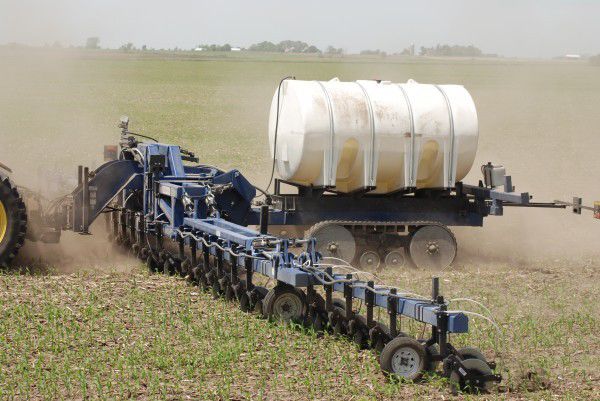 THURSTON, Neb. -- An Ohio-based manufacturer said Tuesday it has signed a letter of intent to buy the Blu-Jet line of fertilizer applicators, tillage equipment and other products made by Thurston Manufacturing.
Upon successful completion of the sale, Unverferth Manufacturing Co. would move the Blu-Jet manufacturing from northeast Nebraska to Unverferth's plants in Kalida and Delphos, Ohio, and Shell Rock, Iowa.
"Blu-Jet products will expand our current offerings in fertilizer application and tillage products and bring a wider variety of quality implements to offer agricultural producers and suppliers across North America," Unverferth President Larry Unverferth said in a statement. "As with other lines we have brought into the Unverferth product family, we envision continuing with the Blu-Jet brand and its strong heritage that has been built and nurtured by the Jensen family since 1971."
In January, Thurston filed for Chapter 11 bankruptcy protection from creditors. The 20 largest unsecured claims who are not insiders listed in the petition were owed more than $1.2 million. In a motion filed Tuesday, the company petitioned the court to approve the sale of intellectual property and related assets, including the "Blu-Jet product line and all business operations."
Terms of the Thurston-Unverferth deal, facilitated by Tim Meyer, CEO of the investment banking firm Equity Advisors, were not disclosed. Unverferth and Thurston said they will "work diligently" to provide uninterrupted product manufacturing and service for customers during the transition period. 
SPENCER, Iowa -- Three decades after taking over two failed savings and loan institutions here, Spencer-based Northwest Bank is consolidating …
Thurston officials declined to say how many workers would be affected by the sale or whether the facility in Thurston would remain open after the sale of the Blu-Jet line. The plant, which has been expanded over the years, also makes a line of attachments for skid steer loaders and does contract manufacturing for other firms. 
You have free articles remaining.
Thurston Manufacturing also conducts business as Simonsen Iron Works, which it acquired in May 2013.
Operating in a town with a population of less than 140, the majority of the workers commuted daily from other area cities.
A third-generation family business, Thurston Manufacturing was founded in 1971 by Wayne Jensen, who got his start developing a self-coupling hitch for tractors and wagons.
SIOUX CITY -- Shopko, a mainstay at the Marketplace Mall, officially closed for business Sunday, a representative with the local store confirmed.
The business later started producing injection tool bars for applying anhydrous, liquid and dry forms of nitrogen fertilizer, a nutrient essential for growing corn and other crops. The "Blu-Jet" brand name was derived from the color of the local high school's team colors, and the fast, sleek, or jet-like performance of the hitch.
Thurston President Ryan Jensen, a grandson of the founder, said in a statement that the business is "excited to see the Blu-Jet brand and product offering it has developed over the last 48 years transition to such a well-respected family business that will continue to build on Blu-Jet's strong industry reputation."
Unverferth, headquartered in Kalida, has been in business since 1948.