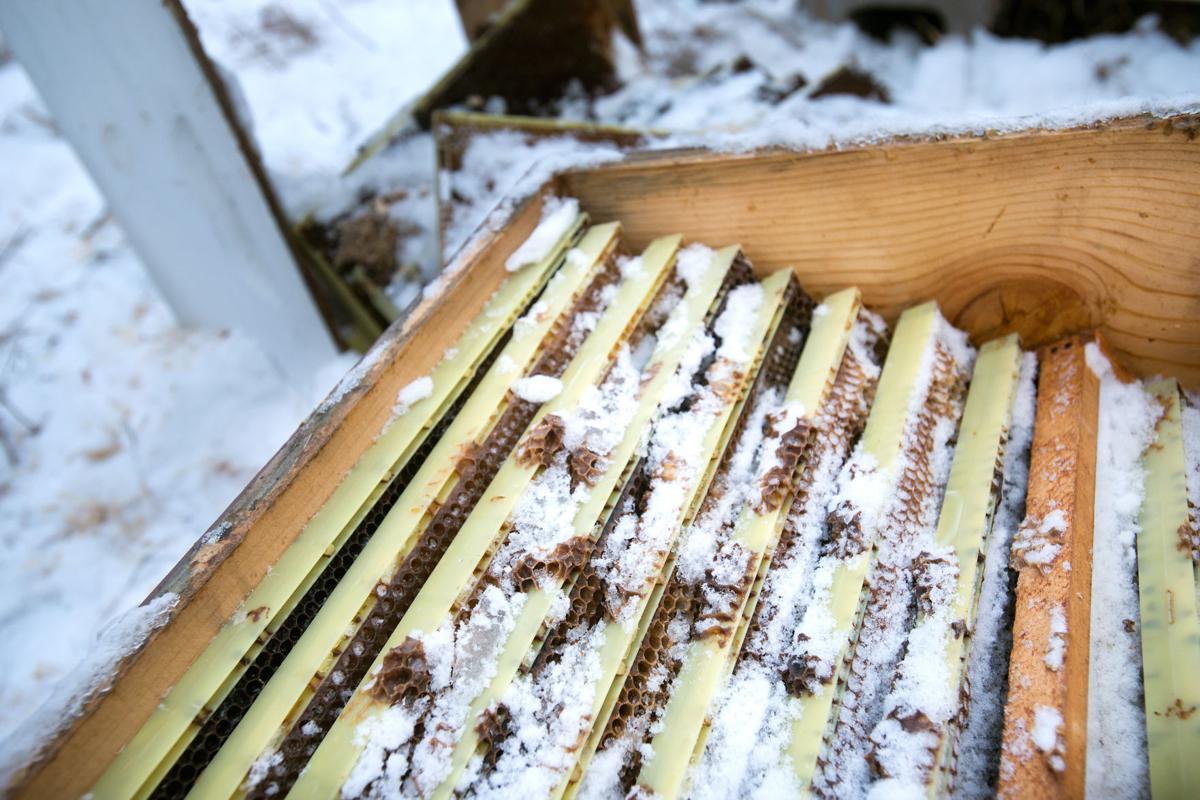 SIOUX CITY | Siouxland spirit -- and dollars -- flowed rapidly Friday to the owners of a Sioux City honey business victimized by vandalism that killed their half million bees.
Justin Englehardt, who runs Wild Hill Honey with his wife, Tori, said Friday the couple "absolutely" plans to restock their hives as early as this spring in light of the public's generosity.
"We are salvaging what we can," Englehardt told the Journal.
How much honeycomb remains will be a major factor in the recovery process, he added, saying, "The wealth of a beekeeper is in his comb."
In an interview 24 hours earlier, Englehardt conceded the outlook "looked really hopeless" and doubted the business could survive such a large financial hit.
As police continued Friday to investigate the crime and pursue leads, the Englehardts rejoiced in the outpouring of community support they've received since The Journal first reported the vandalism. Justin Englehardt said he was amazed by the number of people who flooded his phone with calls and texts and donated to online Go Fund Me accounts established in the couple's names.
As of 7:30 p.m. Friday, a Go Fund Me account approved by the Englehardts had raised about $23,800 from 649 donors.
"Holy smokes," Englehardt said after a Journal reporter shared that $7,400 had been pledged as of noon Friday.  "That is amazing. We are really, really grateful for all the support."
In setting up the Wild Hill-approved account, Todd LaCroix of Sioux City wrote, "Tori and Justin are wonderful people who have just suffered a terrible loss. The destruction of their bees and equipment is not only a financial hardship but has taken an emotional toll as well. Unfortunately, insurance will not cover the loss of the bees and equipment. Any help is appreciated."
A donor who posted a comment on the account said, "I hope that donations and support can get you back up and running."
"Yeah, we'll keep it going," Englehardt told the Journal. "(The donors) will keep us going, actually."
Two smaller Go Fund Me accounts set up in Wild Hill's name had raised $4,838 and $2,568, respectively as of 7:30 p.m., bringing the grand total to $31,200 in less than a day.
Wild Hill's losses were estimated Thursday at $50,000 to $60,000. The hives were not covered by insurance.
Justin Engelhardt discovered the damage after he went to dust snow off the 50 hives, located in a grove on an 18-acre property just south of West High School. The beekeepers' supply shed had been ransacked. Worse, the miscreants had knocked over every single hive, fatally exposing the 500,000 bees to the bitter cold conditions.
After hearing about the public generosity, Engelhardt first predicted the business could start selling honey again by July. After noticing his wife shaking her head, he walked that back a bit, saying sales definitely would resume by 2019.
Wild Hills, started six years ago, markets jars of pure, raw and creamed varieties of honey and other honey byproducts at Pierce Street Coffee Works, Sioux City Gifts, Palmer's Olde Tyme Candy Shoppe, trade shows and other spaces.
The Engelhardts are among the rare beekeepers from a northern state who keep their hives at home during the winter. During cold weather months, most large commercial beekeepers transport their bees to California or Texas to gather nectar from crops there.
Since 2006, when scientists identified what's known as colony collapse disorder, many beekeepers have lost a third or more of their colonies each year.  Government studies blame a combination of factors for the mysterious and dramatic losses, including increased use of pesticides, shrinking habitat, multiple viruses, poor nutrition and genetics.
The continuing losses threaten an estimated $30 billion worth of crops annually that depend on pollination.