DAKOTA DUNES — Less than two years after launching their first coffee shop in Sioux City, the owners of Stone Bru are weeks away from opening store No. 2 in Dakota Dunes.
"Any time you get into a business venture you should plan on growing, and if you're not planning on growing then you're probably dying," said Stone Bru co-owner Brad Lepper, 31.
Lepper and his business partner, Robby Jennings, 30, opened the first Stone Bru on Dec. 17, 2015.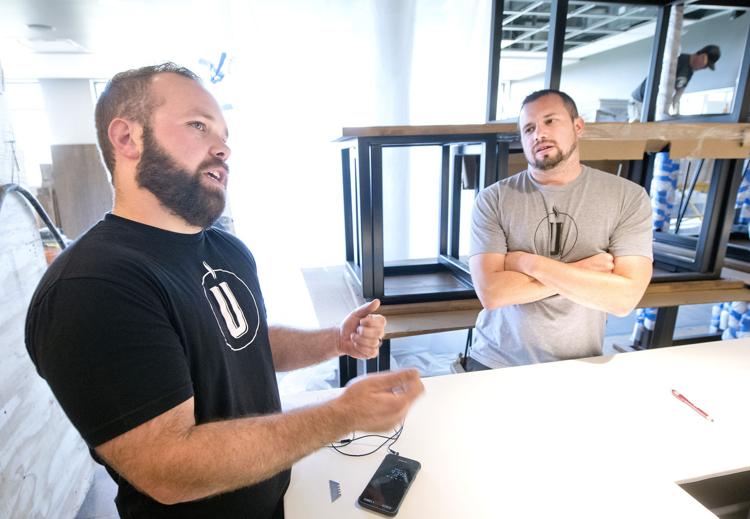 The duo converted a former Burger King at the intersection of Gordon Drive and Stone Avenue into a 600-square-foot organic coffee shop that's quickly become a Morningside staple.
"The location of that shop — it's right by Western Iowa Tech and right across the street from Spalding Elementary — (we thought) it would be a great opportunity and a great location for a coffee shop," Jennings said.
Lepper pointed out that people closer to the mall could frequent Starbucks while people downtown had access to Scooter's Coffee, but there was a void in the Morningside area for access to quality coffee.
Stone Bru's first location is visible from Gordon Drive/Highway 20 and features a drive-thru allowing it to build a following among commuters jonesing for a caffeine fix.
"Gordon runs into (Highway) 20 so you get all of those people from Lawton, Bronson and Moville that come into town for work too," Jennings said. "We get a lot of commuters; a lot of people driving into town for work, they can stop and it's really convenient for them."
In a remarkably short amount of time, Stone Bru has managed to build a name for itself in Sioux City coffee circles.
The company's distinctive logo — a circled capital "U" designed to resemble a coffee mug with a puff a steam rising from it — was initially drawn out on paper by Lepper and his wife, Hannah, who handles marketing duties for the shop. Brad Lepper recalled walking around Home Depot one day wearing a shirt with a logo printed on it and someone in the store approached him and asked if he worked at Stone Bru, an inquiry he answered with a surprised but proud, "Yes!"
Stone Bru's Bru Bar mobile coffee cart also has been seen at various functions throughout Siouxland, including events at the Sioux City Convention Center and Tyson Events Center, giving the upstart coffee shop a lot of exposure.
Lepper noted the mobile cart ventures aren't that profitable, but they serve a great purpose. It gives Stone Bru more visibility and allows potential customers to try the products without having to come directly to the store.
"The main struggle for us has just been — we're not a chain," he said. "Nobody's ever had Stone Bru coffee before, so getting people to come in and try things and take that initial risk of, No. 1, taking that time out of their commute or their day to go somewhere new.
"And then (No. 2), to pay money to try a drink they've never had before; that's always a little bit of a challenge. But it's really cool this year to see from how when we opened in December — it'll almost be two years in December — just the growth, return customers and to know people by name and see them walk in and you know that guy's a triple shot on ice."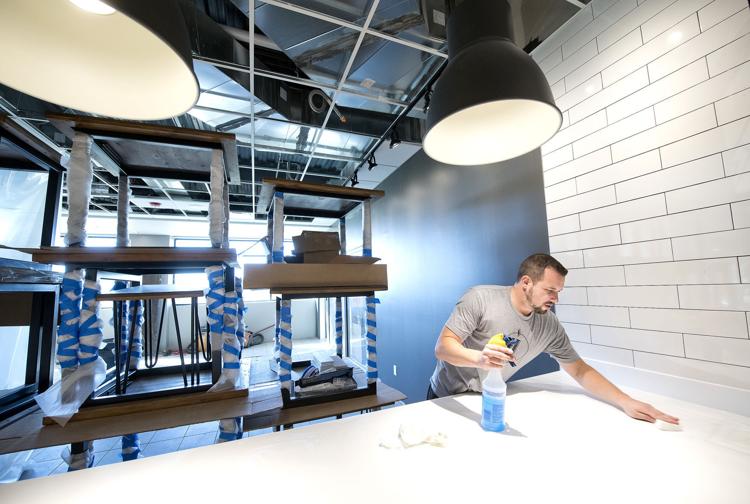 While the location, marketing strategy and customer service have proven fruitful with the success of store No. 1, perhaps the biggest sign of triumph came when the higher-ups at Central Bank approached Stone Bru about opening a second location in the Dunes.
You have free articles remaining.
Stone Bru will occupy about 1,500 square feet on the first floor of the three-story 35,000-square-foot Gold Circle Centre at 400 Golden Circle.
"One thing we're excited about here is there wasn't an opportunity for a drive-thru, but we have seen at our current store that there is a big demand for people that want to come in and just enjoy the coffee shop atmosphere; they want to smell the coffee, they want to listen to the music and sit down at a nice table or a couch and converse with their friends or their family," Lepper said. "That's what this store will really emphasize."
Stone Bru No. 2 will be able to seat about 40 people comfortably indoors and the outdoor patio can seat another 24 patrons. Additionally, when the bank is closed on weekends, there is potential to add more seating in the building's lobby during events.
Additionally, when the bank is closed on weekends, there is potential to add more seating in the building's lobby during events such as live musical performances.
With this second store being more than twice as large as the original, Lepper and Jennings really wanted to go all in on the aesthetic, the equipment and the menu.
Hannah Lepper described the new store's aesthetic as modern industrial with an organic twist. 
The shop will have an open lobby that offers views of the patio and waterfall style fountain near the building's entrance. The store's interior will feature a living wall made of moss, another wall will highlight chalk art from a local artist, and the kitchen area walls will have white subway-style white tiles accented by black cabinetry and black equipment. Some of the new equipment includes a pour over machine shipped over from Ireland and in the counter state-of-the-art espresso machine from La Marzocco USA of Seattle that will be the first of its kind installed in America. 
Even the tables at the new Stone Bru will have an artisan flair to them. Each table was handmade at Ecovet Furniture, an Arkansas-based firm that extensively employs former military members, and uses wood reclaimed from the interiors of a decommissioned semi-trailer to build its products.
The menu was co-curated with chef Kirk Phillips of the Red Steakhouse in Vermillion, South Dakota, and the ingredients used are either all-natural or organic and were locally sourced. An expanded menu is something Stone Bru's ownership wanted at the new store, and customers can dine on a variety of breakfast items, soups and salads.
Some of the entrees include an artisan breakfast bagel composed of applewood bacon, an heirloom tomato, sharp Tillamook cheddar and a farm fresh egg; a roasted tomato bisque featuring garlic croutons, virgin olive oil and fresh herbs; and a kale & farro Caesar salad made up of blanched and roasted farro – a type of grain – shredded kale, house-made Caesar dressing and parmesan croutons.
While the coffee shop is an obvious amenity to the people who will work in the office building it's housed in and other nearby office workers, Lepper also hopes it will entice Dunes residents to pop in for a drink or a quick bite to eat.
"We're bringing in a different clientele that might not already be a customer of Central Bank or might not be looking to buy a house because they're coming here to get a cup of coffee, (and) they remember, 'Oh, maybe I should go check these guys out when I need their services,'" he said.
With a projected opening date of mid-October, both men are excited about the new coffee shop. Plus, if it's a success, it opens the possibility of developing more Stone Bru stores in the future.
"I would love to be able to grow and do more locations; maybe more in Sioux City or even expanding out into other cities too," Lepper said.
"We've got a lot of work to do to get there; we didn't think we'd have two stores in two years, you never know."