SIOUX CITY -- A Sioux Cityan is at the helm of an online company selling hemp-derived cannabidiol (CBD) extracts and products. 
Nukana, a Denver-based online seller of CBD extracts, was launched by David Hall this summer. A silent partner and investors whom Hall declined to identify helped with the launch. 
The firm ships its products "all over the country," Hall said, including in states that have not yet legalized medical cannabis products. The firm maintains the hemp-derived CBD is legal in the United States, no prescription necessary. 
The U.S. Drug Enforcement Agency's position on CBD extracts could be best described as unclear. In September, the agency approved Epidiolex, a CBD-based epilepsy drug manufactured by GW Pharmaceuticals. An October report on the subject by Men's Health magazine indicated that the DEA does not consider CBD products an enforcement priority, though the agency apparently did not green-light all CBD products either. 
Hemp is a close relative of the marijuana plant, but the two are not the same. Hemp typically has little to no tetrahydrocannabinol (THC), the famed substance that is known for giving users a high. Hemp was once widely used for heavy-duty ropes and fabrics. 
The company maintains that its CBD products contain zero (or, very close to zero -- less than .02 percent) THC. Nukana sources its products from "established, well-respected facilities in Colorado, Kentucky and Oregon," according to the Nukana website. 
"Our process that we use uses CO2 to extract CBD from the hemp plant, from industrial hemp," Hall said. "It does not give you that feeling of being high or anything like that. You get the benefits of the CBD, minus the THC." 
CBD has become a hot topic within the healthy-living crowd. The compound has been touted as a treatment for depression and anxiety, epilepsy, skin problems, multiple sclerosis, arthritis and sundry other conditions. 
Hall stressed that Nukana's products have not been evaluated or approved by the Food and Drug Administration, and thus the company cannot make its own claims about what its products do. The company does, however, promote its products (which are technically considered dietary supplements) with the tag line, "A Nu Way to Alleviate Stress & Anxiety." 
"From what we hear from our customers, CBD has huge anti-inflammatory benefits, it has been known to alleviate issues related to pain, we have some migraine sufferers purchase our products," he said. "Obviously, people use it for health supplementation, certain ailments." 
There are currently five products in the Nukana line: Hemp-infused fruit chews "infused with full spectrum CBD extracted only from the finest hemp in Colorado"; Isolate ZERO THC, a CBD tincture available in mint and natural flavors; Full Spectrum, another tincture available in lemon or mint flavors; Full Spectrum Premium CBD soft gels, which contain CBD in gel capsules; and Freeze Cream, described as a "topical analgesic" blended with CBD.
Nukana plans to expand its line with about 15 new products in 2019, Hall said.
Hall declined to disclose any of the firm's sales figures to date.
One Nukana customer is Maddy Boehme, a Le Mars resident and Western Iowa Tech Community College student. Boehme suffers autoimmune encephalitis, a rare condition immune system glitch. 
Doctors diagnosed Boehme's condition five years ago, when she was 16. 
"Basically, in a nutshell, my body mistakenly attacks my brain, and it causes a lot of psychological problems, neurological problems, and also a lot of pain," Boehme said. One of her symptoms is a "burning sensation" inside her head.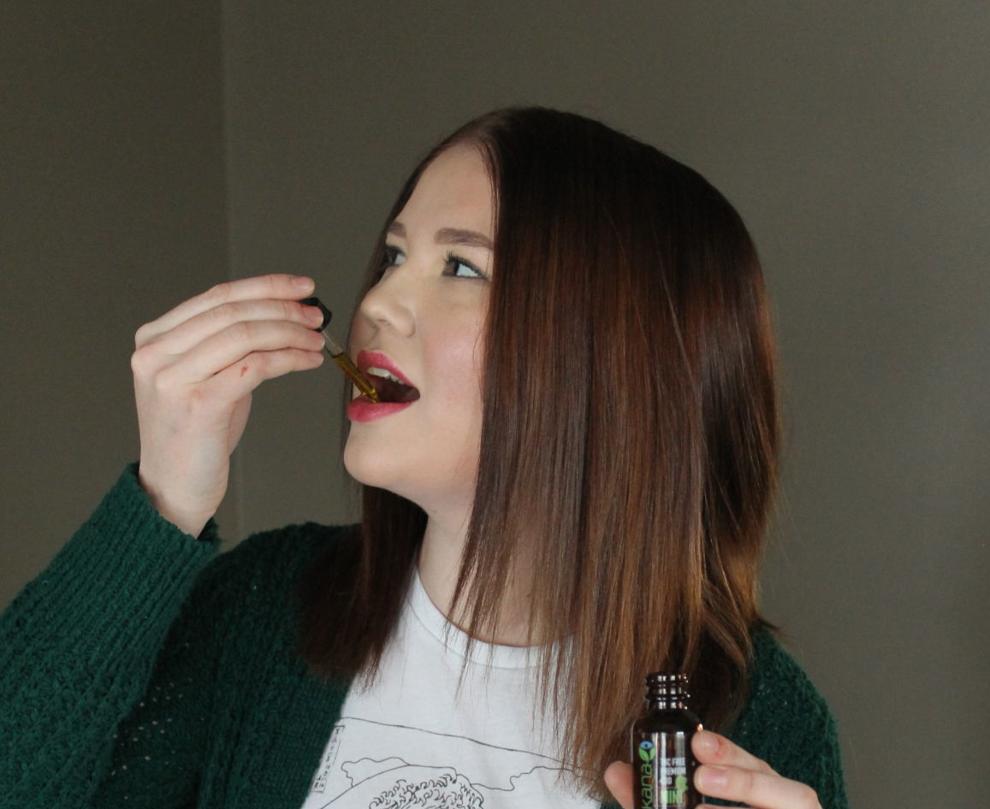 "Oftentimes I would go to the ER, and they would load me up with pain meds, and none of those would touch the burning pain. The only thing I really found to help my burning pain was to put ice packs on my head, and even that wouldn't help me sometimes," she said. 
Desperate for relief, Boehme turned to CBD extracts, having learned about the compound through online groups of autoimmune encephalitis patients. "I was like, 'Well, why not give it a try?'"
CBD was "such a huge game changer," for Boehme, relieving some of her symptoms -- though is not a cure and she still has burning pains occasionally. 
"It very much gave me a lot of my life back," she said. "It's been great stuff for me." 
Before CBD, she says her pain levels prevented her from driving and going to school. 
"Pretty much every single day, I would end up at least halfway through the day if I was lucky, I would end up in my bed at home with ice packs on my head just from the burning pain," she said. Now Boehme says, she's been able to go to classes at WITCC and have a social life. 
She found out about Nukana this summer through Hall's silent partner. She said Hall and company have been very professional suppliers, helping her determine suitable dosages and advising on the different properties and routes of action of their products. 
"They very much have a drive and a passion to change people's lives," Boehme said. 
Sometime in January, Nukana is planning to host a forum in this area to discuss its products with the public. 
"We're going to bring some people in from Colorado to talk about what they do, how they do it, how our products are manufactured, questions about the legal space of CBD," he said. 
Copyright 2018 The Sioux City Journal. All rights reserved. This material may not be published, broadcast, rewritten or redistributed.