SIOUX CITY — A towering new addition to Floyd Boulevard Walmart Supercenter in Sioux City is an example of the retail giant's commitment to its traditional retail roots and growing its e-commerce business.
Debuting earlier this month, the Pickup Tower is the first of its kind in Iowa and one of just a handful nationwide. The 16-foot-tall orange structure is designed to expedite the shopping process.
"The tower works with any general merchandise item a customer orders online and chooses to pick up in the store," said Walmart spokesperson Justin Rushing. "This works whether you are ordering an item that needs to be shipped to the store or choosing one of our same-day pickup items, which are based on in-store availability. After the customer scans the barcode, the item is delivered in seconds through the tower."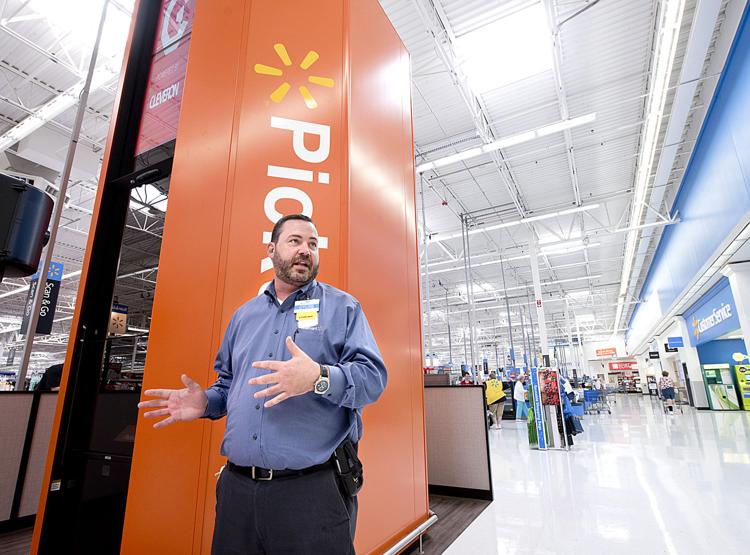 Customers receive their barcodes via email and the tower can store items about the size of a microwave. For larger items, a Walmart associate will deliver it to the customer after they scan in their barcode.
"We know speed and convenience are important to our customers, and the Pickup Tower is another way for people to save time and money," Rushing said. "The Pickup Tower allows our customers to pick up their items when it's most convenient for them, regardless of whether the pickup desk is open in the store. Items are also delivered in seconds through the tower, which helps them save time."
The Pickup Tower is the centerpiece of an overall remodel of the Floyd Boulevard store designed to make it more accessible, less cluttered, customer-oriented and tech-friendly.
Nationwide, the Bentonville, Arkansas-based company is spending about $6 billion on improvements to its stores this fiscal year.
Another noticeable change to the Floyd Boulevard Walmart that store manager Cylas Hall noted is the Online Grocery Pickup area, another featured aimed at digital shoppers.
After ordering through Walmart.com, a customer drives to their local store for a scheduled pick-up time and an associate brings out the groceries.
"That's also been a huge success at our store," Hall said. "We started that about a month, month and a half ago and saw great results right away. That business continues to grow and the customer feedback with that has also been extremely positive."
For customers who still prefer to do their shopping in person, the store has added more Scan-and-Go checkout lanes — including belted variations — and still maintains 16 manually manned registers.
"It's been a big success with our customers as well," Hall said of the additional Scan-and-Go lanes. "It's been great and adds a lot of convenience for our customers."
Hall said the impetus for a lot of these changes is the evolution of shopper's habits and their desire to save time as well as money.
"One of the things the company has done is listen to our customers," he said. "Anymore, with our busy schedules, time is one of the most important things we can get back for our customers and this is a great example."
Hall said the remodel of the 201,000-square-foot store started in April and wrapped up this month. Nearly every area of the retail center saw alterations of some magnitude.
The store's electronics department was revitalized and features interactive displays of popular products, including cellphones, tablets and laptop computers.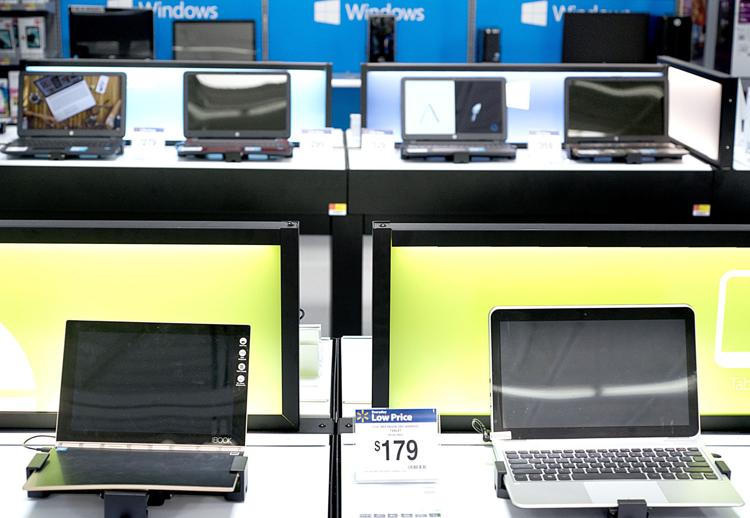 The automotive and tool departments were melded to create a more well-rounded hardware department that sells items that were previously not found in Walmart.
A private consultation room was added to the pharmacy area and more registers were added to the revamped MoneyCenter.
In addition to the big changes, Hall said a lot of minor things like updated fixtures, flooring and new signage were added during the three-month process.
"I think our customers were really excited about the changes," he said. "...We worked three different shifts each day to make sure we minimized those disruptions for the customer and I think the overall product — the overall store — has turned out to be an exceptional, exceptional addition to the community."
The business news you need
With a weekly newsletter looking back at local history.