SIOUX CITY -- In a relatively short span of time this year, Bernabe Mendoza went from having little experience making horchata to struggling to keep up with the crazed demand for his bottled dairy beverage. 
Mendoza, 29, started selling his "Lovechata"-brand horchata drink earlier this month. At present there are two places selling it -- Maria's Supermarket, 2205 Dakota Ave. in South Sioux City, and the Daga's On Wheels food truck. 
Customers seem to love the Lovechata, which Mendoza prepares from scratch in the kitchen of Major's sportsbar at 1012 Fourth St. The bar doesn't really use the kitchen, so it's primarily used to prepare horchata. 
"Can't keep up with demand," Mendoza said. 
Horchata is a sweet drink composed of rice, milk, sugar, vanilla and cinnamon. It's popular in Mexico and Central America, and in the United States as a part of Latin-American cuisine.
Despite its popularity, horchata isn't often bottled and sold on the shelf, the way other dairy treats are, and it isn't something most people make at home every day. "I think that's why the hype is so big," Mendoza said. 
Before he developed Lovechata, Mendoza had felt somewhat disappointed by the horchata he'd had at restaurants. Although neither he nor his family had a special recipe, he was convinced he could do it better.
He had some experience in the world of food processing and distribution, having worked for several years at Wells Enterprises in Le Mars and at empirical foods in South Sioux City. 
"I was like, 'What if I just made my own?'" Mendoza said. 
So he turned to the internet, with its many horchata recopies and tutorial videos. He spent five months finessing his recipe by trial and error ("a lot of error") and a month and a half working on the logo and design of the bottles, in collaboration with some designers he'd contracted via the internet. 
Eventually he settled on a recipe that involves a lengthy rice-washing process, which strips the rice of some of its starch and, he said, improves the texture and flavor. He made arrangements to use the kitchen at Major's and began heavily promoting Lovechatas on social media. 
The process takes roughly an hour, or an hour and a half, to make a batch of four gallons.
The main bottleneck for Lovechata production has been the bottles.
Mendoza has had some trouble getting plastic bottles from a supplier in Ohio and was considering driving straight to Ohio to pick up a large number of them on his own, thus saving on the freight charges and avoiding delays. (He wasn't yet sure whether this plan would actually be cost-effective.) Without bottles, there's no way to get his horchata to the consumer.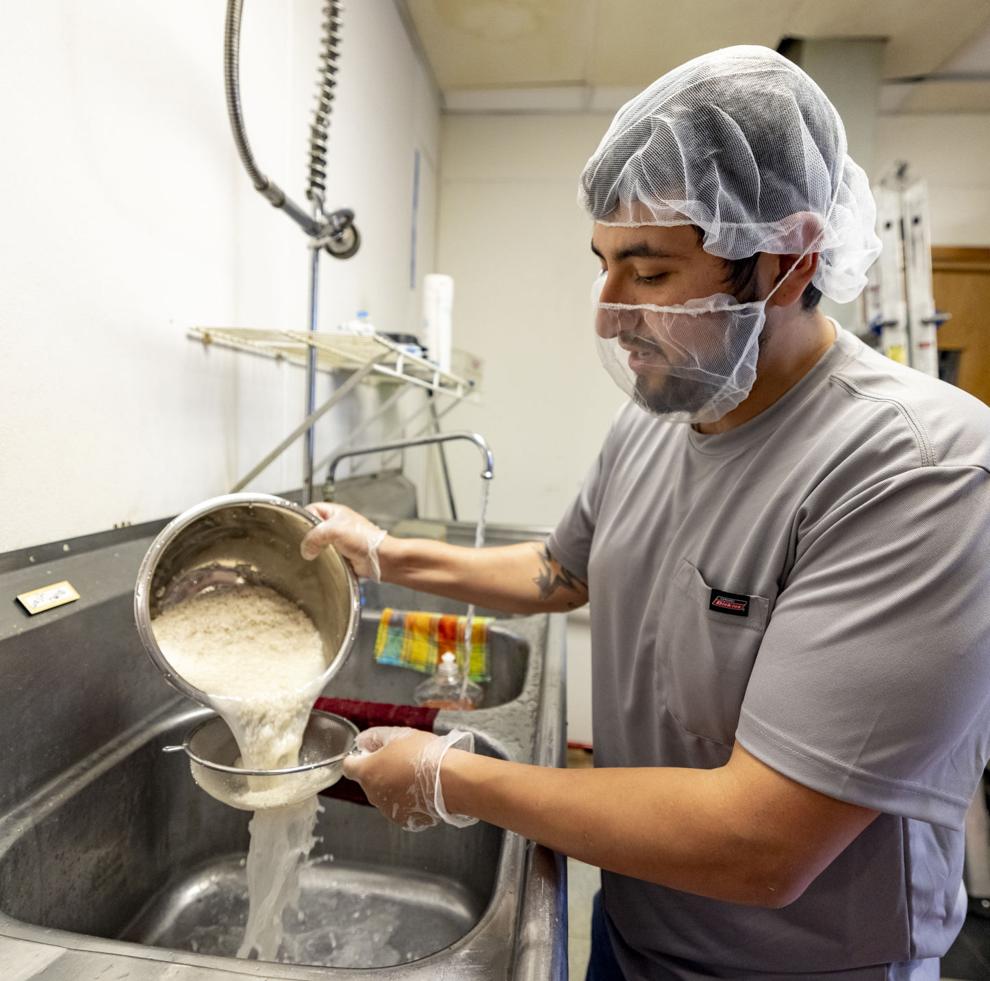 At present, Mendoza is making about 1,200 16-oz bottles of horchata a week, and is testing the shelf stability of four-gallon "party" jugs. It's been flying off the shelf, and apparently there's been some degree of frenzy buying due to the limited availability. 
Mendoza said his horchata has received a lot of positive feedback on social media, although fans sometimes feel disappointed by the limited availability.  
"I'll see pictures of people buying like 10 at a time, 15, just because they know they're not going to have it the next day, or it's going to be out by the end of the day," Mendoza said. "That's how I'm kind of seeing it. Even the store's having people call them, 'Hey, can you save me 10?'" 
For the time being, Mendoza has no plans to sell Lovechatas at any of South Sioux City's other Hispanic grocery stores or the other food trucks, partly because he can't keep up with demand at Maria's and Daga's as it is. He's also worried that the horchata could spoil if there were too many bottles on the shelf at a store where customers didn't buy as many. 
"It costs a lot to do that -- I just haven't looked that far yet. Right now, my biggest battle is keeping both places stocked," he said. 
He also likes the exclusivity of "drops," a modern retail concept popularized by the clothing brand Supreme, in which limited-availability merchandise suddenly comes available for purchase and flies off the shelf at a breakneck pace. Though the concept is usually is applied to apparel, and although it's not often encountered in the packaged food and beverage market, Mendoza thinks something like "drops" could work for horchata.
In practice, this would mean the horchata arrives at the store, probably accompanied by an announcement on social media, then shoppers rush to buy it, knowing the supply is limited, and then it's all gone. Those who don't get to the store fast enough are left waiting until the next delivery. 
"I want to keep it kind of like that," he said. "Then I can do a 'drop' in Omaha, and it's exclusive there, at one shop, or Sioux Falls." 
In the longer term, Mendoza has bigger ideas. He said he'd like to distribute his horchata as far away as Colorado (where, he said, he wants to develop some sort of cannabis horchata) and Texas, where he has family. He also wants to develop new horchata flavors, like strawberry and chocolate.