SIOUX CITY — Spending an idyllic spring afternoon tending to their new beehives almost takes away the sting of what happened to Justin and Tori Engelhardt a few days after Christmas last year.
The rural Sioux City couple, who own and operate Wild Hill Honey, went to go check on their hives after a snowfall; however, they immediately deduced something was wrong.
Despite being located in a heavily secluded and wooded area, the shed where the Engelhardt's stored their beekeeping equipment had been broken into and its contents were on display in the fresh powder.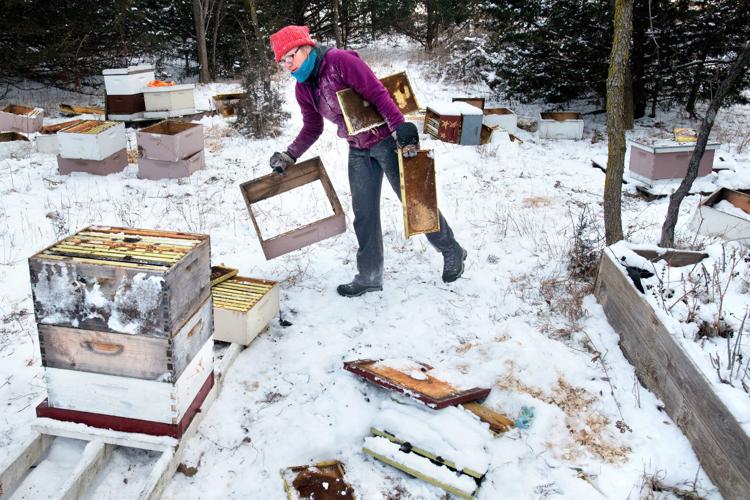 "We knew right then it was going to be bad," Justin said. "We walked around to where the hives were and turned out every single one of them had been knocked over."
SIOUX CITY — A couple who manufacture and sell honey are feeling the sting after their Sioux City operation was vandalized overnight, killing …
The incident effectively put Wild Hill out of business.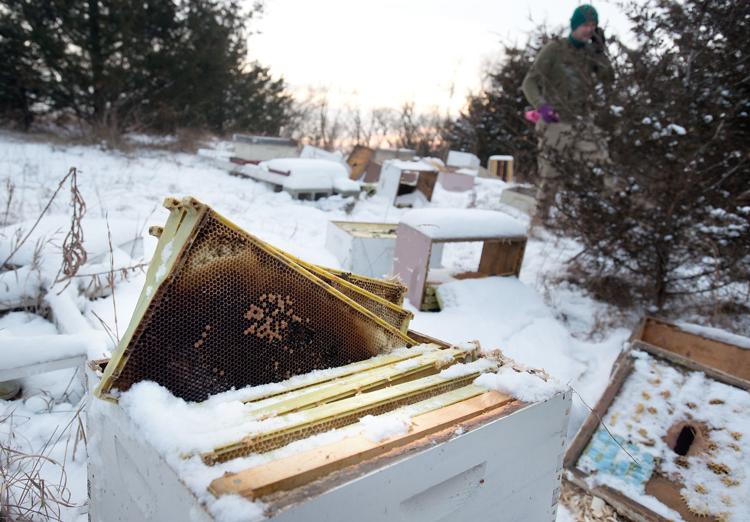 "There was a couple of days where we didn't know," Tori said of Wild Hill's future. "It's kind of an expensive hobby."
Before the attack, Wild Hill sold jars of pure, raw and creamed varieties of honey and other honey byproducts at Pierce Street Coffee Works, Sioux City Gifts, Palmer's Olde Tyme Candy Shoppe, trade shows and other spaces around the area.
The Engelhardts posted about the attack on the Wild Hill Facebook page not expecting to get much reaction from their then 200 or so followers; however, the exact opposite happened.
More and more people commented on or shared the post. Media companies across the globe, many of them citing the Journal, picked up the story and wrote articles about the senseless act.
"It was very overwhelming," Justin said of the extra attention.
The Wild Hill Facebook has grown to more than 12,000 likes since the incident, and Tori joked about the pressure to make more substantial posts now that they have a larger and more global audience.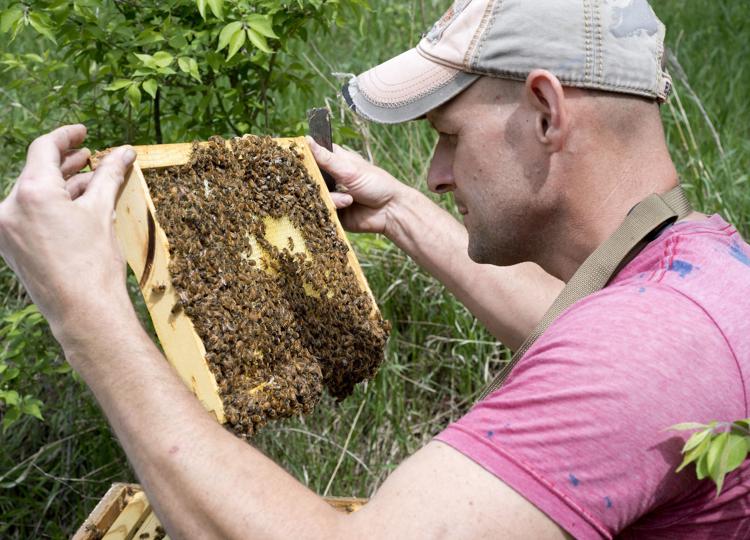 Besides bolstering their social media presence, the influx of supporters also saved their business.
During the heat of things, Todd LaCroix of Sioux City, a friend of the Engelhardts, started a GoFundMe me page that raised more than $30,000 in donations in just a few days before being deactivated, an amount that was more than enough to bring the operation back online.
"We wouldn't be out here doing this right now if it wasn't for the people of Siouxland," Justin said.
"Well, and the country really" Tori added.
The couple used the funds to purchase new bees from dealers out of South Dakota and the Des Moines area and have doubled the size of their previous operation.
"We'll have more hives this year than ever before, so hopefully we can keep up with it," Tori said.
A good portion of the money also went to replacing the actual honeycomb needed for the new hives, something more expensive than the flying insects themselves. They also acquired new beekeeping equipment, although some of their old stuff looked salvageable after the attack.
"We probably erred on the side of caution … if anything looked like it was exposed to glass or had been trampled we threw it away," Justin said. "We're producing food with this, so we did err on the side of caution but it protects the product."
In January, police arrested two boys, ages 12 and 13, in connection with the vandalism of the hives. The minors, who authorities have not identified, have been charged with three felonies — first-degree criminal mischief, agricultural animal facilities offenses and third-degree burglary, as well as misdemeanor possession of burglar's tools.
Even after the GoFundMe page ended, people from across the country sent messages of support to the Englehardts and some even mailed checks to go alongside their well wishes.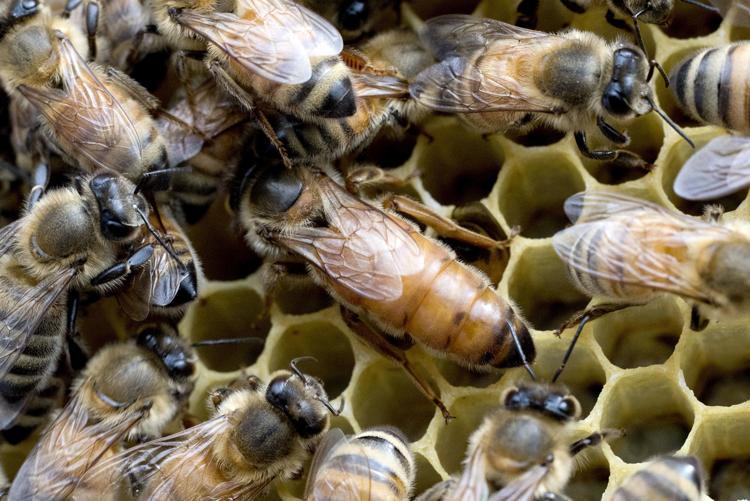 Justin theorized the purposelessness of the crime and the well-publicized struggles the honey bee population face are some of the reasons he thinks their story resonated with so many people. Tori half-jokingly noted their regular customers donated just to get more honey.
"They were really upset about not having any honey. A lot them were like, 'Well, we wanted to help you out but it's also selfish on our part.'" Tori said recounting some of the explanations.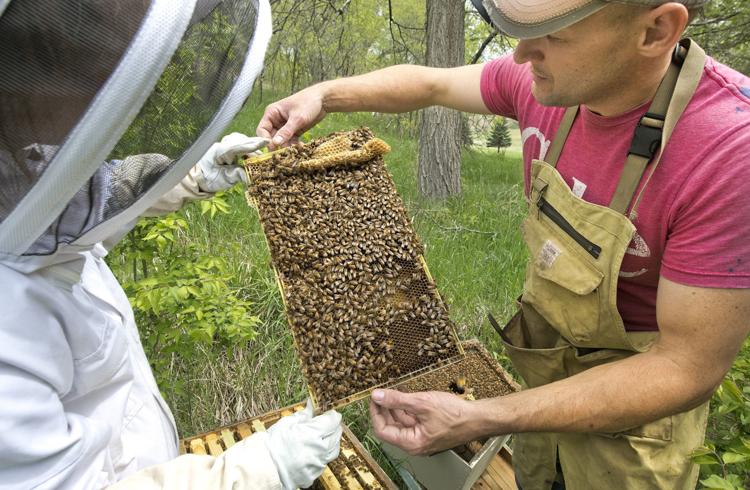 Honey from Wild Hill is about as pure as it comes.
The Engelhardts don't use any chemical means to collect their honey and use as little heat as possible in the process because it diminishes the flavor, according to Justin.
Both are grateful for the incredible amount of support they received and Justin said the compassion that was shown to them has made him a better person.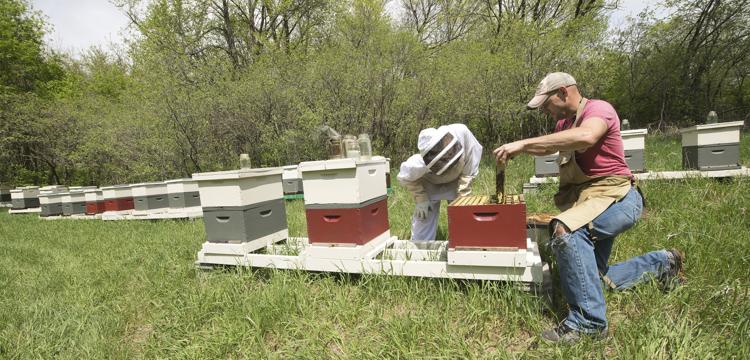 The new bees arrived on May 7 and it's easy to tell the Engelhardts were pleased to be back in the bee business. They estimate they'll have honey and some additional products made from it for sale by July.
On a recent Monday afternoon, the couple spent time checking the hives at their relocated bee yard — they prefer not to disclose the location for obvious reasons — to see if the new queens had been accepted and so they could feed the creatures via a sugar-water mixture.
Despite the immense amount of manual labor it requires to raise bees, neither had any complaints that day.
"It's nice to be with the bees," Justin said.
The business news you need
With a weekly newsletter looking back at local history.