KINGSLEY, Iowa | Balloons soared toward the heavens at halftime of a football game on Friday night in Kingsley. The fundraising effort for the American Cancer Society was the 7th Annual "Together We Will" organized in 2011 by Natalie Krohn, a Kingsley resident who bravely battled leiomyocarcoma, a cancer that attacks smooth muscles.
Krohn put the fundraiser together a couple of years after visiting with me for a story at this time of year, a time when the Journal turns the front section of the newspaper pink to coincide with the Sioux City Musketeers' "Pink in the Rink" hockey contest, a promotion to raise funds and awareness in the fight against breast cancer.
Krohn came to me and very tactfully said that the proliferation of pink during October -- Breast Cancer Awareness Month -- had, in some effect, reduced other cancers fights to also-ran status.
"I don't want to sound bitter, but I probably do," said Krohn, who, by that point, had endured nine surgeries in her cancer fight. She would have a 10th surgery a year or two later.
Rather than wallow, Krohn dug in and fought to raise funds and awareness for all kinds of cancers, becoming a fan of the www.choosehope.com website that grouped cancer battles together. Krohn and friends organized a balloon release in October 2011 in which fans and friends of the Kingsley-Pierson Panthers could purchase a balloon represented the cancer of their choice and have it released at halftime of the football team's 2011 season finale, an upset of previously unbeaten Newell-Fonda.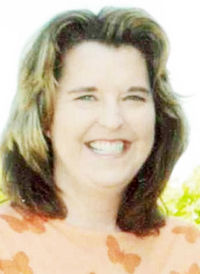 Krohn died in September 2014, a life cut short after a 15-year battle against her disease. She left behind husband, Dr. Jeffrey Krohn, their three daughters, Lauren, Olivia and Elyn, her parents, Gerald and Sally Forch, of Kingsley, a brother, two nephews, and several extended family members in addition to hundreds of friends throughout the region.
She also left behind evidence of a worker who led and joined the cause against all kinds of cancer, having established a "Together We Will" foundation and directing memorials to the "Stand Up To Cancer" research fund.
She also left this balloon release, joined by dozens of fans and friends on Friday night, who purchased and released multi-colored balloons, all carried northward on a blustery but warm Friday night, the season finale for the Panthers.
There were hugs and tears, and a few fans who waved as a balloon in memory of -- or in honor of -- a loved one floated from Kingsley, disappearing into the nighttime sky, drawing a community together and strengthening it while boosting the American Cancer Society cause at the time time.