Additionally, Julian Castro, a former mayor of San Antonio, Texas, will speak Friday night in the city, and former Colorado Gov. John Hickenlooper will hold a meet-and-greet event Saturday morning.
Republican President Donald Trump is seeking a second term in 2020, and up to 20 Democrats -- both well-known nationally and without high name identification -- are considering candidacies.
Thus far, Democrats Elizabeth Warren, Kirsten Gillibrand, John Delaney, Andrew Yang and Eric Swalwell have held city events in the first two months of 2019. Here's a summary of those events so far.
Warren, Jan. 5 -- That event was the sole large city rally thus far, with at least 500 people there to see Warren at the downtown Orpheum Theatre, a longtime city stop for high-profile candidates, such as Donald Trump, Hillary Clinton and Bernie Sanders.
Warren said she plans to fight in the vein of the people going back a century in America, as was done by union organizers, suffragettes and civil rights activists.
Gillibrand, Jan. 18 --In her first trip to Iowa after forming an exploratory committee, the first step toward launching a presidential campaign, Gillibrand spoke at a coffee shop, toured an adjacent business and met with county party Democrats.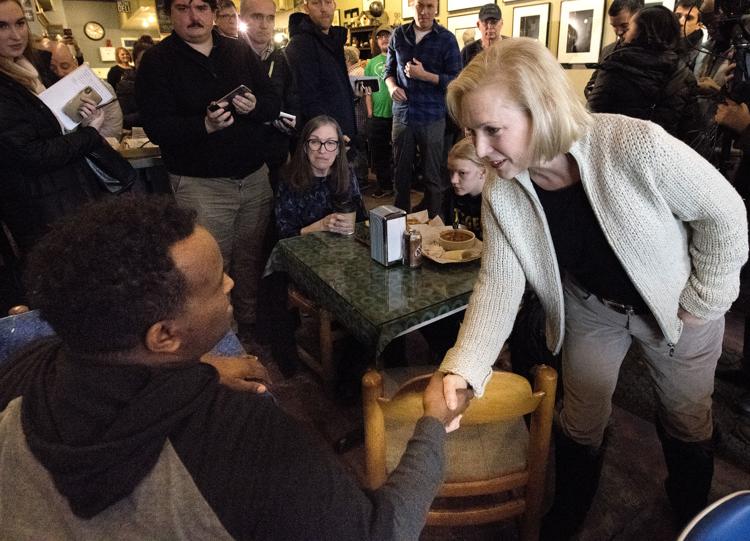 A  U.S. senator from New York, she said too much power lies with political action groups and lobbyists, and criticized Trump for having "not fixed the rigged system."
Delaney, Jan. 30 -- Former  Maryland congressman Delaney had visited Iowa more than 20 times, including several trips to Sioux City, in 2018.
The coldest weather in Siouxland in years, which the National Weather Service called life-threatening, didn't prevent Delaney from opening a campaign office in Sioux City that day. He said his long-haul approach to Iowa campaigning could pay dividends.
Delaney said Democrats who choose to fly into Des Moines and not campaign broadly in the state will be making a "mistake," since they won't be making deeper connections with voters necessary to win the February 2019 Iowa caucuses.
Yang, Feb. 1 -- Amid a four-day swing through Iowa, Yang spoke to 30 people at a Truman Club event of the Woodbury County Democratic Party in a private home. Yang said he has the new approach the party needs, in order to go beyond traditional ways of dealing with a drastically transformed economy.
Yang is a Silicon Valley and New York entrepreneur who was making his eighth visit to Iowa, and like Delaney, he is a candidate, not in exploratory mode.
That proposal, which Yang sees as a key way to address massive job displacement, would guarantee every citizen age 18 to 64 a monthly minimum, tax-free income of $1,000, without passing a means test or being required to work.
Swalwell, Feb. 16 -- Swalwell's event last weekend was another in the line of Truman Club events as fundraisers for the county party. Swalwell is an native of Sac County, Iowa, and a congressman from California.
Swalwell said he is leaning toward launching a campaign, and already has eight staffers in Iowa and is putting together more in South Carolina.
Swalwell floated a few big policy suggestions, including a government buyback of assault weapons, a "wage and skills guarantee" for fossil fuels workers displaced by green energy, and a "college bargain" where college is debt-free for students who work during school and pledge to help needy communities after graduation.