Tewodros Worku doesn't if you use your hands to sample the food served at Elilly Restaurant and Coffee House.
In fact, he said injera, a flat, sourdough bread, often takes the place of a knife and fork in authentic Ethiopian cuisine.
A diner simply tears off a piece of bread and scoop up some of the flavorful food served at the recently-opened 1529 Pierce St. eatery.
Along with his business partner Makda Gebre, Worku will be featured in a story appearing in the Sioux City Journal's Wednesday food section.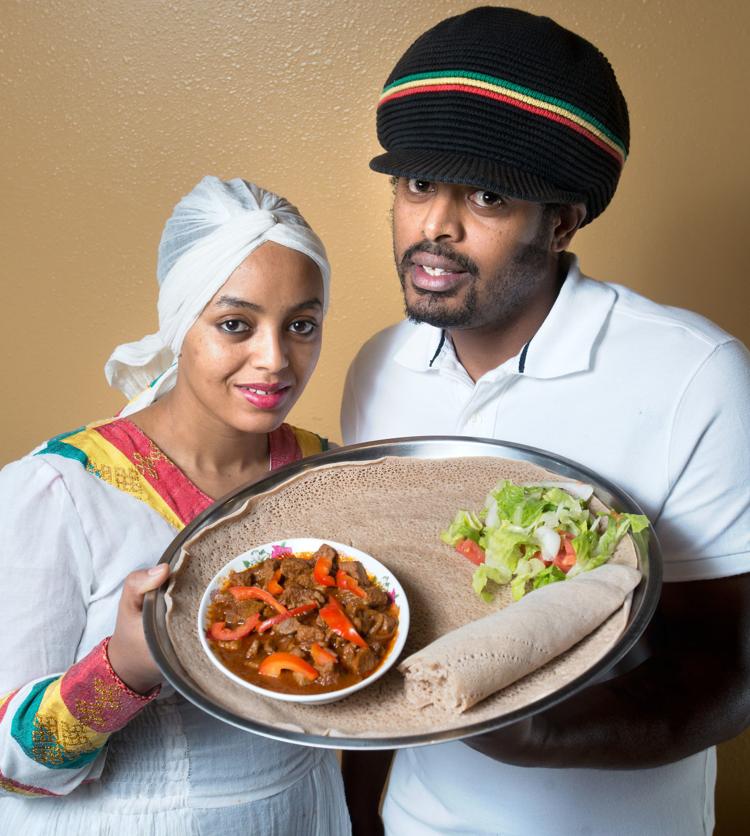 To whet your appetite for food native to the Horn of Africa nation, here is a primer on what to expect when dining at an authentic Ethiopian restaurant.
KEY INGREDIENTS
INJERA: This is a bread that Ethiopians eat for every meal. It's flat, soft to touch and is made from an indigenous grain called teff.
MITMITA: A powdered seasoning mix used in Ethiopian cuisine. It gets its aroma from cardamom and cloves and its heat from African Bird's Eye chili peppers.
BERBERE: A ground red pepper mix that also can contain ginger and garlic.
AWAZE: A (relatively) mild version of a berbere sauce. It is known for its deep, dark coloring.
MEALS TO TRY
KITFO: Chopped prime beef mixed with niter kibbeh (a spicy clarified butter) and mitmita. The meat can be served well-done, rare and "raw" (actually lightly seared as in a Steak Tartar).
TIBS: Beef, fish, chicken, lamb or goat served with cooked veggies in a flavored broth. 
WAT (or sometimes Wot): This is a stew that is made with (or without) meat. Onions, garlic and tomato create a sauce that may also contain different types of herbs and spices.