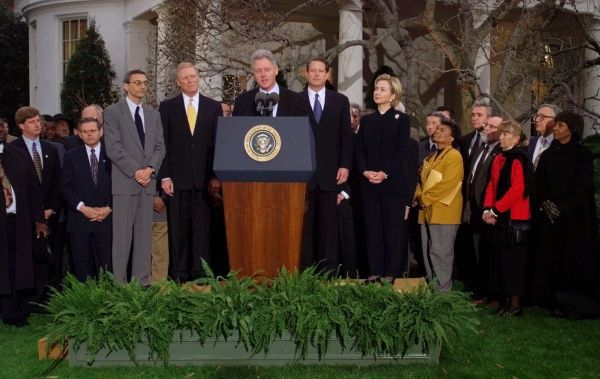 SIOUX CITY | President's Day is celebrated today, when governmental institutions and some schools are closed for the day as people have a chance to recall the executive leaders of the U.S.
The latest president, Donald Trump, has officially reached the one-month mark of his four-year term. Whether some presidents could fill out their full terms has rarely come into question in U.S. history, but twice presidents have been involved in full impeachment proceedings, in a power that is housed in the federal lawmaking chambers.
But none have ever been impeached and removed from office.
The U.S. Constitution in Article II, section 4, says: "The President, Vice President and all Civil Officers of the United States, shall be removed from Office on Impeachment for, and Conviction of, Treason, Bribery, or other high Crimes and Misdemeanors."
According to the historical segment of the House website, The U.S. House has the power to impeach an official, and it makes the Senate the sole court for impeachment trials.
"The House has initiated impeachment proceedings more than 60 times but less than a third have led to full impeachments," the site explains, with some involving federal judges, a cabinet member, one U.S. senator and two presidents. The presidents were Andrew Johnson in 1868 and Bill Clinton in 1998.
In the case of Johnson, the impeachment trial focused on whether a president could remove cabinet officers without obtaining Congress's approval. Johnson's acquittal (by one vote) set the precedent that a president may remove appointees, even if they required Senate confirmation to hold office.
Clinton's impeachment proceedings were more salacious. He was charged with perjury and obstruction of justice related to activities in his affair with White House intern Monica Lewinsky. Clinton was acquitted by the Senate.
Two other times, steps towards impeachment were begun.
In July 1842, a resolution to impeach John Tyler over tariffs and state's rights issues failed.
In 1974, Congress was debating impeachment proceedings of Richard Nixon related to the Watergate break-in, when Nixon resigned.
Be the first to know
Get local news delivered to your inbox!