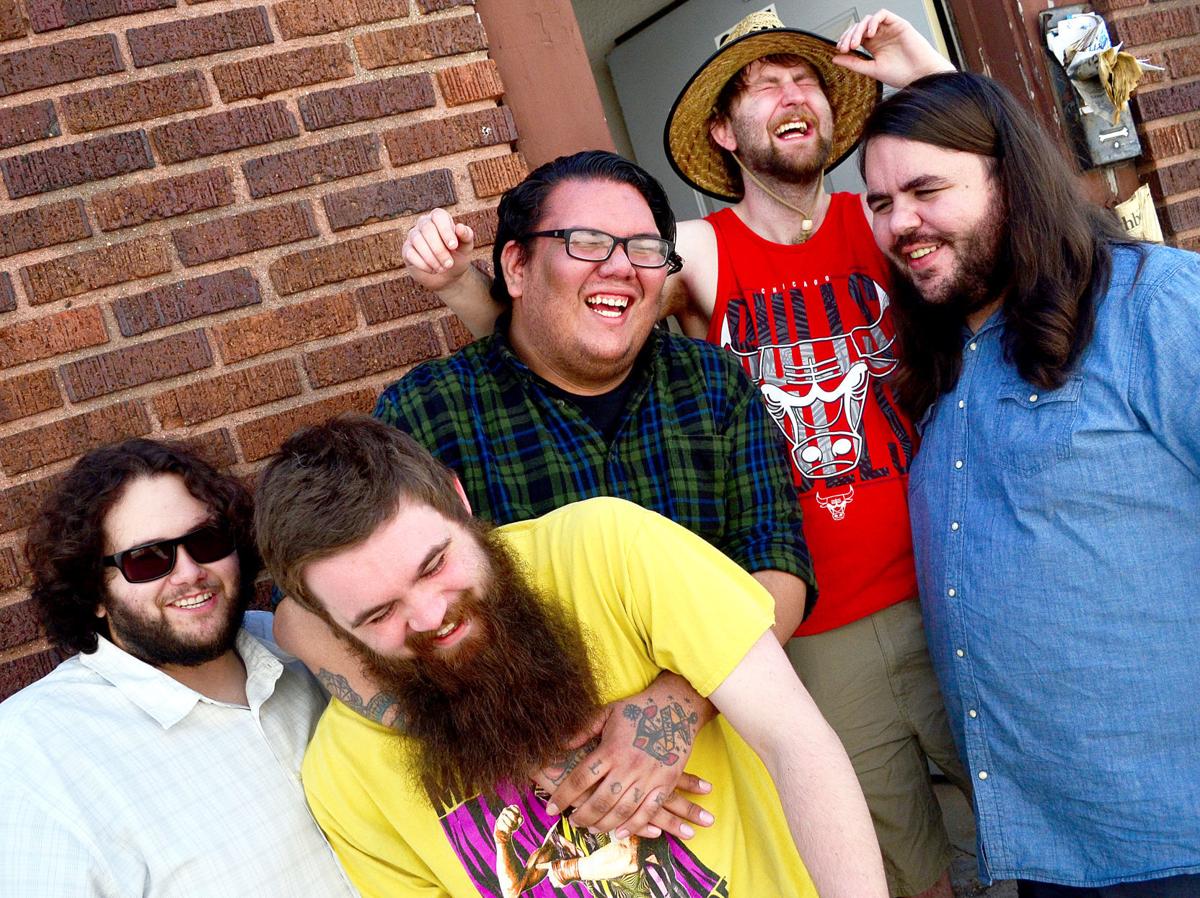 Last week, I wrote a story about the Rev and Tapwater Shrimp split EP release. I spoke with the Sioux City rapper and the four members of the punk(ish) band about their latest collaborative project. However, I wasn't able to include everything we talked about in the story – otherwise I would have exceeded the space.
So here's a bit of extra information left out of the initial story:
What do you think caused this invigorated unity in the music scene?
Rosario "Rev" Perez Jr.: I have my own opinions on that. I think D.A.D. blowing up really helped, as far as hip-hop goes. They set the back really high and kind of garnered some attention. I think a lot hip-hop acts were like, "Yo! If they can do it, I can do it." Not egotistically. A lot of bands really doing really cool sh** all across the board.
Dylan Leiding: That and I think it's too small a market for people to be competitive. Being competitive in music always seemed kind of silly to me anyway. But, like, in a city that's this small, you're going to get a lot farther working together. As far as subgenres go, there are like one or two bands for every subgenre in Sioux City. […] You learn how to make friends with everybody pretty quick.
What are you looking forward to about this release? What do you hope comes out of it?
Rosario "Rev" Perez Jr.: I'm stoked that it's happening. The CDs are in and sh**. It's cool to be able to say that it got done.  It also looks good on the ol' job application.
Sam Wigton: I just hope this could open more doors for other musicians to, like, do more stuff like this. Hopefully it does. Hopefully other bands are like, "Oh that was really cool! Maybe we can do something with another band" or something like that. Open more doors for more variety, more unity.
Larry Watts: I just hope at the end of the day it could inspire more people to form bands or just be a musician in general. The scene is always continuously growing. It's always nice to see new bands out there and see what they bring to the table because that's how I was for the past couple years, especially going to these guys' shows and seeing a bunch of bands coming through that I never thought would come through. It inspired me, for sure, to get off my ass and do something about it. Hopefully it does that to people in the future that aren't really doing much right now.
Rosario "Rev" Perez Jr.: We're perfect examples that you don't even have to be good at it.
Dylan Leiding: I mean that is fair, man. Most iconic punk records sound like sh**. So you don't even need to, like, be that great at recording to get your sh** together and put it out there.
You have free articles remaining.
Rosario "Rev" Perez Jr.: That's what was cool for me this go around -- actually into recording with you [Leiding]. Usually I'm in an actual studio and a legit recording environment. But it was cool to do a throwback to my early days where I was recording in my bedroom.
So was the split EP recorded here in the apartment?
Rosario "Rev" Perez Jr.: I think it was in a garage or something.
Dylan Leiding: We have this practice space kind of close to here that we recorded "Knife Game" in and all this in.
Rosario "Rev" Perez Jr.: Dylan recorded all the tracks except for one.
You recorded "Knife Game" there as well? For some reason I thought you did that at Cathouse Studios in Sioux Falls?
Dylan Leiding: Nope. Been working on the recording stuff for a while, even before we started doing Tapwater Shrimp stuff. For the demo, the drums were recorded in Sam's parents' basement, and then everything else was just recorded in my bedroom over there. But then we found a spot where we could be loud at all hours of the day. […] Now we have the ability to make as much noise as we want to. And we hide a lot of that stuff in the recordings, actually. At one point in one of these songs, Austin [Brinkerhoff] actually does a Stone Cold Steve Austin impression. It's in the song but it's buried underneath everything. I also, at one point, want to release a version of              "Miss Misunderstanding" that doesn't have a guitar. Because when you get rid of that, it reveals all the goofy sh** that happens in the chorus at the end.
Like what?
Dylan Leiding: Since everything is self-recorded, to make things sound big and grand a lot of time, we just have to record a billion layers. A lot of it is just noise and gets to the point where it doesn't need to be anything productive, you just need to sound like things are happening. So we'll just be screaming at each other. If you do that enough times, you can hide it and make it really quiet it will just sound like, you know, wider or whatever.
Did you do that in "Knife Game" as well?
Dylan Leiding: Yeah. Actually, the chorus in "Knife Game," underneath every single chorus is just Austin mouthing the base line. So he's just going, "Blah blah blah blah blah blah blah blah." I know for a while it was really popular to do the "vocals only" versions of songs, if we were ever to do that it would just be ridiculous with all of the weird sh** that's in there.    
 Rosario "Rev" Perez Jr.: I'd listen to it!