DES MOINES -- Despite a new state law that shortened the timeframe for early voting, Iowa is on pace to match if not exceed the number of early votes cast in 2014, the most recent non-presidential election.
With roughly the same number of early votes being cast but 11 fewer days in which to handle the demand, some county-level election officials across the state say the newly compressed timeframe has caused additional stress to their staff, while others say the impact has been negligible.
One piece of the robust elections bill passed in 2017 by the Republican-controlled Iowa Legislature and signed into law by former GOP Gov. Terry Branstad was a provision that reduced the state's early voting period from 40 days to 29 days.
The 2018 midterm elections are the first general election since that law was passed. And despite 11 fewer days in which to cast an early vote, either by absentee ballot or in-person at auditor's office and satellite locations, early votes are being cast at roughly the same pace as 2014.
That has meant roughly the same number of early votes being cast in a shorter window of time, and some local elections officials are feeling the impact.
"It's being felt in my office for sure," said Eric Van Lancker, auditor and elections commissioner for Clinton County in eastern Iowa. "As I kind of predicted would happen, what we're seeing here in Clinton County is we're dealing with the same amount of absentee voters, just in a shorter amount of time."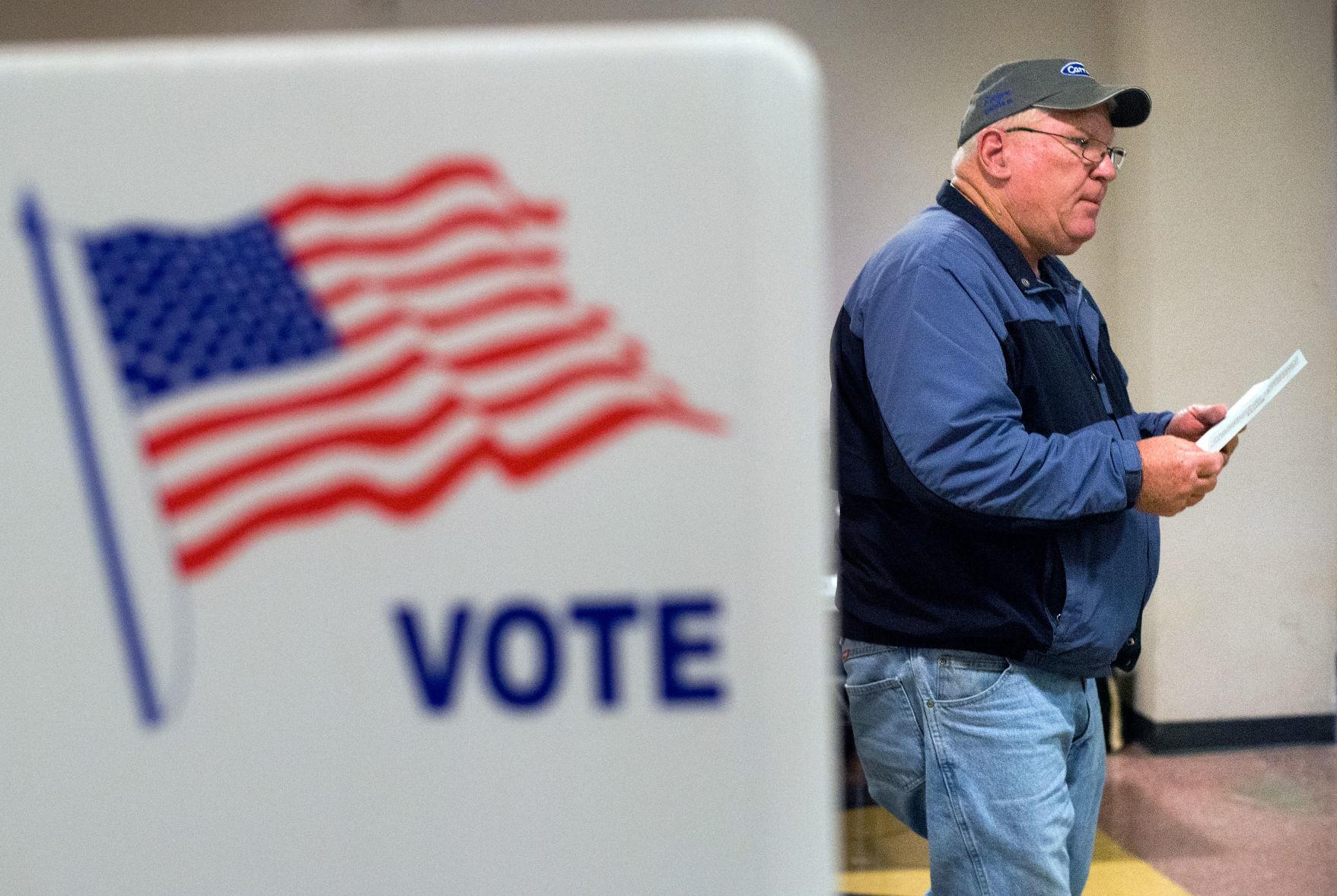 Van Lancker said in-person early voting has remained strong despite the shorter timeframe, so his office is seeing roughly 100 in-person voters daily, an increase of about 20 per day over 2014, he said.
"In the office, we've definitely felt it, working the counter with voters," Van Lancker said. "It's added stress on the staff."
Van Lancker said he did not hire additional staff for this year's elections, but will consider doing so in 2020 for the presidential election, when early voting is expected to be even busier.
Travis Weipert, Johnson County Auditor and president of the Iowa State Association of County Auditors, said his staff also is feeling the effect of more votes in a shorter timeframe. Johnson County voters already have surpassed early voter turnout in the state's last midterm election.
"That's why I ask people to be patient with our poll workers. We're trying to get people through as quickly as possible," Weipert said.
Other county auditors said they have been able to spread the additional workload; some hired additional staff in anticipation of the condensed early voting schedule's impact.
"We hired additional staff that we normally would have for a midterm election," said Jamie Fitzgerald, auditor for Polk County, the state's most populous. "That's something we planned for early on, knowing you're going to get X (number of) early votes in a shorter window."
And not all counties are seeing an increase in early voting. Auditors in Scott and Black Hawk counties, for example, said early voting numbers are projected to be down.
Scott County Auditor Roxanna Moritz said a lack of contested statehouse races in the area may be part of the reason for lower early vote totals there.
Black Hawk County Auditor Grant Veeder said he thinks the tightened timeframe may be contributing to the lower early voting numbers.
"We're looking like we probably won't reach the same level that we had four years ago. We're going to fall short of that," Veeder said. "I can't do anything but give you my best guess, but it would appear to me that the shortened window had something to do with it."
Iowa Secretary of State Paul Pate said the true impact of the shortened early voting period will not be known until after the election.
Pate, a Republican, initiated the legislation that ultimately contained the shortened early voting period, but that element was not his recommendation; it was added later by Republican state legislators.
"I'm not sure we have an answer yet on that. We're going to have to wait and give it some time to work itself through," Pate said. "That and the straight-ticket issues, those are both issues that you're going to have to give it time to watch it, to see what it really does for an impact."
Fitzgerald said the shortened timeframe also has forced campaigns to rework their early voting strategies. Campaigns like to secure early votes --- whether via the mail or in-person --- because it locks in the vote rather than waiting for Election Day. Securing early votes has played an increasing role in campaign strategy over the past decade.
Iowa Democrats in 2018 already have surpassed their 2014 early vote totals with three more days yet to tally. Democrats have held more than 50 early voting events during the early voting period, a state party spokeswoman said.
"Iowa Democrats have put in the work. We've known from the start that this election was going to be an uphill climb, so we've had our noses to the grindstone for the past two years to produce results like this: more Democrats energized for the Midterms than ever before," Iowa Democratic Party state chairman Troy Price said in a statement emailed to the bureau. "I am incredibly proud of our campaigns and volunteers for the unprecedented effort they have put in to make sure that Iowans are heard at the ballot box this year, and I cannot wait to see the results of that work this coming Tuesday."
Iowa Republicans are roughly on pace to post a similar early vote total as four years ago.
"Iowa Democrats are fired up to do one thing and one thing only: regain power in Des Moines and in Washington. If that happens, they will raise taxes and tear down the progress we have seen in Iowa and across the country," Republican Party of Iowa state chairman Jeff Kaufmann said in a statement emailed to the bureau. "Because of the stakes, we're not taking any votes for granted. If Republicans don't turn out, we could lose everything we've worked so hard to accomplish over the last two years."
Elections officials and political scientists say early voting numbers cannot predict an election's outcomes, but can help indicate voter interest in an election.

"I think it tells us that the interest is high, potentially higher than it was in 2014," said Christopher Larimer, a political science professor at the University of Northern Iowa. "And I think it tells us that turnout potentially could be up overall compared to the last midterm election. Beyond that, it's hard to know."
Mitchell Schmidt of The Gazette in Cedar Rapids contributed to this report.