GALLAGHER: Cherokee's No. 1 fan thankful for new roof over his head
CHEROKEE, Iowa | Kenny Bern awoke on Sept. 23 to find Janet Lucas standing at the foot of his bed.
Keep in mind, Lucas mows the lawn for Bern. She blows the snow, picks up his leaves, and, generally, works with her family to help look after their happy-go-lucky next-door neighbor.
"Oh, I wouldn't know what to do without Janet and her family," Bern said.
Still, he wasn't sure what to think when he noticed her in his house around 8 a.m. that day.
"Normally, he's up by then," Lucas explained.
Bern had gotten out of bed around 4 o'clock that morning. He sat for a while, did some reading while battling a cold, then headed back to bed. He admitted this much: It's unusual for him to still be asleep around 8 a.m.
"So, Janet's at the foot of my bed and I look at her and say, 'What the hell is going on?'" Bern remembered.
Lucas politely told Bern that a group of friends in Cherokee had gotten together in the hopes of roofing his home that day.
"Re-roof my house?" Bern asked. "My house doesn't need a new roof!"
Lucas begged to differ. She persisted and won the argument. And, in minutes, Kenny Bern pulled a chair from Lucas' garage and sat and watched while Nate James, Levi Griffin, Bob Griffin, Brandon Lucas, Cody Lucas, Wayne Todd, Austin Todd, Andy Todd and more scaled his home on Willow Street to start the project. With a group like that -- and Bern said he probably forgot a few volunteers -- the job was done in no time. (Lucas said she had many more volunteers who offered their help, but weren't needed.)
"I sat there in disbelief," Bern said. "I finally said to Abby James, Nate's wife: 'What the heck is going on?'"
Abby James explained to Bern this was their 90th birthday present to him, a gift worthy of Cherokee's biggest fan, who blew out 90 candles on May 29.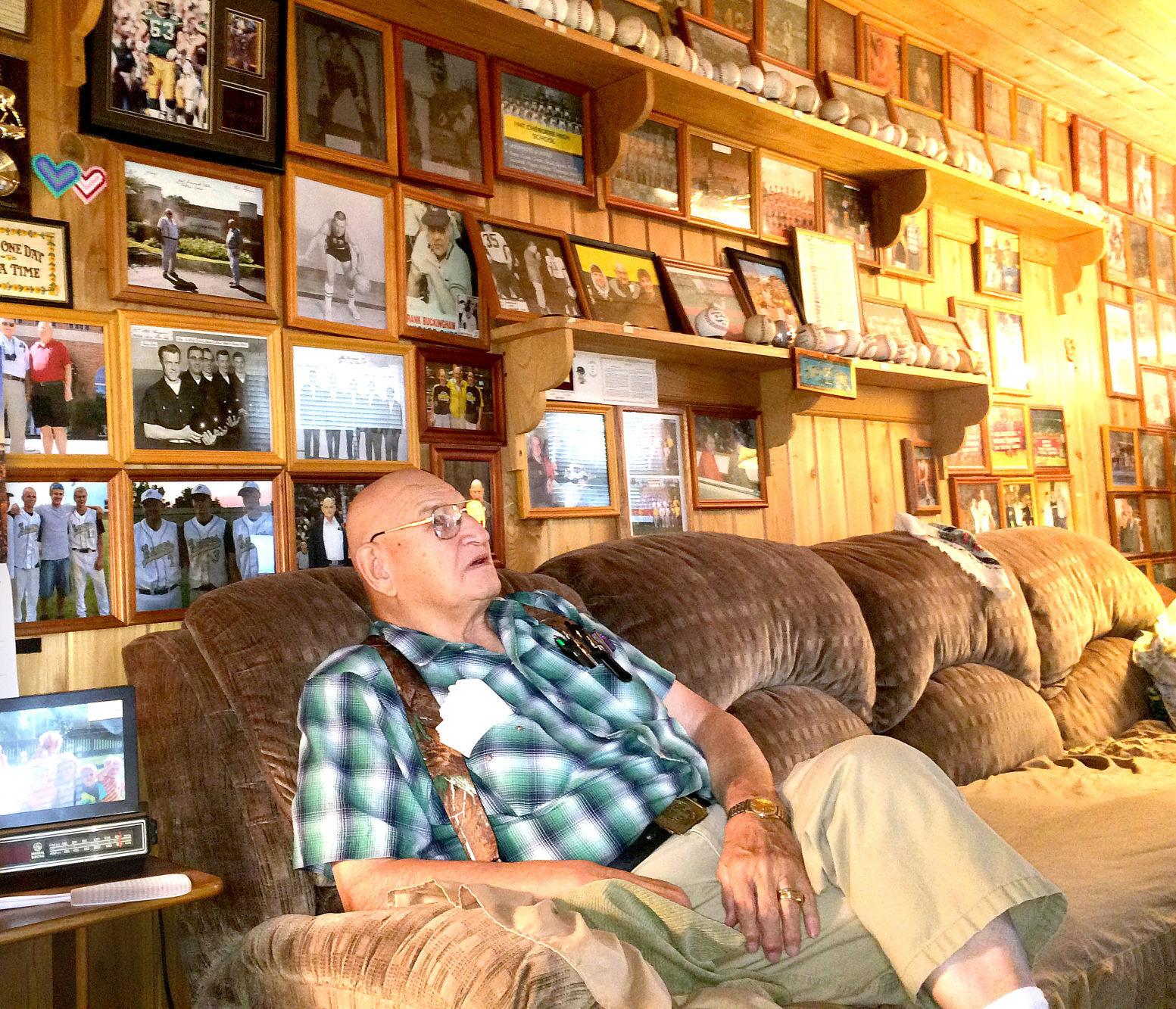 Kenny Bern is a bit of a legend around Cherokee and Northwest Iowa. The 1944 graduate of tiny Larrabee High School moved away for just two years, time he spent sweeping for mines with the U.S. Navy in the Pacific Theater, his duty during World War II.
He came back to Cherokee County and, on Dec. 27, 1947, landed a job with the packing plant in nearby Storm Lake, Iowa, an enterprise known as Kingan & Company, then Hy-Grade Food Products. He worked there for 34 years. (Today, the pork plant, Storm Lake's largest employer, is operated by Tyson Foods.)
In 1949, Bern married his sweetheart, Olga. And, while the couple didn't have children, they kept close tabs on seemingly every high school and collegiate student-athlete and coach in a 70-mile circle around the Cherokee County seat.
Olga died on Oct. 24, 2008. Kenny sat in his house for two weeks until a family member stopped by, insisting he return to his practice of finding an athletic contest to watch nearly every afternoon or evening. This "man of the people" couldn't retreat to his home on Willow Street, not full-time at least.
"These kids are my life," Bern said, noting the encouragement he got that day probably extended his life. "I just love watching kids play sports, games of any kind. I always arrive early and try to get the same seat. The kids come up after their games are over and offer to walk me to my car. They invite me to their pregame meals and their banquets after the season."
Does he attend the meals and banquets? "Oh, you bet I do!" he said. "I couldn't make it without these kids."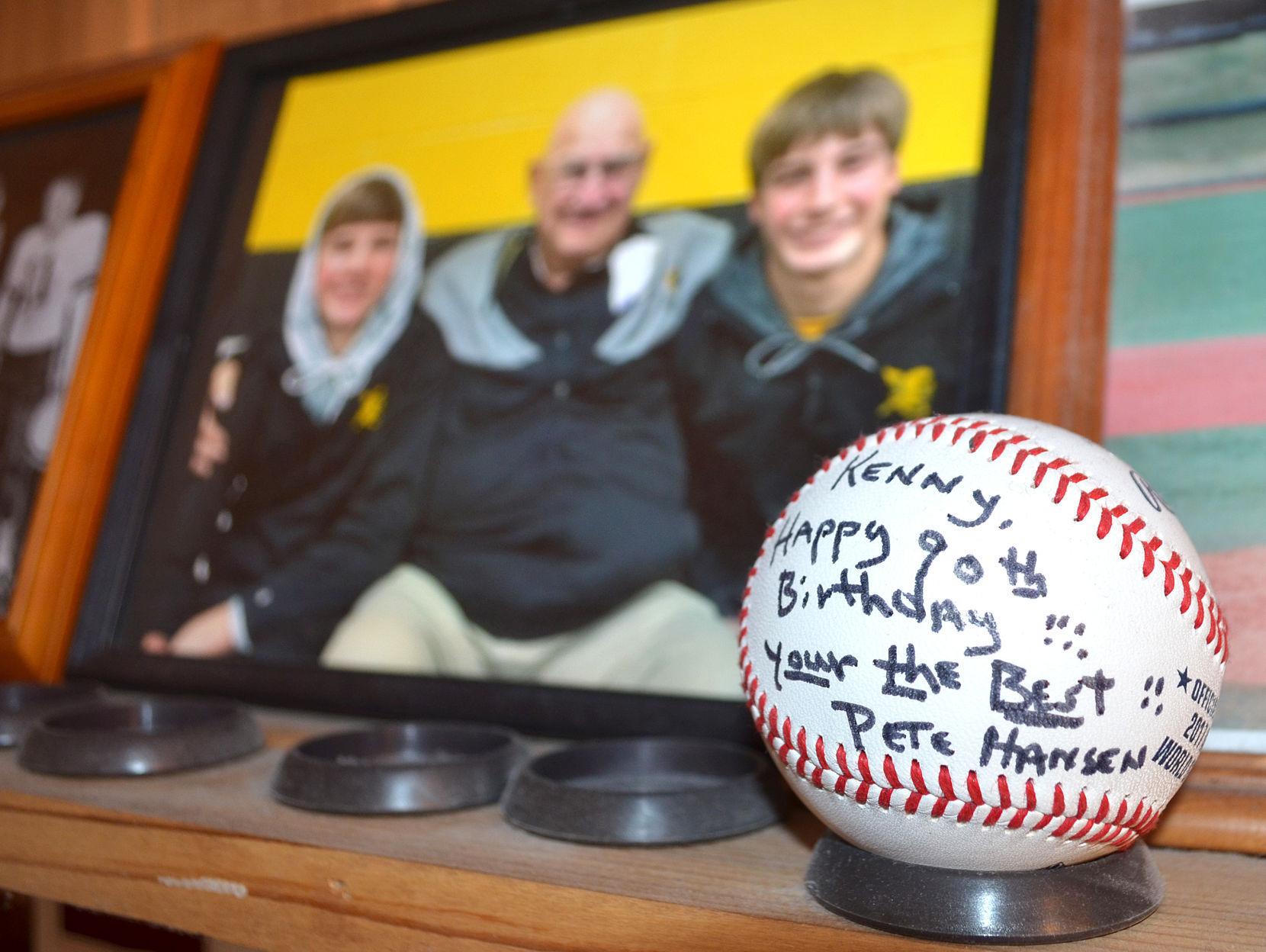 The walls of an addition to his home are lined with photos of local high school and collegiate athletes and officials. Bern can sit on his couch and share a veritable Who's Who of Northwest Iowa sports off the top of his head. His recall for events in the 1950s and 1960s is just as clear as those involving a contest featuring junior high squads from last week.
Bern played basketball, baseball and ran track at Larrabbee High School. He became one of the state's top bowlers in the 1960s. And while he's never wrestled, it remains one of his favorite sports. He's a constant presence at nearly every Iowa high school state tournament. He drove over and back to Cedar Falls last week for the state football finals.
"Oh, the ushers all know me," Bern said with a laugh. "I sit in the same place at every event I attend. I suppose I'd be the easiest guy to kill."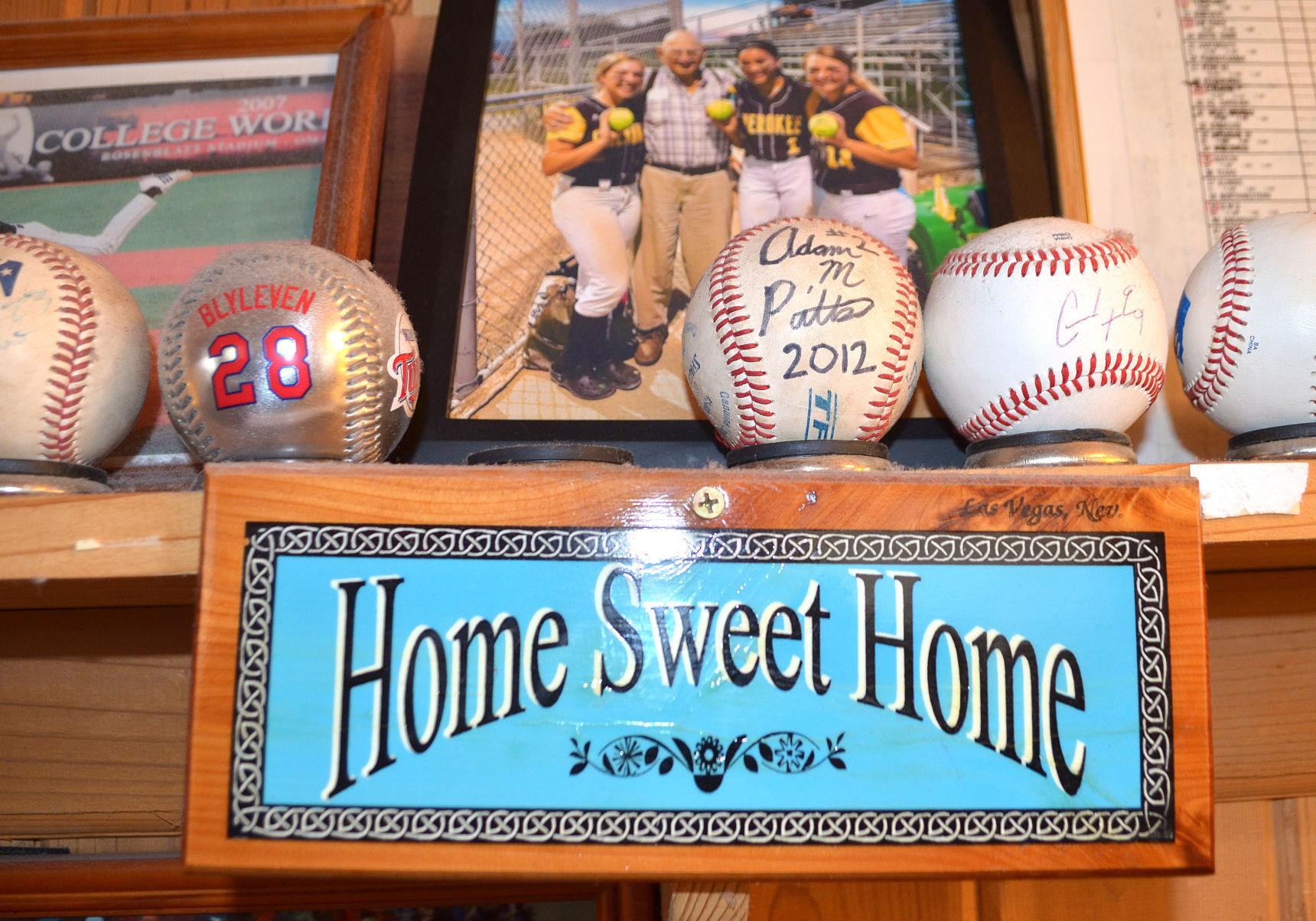 He certainly loves his Braves and cannot imagine residing anywhere else but in this community, the place he's known since coming home from World War II.
"What kind of town is it?" he asked. "Well, probably half the town invited me over for Thanksgiving."
Apparently, just seeing that the Braves' No. 1 fan has got a roof over his head isn't enough.
Kenny Bern shook his head and smiled, glancing at the metal roof his younger pals in Cherokee bought and put in place on a most memorable day in late September.
"It's not every day someone comes and puts a roof on for you," he said. "I had tears in my eyes more than once, I'll tell you. I just love people. I sure can't complain about a thing."