Steve King votes 'present' on anti-bigotry resolution in House, citing 'rigged game'
WASHINGTON – Iowa 4th District Rep. Steve King, rebuked by the House earlier this year for comments on white supremacy, was the only congressional member to vote "present" Thursday on a resolution that condemned various forms of bigotry.
The resolution, which passed 407-23, was a bid to end dissension among majority Democrats over Rep. Ilhan Omar's latest remarks on Israel. Omar, a Somali immigrant who represents a Minneapolis district, said the Jewish state's allies pressure lawmakers to pledge "allegiance" to a foreign country, invoking the anti-Semitism stereotype of American Jews having dual loyalties.
Some lawmakers wanted Omar, one of two female Muslim members of the House, implicitly rebuked with a measure condemning anti-Semitism. But Omar's allied pushed for a broader resolution that condemned anti-Semitism, discrimination against Muslims and other bigotry against minorities.
"Congressman King voted Present because he isn't going to validate a rigged game which punishes Republicans for things they don't say, while moving heaven and earth to provide cover to Democrats for the things they did say," King spokesman John Kennedy said in a statement.
Twenty-three other Republicans opposed the resolution. Several members said their vote was a protest of a watered-down, "kitchen sink" resolution that doesn't even name Omar.
"It was a show vote and it was a sham," said Rep. Ted Yoho, R-Fla. "They should have treated (Omar) the same way they treated Rep. King."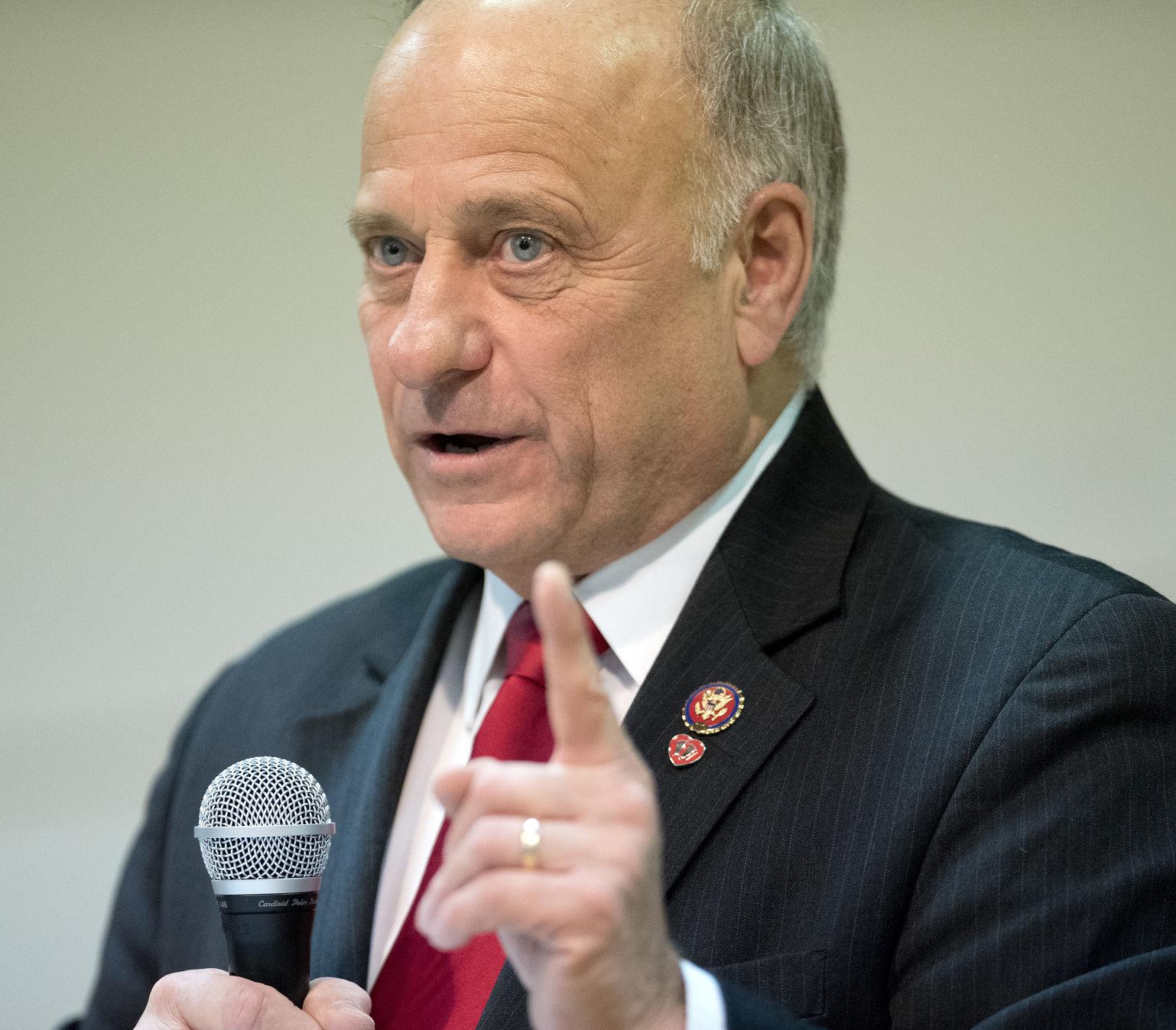 In January, the House overwhelmingly approved a resolution that rebuked King for his comments in a New York Times story in which he was quoted saying, "White nationalist, white supremacist, Western civilization — how did that language become offensive? Why did I sit in classes teaching me about the merits of our history and our civilization?"
House Republican leaders also stripped King of all his committee assignments for the next two years following the fierce uproar over King's latest controversial statements regarding race.
King, a nine-term incumbent, has repeatedly pushed back against his critics, claiming the Times reporter "at best" misquoted him.
In a statement this week, King again maintained he was simply trying to ask when the phrase "Western Civilization" had gained a pejorative connotation, an assertion he insists is supported by the remaining section of the Times' quote. In a tweet Thursday, King noted conservative bloggers Diamond & Silk, who the congressman said had "spent hours digging into the facts" and found King was misquoted in the story.
"Now they know the truth. Here is the proof," King tweeted, linking to the African-American bloggers.
Like the House resolution that rebuked King, Thursday's seven-page resolution included a condemnation of white supremacy.
"White supremacists in the United States have exploited and continue to exploit bigotry and weaponize hate for political gain, targeting traditionally persecuted peoples, including African Americans, Latinos, Native Americans, Asian Americans and Pacific Islanders and other people of color, Jews, Muslims, Hindus, Sikhs, the LGBTQ community, immigrants, and others with verbal attacks, incitement, and violence," the resolution reads.
Rep. Lee Zeldin, one of only two Jewish Republicans in the House, said the resolution should have condemned Omar directly.
"No, now we can't come here and just emphatically, solely, forcefully condemn anti-Semitism and name names. But if it was a Republican, we would," Zeldin said. "It is time to call out these statements for what they are: pointed, bigoted, unreasonable, illegitimate, anti-Semitic."
The Associated Press contributed to this story.