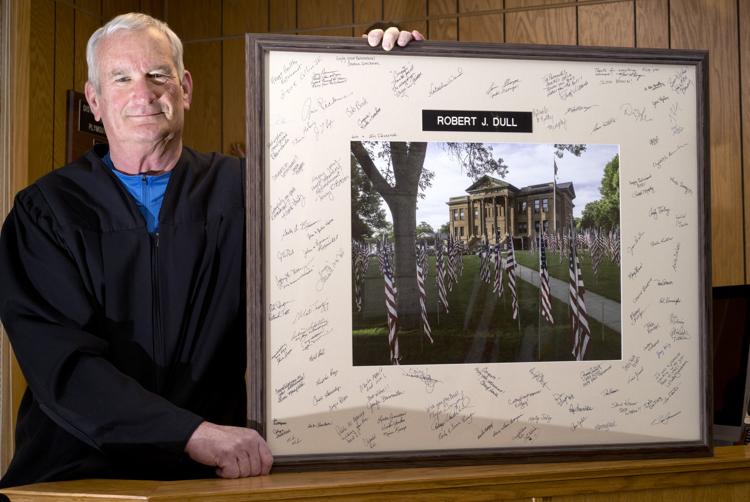 LE MARS, Iowa -- As a young man, Robert Dull desired a career in the Army judiciary.
But when told pursuing that goal would require spending a year in Korea separated from his wife and three young children, Dull readjusted his sights.
He'd shoot for being a judge in Iowa instead.
"I always wanted to be a judge," Dull said. "I thought the United States judiciary was one of the most honorable jobs you could have."
Since 1993, he's been honored to be the first district associate judge to serve Plymouth and Sioux counties. That 25-year career officially ends Dec. 31, though his last day on the bench was three weeks ago.
With the mandatory retirement age of 72 approaching in March, Dull said it was time to step away from a job in which he had to preside over a growing number of juvenile court cases involving parental rights termination actions.
"Juvenile court is expanding. There's just a lot more cases," the Le Mars native said.
It's not a complaint from a judge who loved his time on the bench and a career in law, the only career he seriously ever considered.
"When I was in college, I thought about being a history teacher," Dull said.
But Dull chose to follow the lead of his father, Burton, a longtime lawyer in Le Mars. Never pressured by his father to go into law, Dull said he was influenced by watching his work and the example he set.
"He was one of the best men I ever knew," said Dull, whose brother Michael also was a lawyer.
A Gehlen Catholic High School graduate, Dull attended Yale on an ROTC scholarship and in 1969 was commissioned in the Army infantry. He attended law school at Drake University while stationed in Fort Leavenworth, Kansas, and graduated in 1973. Dull served in the Judge Advocate General's Corps, or JAG Corps, and was a legal instructor with dreams of being an Army judge. But the aforementioned requirement that in order to do so, he'd have to serve halfway around the world without having his family with him changed his mind, and he resigned his commission.
Dull was discharged in 1976 and returned home to join the family law firm with his father, brother and Pat Murphy. In the 1980s, Dull became the Plymouth County Attorney, a position he held for eight years before he was appointed to the bench after two previously unsuccessful applications to be a judge.
No job comes without change, and the judicial system has seen its share. Dull said budget cuts over the years reduced the number of court staffers in his office. And with electronic filing enabling lawyers to file court documents from their offices rather than making a trip to the courthouse to do so, Dull had fewer opportunities to chat with lawyers who stopped by while filing papers.
"It's a lonelier job than it used to be," Dull said. "I miss the attorneys, and I miss the people."
That in-person contact is important, he said, which is why he continued to show up in person at the Plymouth County Jail to conduct initial appearances, even after the jail moved to the edge of Le Mars and the technology to conduct the hearings via video conference was installed.
"I believe they should see a judge in person," Dull said. "An initial appearance should be an appearance. That's the way it was when I started, and I was going to keep it that way to the end."
Dull will not be taking senior status, so his retirement is the end of his judicial career, a concept he's still getting used to. No longer on call 24 hours a day to sign search warrants or other emergency orders, Dull said it's still sinking in that he no longer must find someone to cover for him if he wants to go to a movie or leave town for an afternoon.
A minor inconvenience of a job that he always wanted and continually enjoyed.
"It's been fun," he said. "I've never had any bad thoughts. I probably made a few bad decisions. I got reversed a couple times, but I'm happy with what I've done. It's been a good ride."