GALLAGHER: Two couples, one hometown: Paullina natives return to pursue business dreams
PAULLINA, Iowa -- Laura Palmer grew up in Paullina and graduated from Paullina High School here in 1984. For years, she resided in San Diego and the Twin Cities, and, yet, maintained visions of coming home.
Three years ago, she convinced her husband, Don Palmer, the timing was right. The couple bought the town's grocery store and moved to Paullina.
Eric Brown grew up on a farm outside Paullina. He graduated from South O'Brien High School in 2005. After college, he found work in fire fighting in San Diego and, in 2008, married the former Heidi McGill, a native of nearby Larrabee, Iowa, and a 2005 graduate of Washington High School in Cherokee.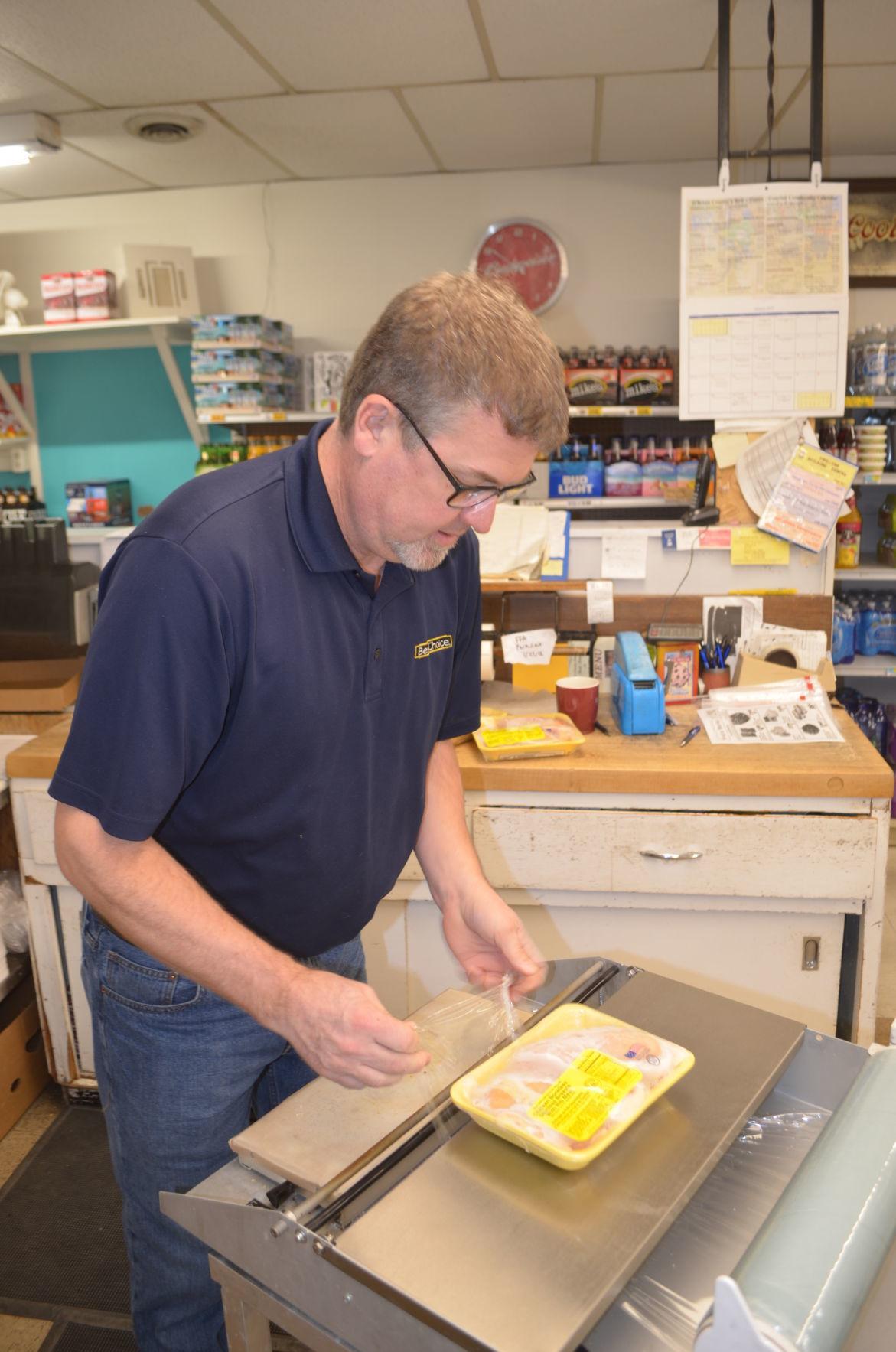 Like the Palmers, the Browns left San Diego for opportunities near Minneapolis, Minnesota, where Eric toiled as a paramedic the past seven years as Heidi worked for a children's hospital. They also raised three little children that blessed their union. Last year, the Browns yielded to their yearning to come home. They bought and began operating Paullina Hardware.
Both couples have similar treks that involve sacrificing city life for O'Brien County's friendlier pace. Both praise local lenders and organizations that helped make these moves possible, namely the O'Brien County Economic Development Corporation and Paullina Economic Development. The couples laud shoppers who remain loyally local.
Eric Brown took an additional step: He praised the Palmers for showing him the way home. "Don and Laura were instrumental in Heidi and I coming back to run Paullina Hardware," Brown said. "The support the Palmers received was phenomenal. And seeing what they could do was very affirming for us."
First, the Palmers
Don and Laura (Simm) Palmer met in San Diego and lived there for the first decade of their lives together. They moved to Minneapolis when they began having children, in the late 1990s. Ultimately, they had three daughters and moved back to Iowa as the youngest, Nicole Palmer, completed her senior year at South O'Brien. She went from a class of 800-some students to a senior class of 44.
"Her high school had way more people than the town of Paullina," Laura said.
Laura's sister, Beth Massmann, had talked to the couple about buying the grocery store for a while before they moved back. Laura laughed and said Don, a native of Delaware, had to be convinced that small-town life would represent a welcome change of pace.
Don smiled while offering a stipulation: "I'd be able to get a golf cart and a golf membership," he said, adding how he couldn't afford a golf course membership in the Twin Cities. In years past, he'd play maybe once per week. These days, he golfs in a pair of leagues and hits the links five nights per week, when weather permits.
The Palmers bought United Foods, the existing grocery store, and went to work fast. Don was trained on the meat counter by former owner Al Fritz and brought Prairie Market up to speed. The store's name plays off Paullina's tag, "Gem of the Prairie." In time, the Palmers' son-in-law, Ben Fox, who is fluent in Spanish, joined Doug at the meat counter.
The Palmers renovated the front of the store, painted the entire structure (including a mural in the back), added lighting and repaired a leaky roof. On Wednesday, they went over specs for a second phase of remodeling toward the back of the store.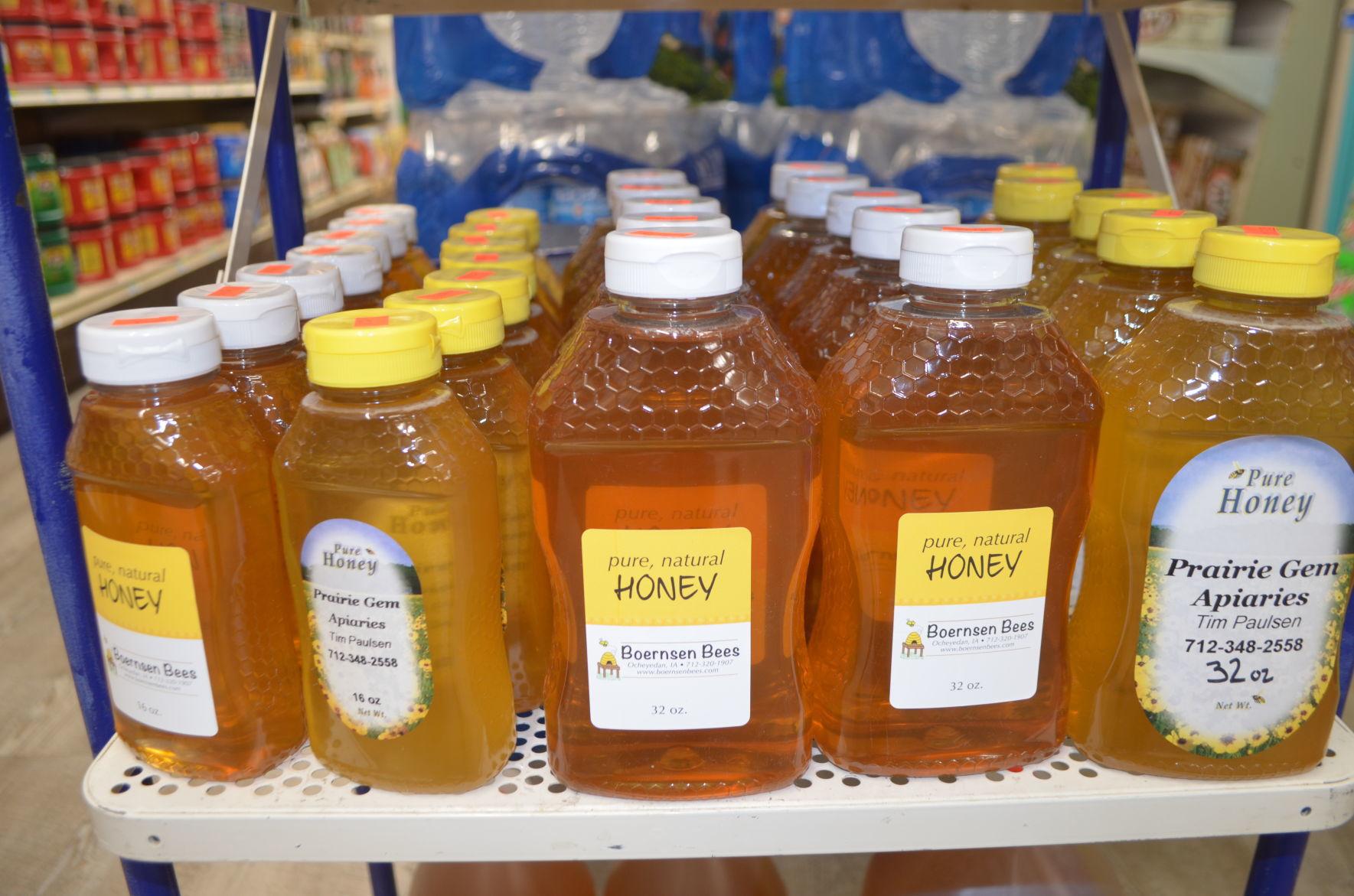 The store is bright, sharp and squeaky clean. It's also a nimble enterprise, as the Palmers are quick to seek out food and other items sought by customers. They carry Iowa wines, for example, and a number of organic items and those that appeal to health-conscious consumers. Shelves are going up this week for an Iowa craft beer corner. Fresh items from Casey's Bakery in nearby Sioux Center have proven popular.
"We extended store hours to serve people who get home from work at 6 p.m.," Laura said. "And we opened from 10 a.m. to 5 p.m. on Sundays."
The Palmers take orders phoned in to Prairie Market. They fill those grocery lists and deliver.
The site, which is affiliated with the AWG food cooperative, is open until 8 p.m. weekdays. The Palmers, who didn't work as grocers in earlier careers, are here from 7:30 a.m. to 6 p.m. They return at 8 p.m. to close. They laugh about their drive from their home to the store. "It takes two minutes," Doug said, shaking his head about the traffic he battled for decades.
And now, the Browns
A half-block south at Paullina Hardware, Eric Brown took time to speak with local chiropractor Justin Fisher about the delights of brewing coffee. According to Brown, specialty coffees and high-end coffee shops represented two items he's missed since relocating from the Twin Cities during 2018. Rather than wallow in downtown Paullina, Brown immersed himself even more in coffee and became a seller. There can't be too many hardware stores where the owner talks and sells specialty coffee and coffee equipment.
"I'm a coffee connoisseur, so I brought specialty coffee and coffee equipment here," said Brown. "I also added live minnows and more live bait because people like to fish."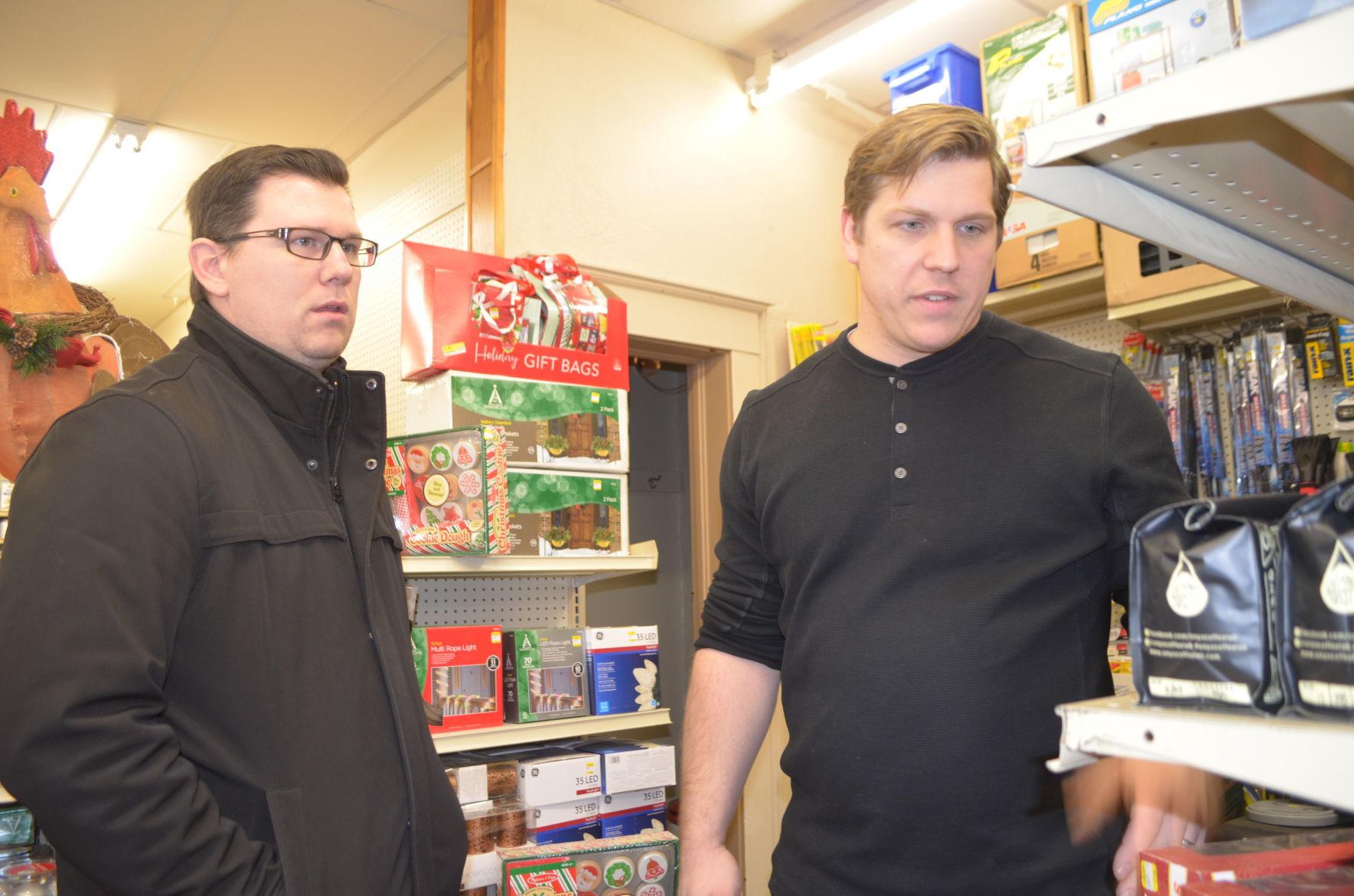 Eric and Heidi Brown, high school sweethearts, expect their fourth child this week. Coming home, Eric said, represented a chance to introduce their children to their parents' rural backgrounds while allowing them room to run and breathe, either in town or out on the farm.
"I'd been looking for opportunities to come back," Eric said. "And then on July 4, 2017, we were leaving town and I noticed Rick Weidaman had put a piece of paper on the door, letting people know the hardware store was for sale."
In time, Weidaman, who represented a family-run operation for a half-century, worked with the Browns on the sale of the building and contents. As they prepared to move, the Browns headed to their True Value store in Minneapolis to buy paint to prepare for their home sale.
"We finished a bathroom remodeling project and sold our home and headed to Paullina," Eric said, noting how the couple moved in for the time being with his parents on the farm.
He'll soon begin painting the home in town he and Heidi and their children will occupy.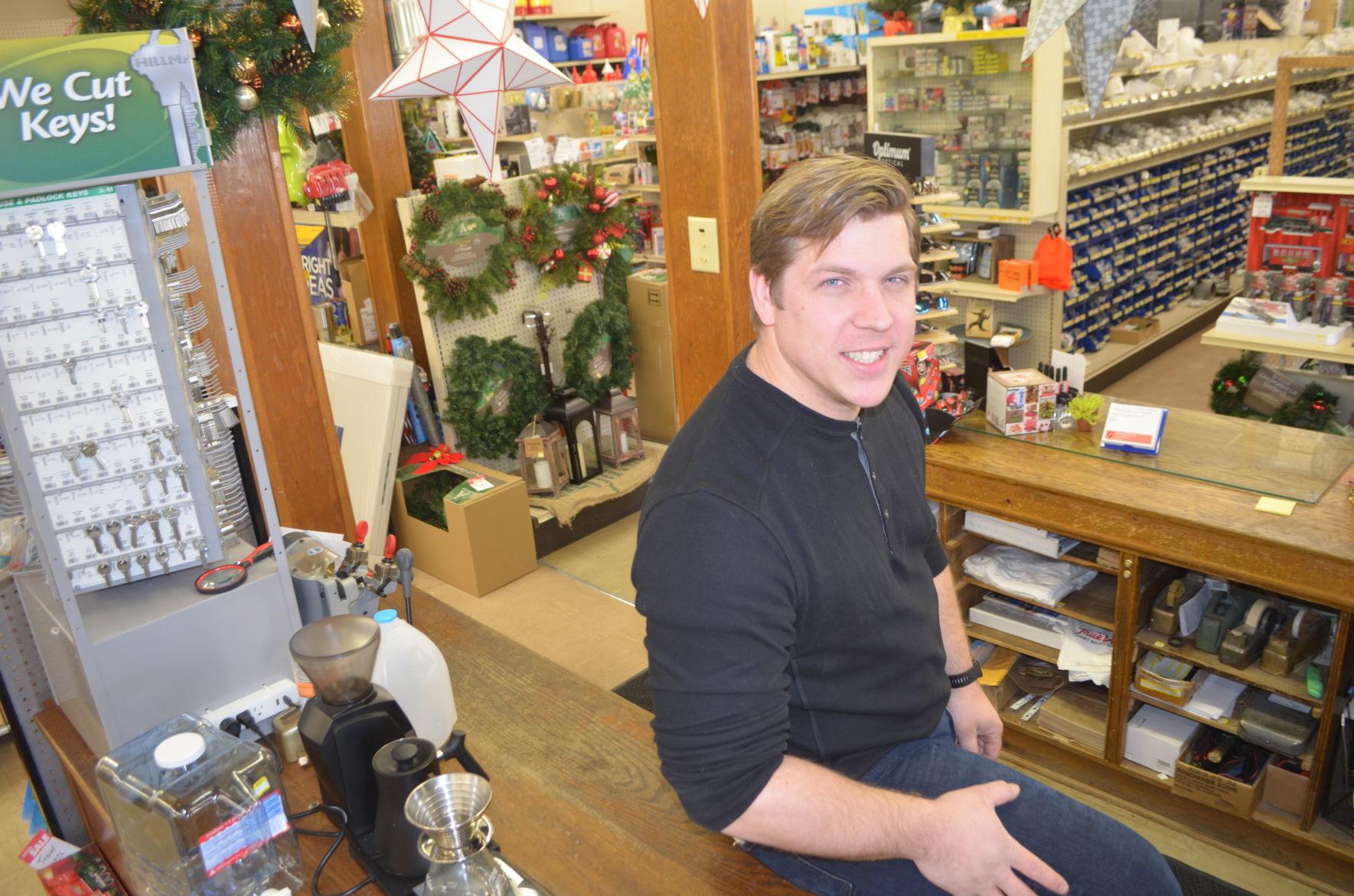 Well, when he isn't busy helping run their business, tending to their children and helping Heidi with their newborn.
"It's been fun working here with Heidi and having the kids' grandparents here," he said. "We've got plenty on our plates, but we're really enjoying being back."
"We're thrilled both couples are back in Paullina," said Dean Hansen, a customer of both Paullina Hardware and Prairie Market. "It's great to have both stores available to us."
In an era where out-migration seems to drive talking points and news of the day, it's wonderful to see two families digging in for their shared hometown, a pair of "gems" adding life and commerce to the "prairie."
"I love it here," Eric Brown concluded. "This is the best job I've ever had."