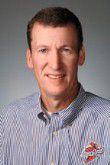 PIERSON, Iowa -- Roy and Andrew Linn stepped into a soybean field not far from the Little Sioux River Valley in eastern Woodbury County on Tuesday morning.
They didn't like what greeted them.
"Pods are opening," Andrew said. "We need to get these beans out of the fields."
With so much rain, a dash of snow on Sunday and downright frigid temperatures this month, beans took on moisture and expanded, some popping from the pod. Andrew handed me a soybean to chew.
"Gummy, isn't it?" he asked.
Check.
"If it bites like a Gummy Bear, soft and gummy, that isn't good. We can't combine these soybeans until they dry," he said. "When you take your fingers and snap pods, they should open, which tells you the combine can open them. We can't do that now.
"We really need sunshine and some heat units for these fields," he concluded.
Across Siouxland, corn and soybean growers face weather-related issues as Mother Nature pushes the 2018 harvest off to a soggy, uneven start. The USDA's latest harvest projections show just 19 percent of the Iowa soybean crop harvested, the smallest percentage harvested by Oct. 14 since such record-keeping began. The soybean harvest, which is running 11 days behind, has seen 51 percent of the crop get to the bin by this time as an average the past five years.
Meantime, 17 percent of the corn crop has been harvested, lagging behind its 5-year average of 24 percent. This year's crop trails the harvest average by four days.
Iowa State Climatologist Dr. Justin Glisan reports that last week brought up to four inches or above precipitation to Iowa. Average temperatures were also cooler than expected, up to 10 degrees cooler than normal in this corner of the state. The coldest spots in Iowa last week were at Sheldon and Sanborn, both of which dipped to 24 degrees.
Additionally, strong winds welcomed a cold front early in the week and may have damaged some of Linn's corn, a crop whose stalks have been weakened with excess moisture this season. Moving up the plant, one finds small areas of mold at the tips of select ears.
"Mold is more of a problem where the ears are standing up because the moisture has gotten in to the ear," Andrew Linn said. "For the ears hanging down, the shuck deflects the water."
The Linns checked both corn and soybeans on Tuesday morning before combining corn, a crop that, despite challenges, seems sizeable. "This looks good," Roy Linn said as he pulled and examined two ears in a field north of Correctionville, Iowa. His early inspection mirrored Iowa reporting that showed 69 percent of the corn crop rated good to excellent.
The pace worried Andrew Linn as a portion of his family's soybean crop may burst from the pod before the combine reaches the waterlogged fields. The phenomenon frustrated a grower who brought this crop, one rated 65 percent good to excellent across Iowa, almost all the way home.
"We need to get a couple of weeks of this kind of weather," said Paul Kassel, an Iowa State University Extension field agronomist who checked his watch to see a 60-degree air temperature reading, warmer than forecasters predict for Tuesday. "The sun is out, the wind is blowing. We need every minute of this."
Kassel, who is based in Spencer, heard isolated reports of pods popping. He also fielded reports of chewy beans and rubbery pods, both of which must dry.
Corn fields must also dry, as some areas in northern Siouxland haven taken on as much as 12 inches of rain since September.
"The season kind of reminds me of 1993," Kassel said, thinking back 25 years to the great Iowa flood. "There are areas west of Bancroft, northeast of Emmetsburg and north of Cylinder that never did get planted. The difference between this year and 1993 was that we were a lot warmer this year. We had a warm growing season that helped us out."
Kassel believes yields could be strong, save for areas that couldn't escape a cycle of rain. Fields in those wet spots may see 140-bushel corn. "And that doesn't pay the bills very well," he said.
Back near Pierson, Andrew and Roy Linn got their John Deere moving north, then east and eventually into a field of corn, which they'll pick until soybeans have dried enough, maybe two or three days from now. Hopefully, they'll still have most of the beans in their pods, not scattered atop the soggy soil.