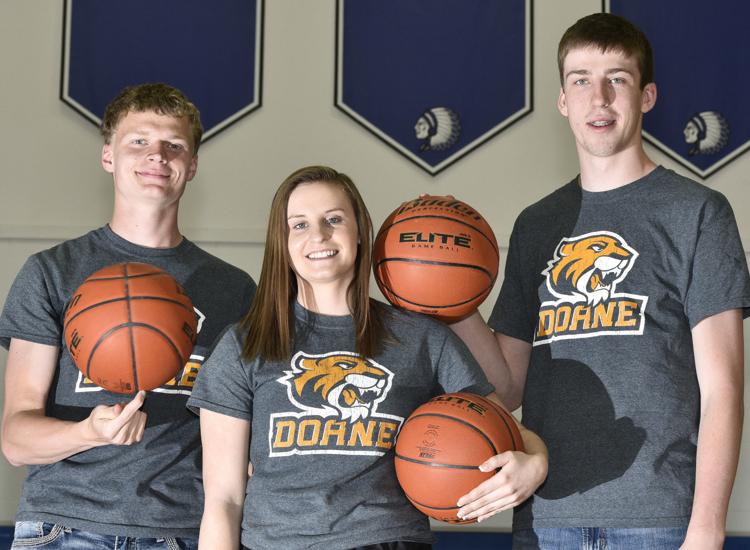 PONCA, Neb. -- In coming weeks, the routines high school seniors have followed for years begin to end.
As high school graduations take place, seniors realize the paths they've traveled together now will branch out in several directions. Sports and activities that defined them will, in many cases, be put aside as they move on to college.
Three seniors set to graduate from Ponca High School on Friday won't be saying goodbye to everyone. They won't be hanging up their basketball shoes either.
Teammates on youth, school and summer teams since third grade, Connor Day and Max Masin will continue playing basketball together at Doane University. Classmate Emma Kneifl will join them at the Crete, Nebraska, college to play basketball on the women's team.
They didn't all plan to choose the same college, but they're happy it worked out that way.
"It's awesome. You get to carry it on for four more years. You're not fully saying goodbye to playing basketball with everyone here," said Connor, the son of Susie and the late Gene Day.
It's easy to understand why they'd want to keep playing together. Connor and Max ended their high school careers with back-to-back Class C2 basketball state championships. Emma played on a girls team that qualified for the state tournament her junior year and finished fourth. She missed her senior season after tearing an ACL in her knee during volleyball season.
For a smaller school like Ponca, it's a special achievement to send three players from the same class to play at the same college.
"We had an amazing team and we all became good friends. Hopefully we can bring that to Doane," said Max, the son of Sean and Wendy Masin.
The move from high school to college athletic competition is likely to be a big adjustment. It will be nice to have two friends on campus to share that transition with, said Emma, the daughter of Chad and Julie Kneifl.
"It'll make it a lot easier. They'll be in basketball too, so it'll be someone to talk to," she said.
Connor, who went to school in nearby Newcastle with Emma until seventh grade, made his college decision last fall. Emma decided to give basketball another shot after having doubts if she wanted to play again after her knee injury. Max chose Doane in March, the same month the three signed their official letters of intent.
"After we signed, it kind of hit me we were all going there," Max said. "It shows how good Ponca is."
For the next few days, they're still Ponca High School students. Then it's off to Doane, where they'll help with basketball camps in June and take part in workouts before returning home for the rest of the summer.
Emma, a guard who plans to major in health and society, expects to get full medical clearance to resume all activities soon and be ready to go when basketball season starts.
Max and Connor look forward to stepping on the court together again as they have so many times over the past decade.
"It'll make things easier," said Connor, a guard who will major in biology. "I already know where his shots like to be and vice versa."
It's one adjustment they won't have to make, said Max, a post player who will study computer science.
"You can always rely on at least one guy that you know," he said of teaming up with Connor again.
The three soon-to-be Ponca grads will get to know all their new college teammates once classes and workouts start in the fall, but there's something about seeing a familiar face on a campus full of strangers.
"It'll be nice to have friends there," Emma said.