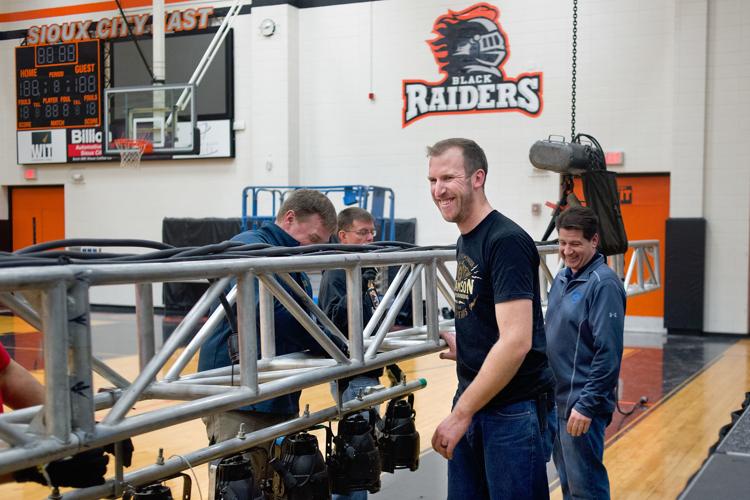 SIOUX CITY -- Luke Scroggin has been the sound man for everyone from Snoop Dogg to the Chainsmokers. 
The Sioux City native has even had his hands on the audio board whenever Warren Buffett, the "Oracle of Omaha," holds court during Berkshire Hathaway's annual shareholders meeting.
However, Scroggin still comes back, every year, as the go-to audio and lighting guy for East High School's "Sing All About It" show choir invitational.
About 27 middle school and high school show choirs from Iowa, Nebraska and South Dakota will compete Friday and Saturday during the contest, which is considered one of the top show choir events in the Midwest.
But for Scroggin, "Sing All About It" was where he first discovered a passion for audio engineering.
"I was in show choir during my freshman year and knew it wasn't for me," the 2007 East High School graduate explained. "The very next year, I became one of the crew guys and realized it was more exciting to be in the background than it was on stage."
Scroggin is being modest.
Always comfortable with the technical side of stage production, he quickly learned the ropes as a crew member for all of East's show choir, musical and special events.
When it came to charting his future career, Scroggin enrolled at the Conservatory of Recording Arts and Sciences, in Tempe, Arizona.
"I was one of those guys who was able to turn my passion into a career," he said. "I've never forgotten that."
After earning his degree, Scroggin worked as a production specialist for Sioux City's Creative Entertainment for a few years before becoming an audio systems technician for the Omaha-based Audio Visions for more than nine years.
Scroggin's current position has allowed him to travel around the country, working for events as diverse as Blake Shelton concerts to Mannheim Steamroller Christmas shows to bull riding competitions.
Through it all, he's acquired the reputation for raising the production value.
"I want everyone and everything to look and sound great," Scroggin said. "It doesn't matter if I'm working in a 19,000-seat stadium show for Cheyenne (Wyoming) Frontier Days or 'Sing All About It,' I'm giving it my all."
Indeed, East's choral activities director Tom Hales is one of Scroggin's biggest fans. 
"We'll have as many as many as 2,000 show choir students coming to compete," he said. "Having these students perform with professional level sound is very gratifying."
"That's in large part due to Luke, our East High parents volunteers, as well as our student crew members," Hales added.
Scroggin is especially excited about the students working behind the scenes at "Sing All About It."
"It will be nice to help somebody discover their dream like I discovered mine at East," he said.