SIOUX CITY -- Wasn't it just last week that we were complaining about all that snow piled up as we weathered freezing conditions and wished it would warm up a little?
We weren't wishing for this.
Warming temperatures causing excessive snowmelt and combining with record-breaking rainfall and still-frozen ground swamped the region Wednesday, flooding basements across Siouxland and making travel difficult in many areas.
By late afternoon, Woodbury County Sheriff Dave Drew had emailed out a list of 16 spots in the county in which roads were covered because of flooding.
"There's a big swath of water that's got to go somewhere," Drew said.
In Dakota County, U.S. Highway 77 from its intersection with Nebraska Highway 35 at Dakota City was closed to Walthill. Dozens of county roads were closed or nearly impassable.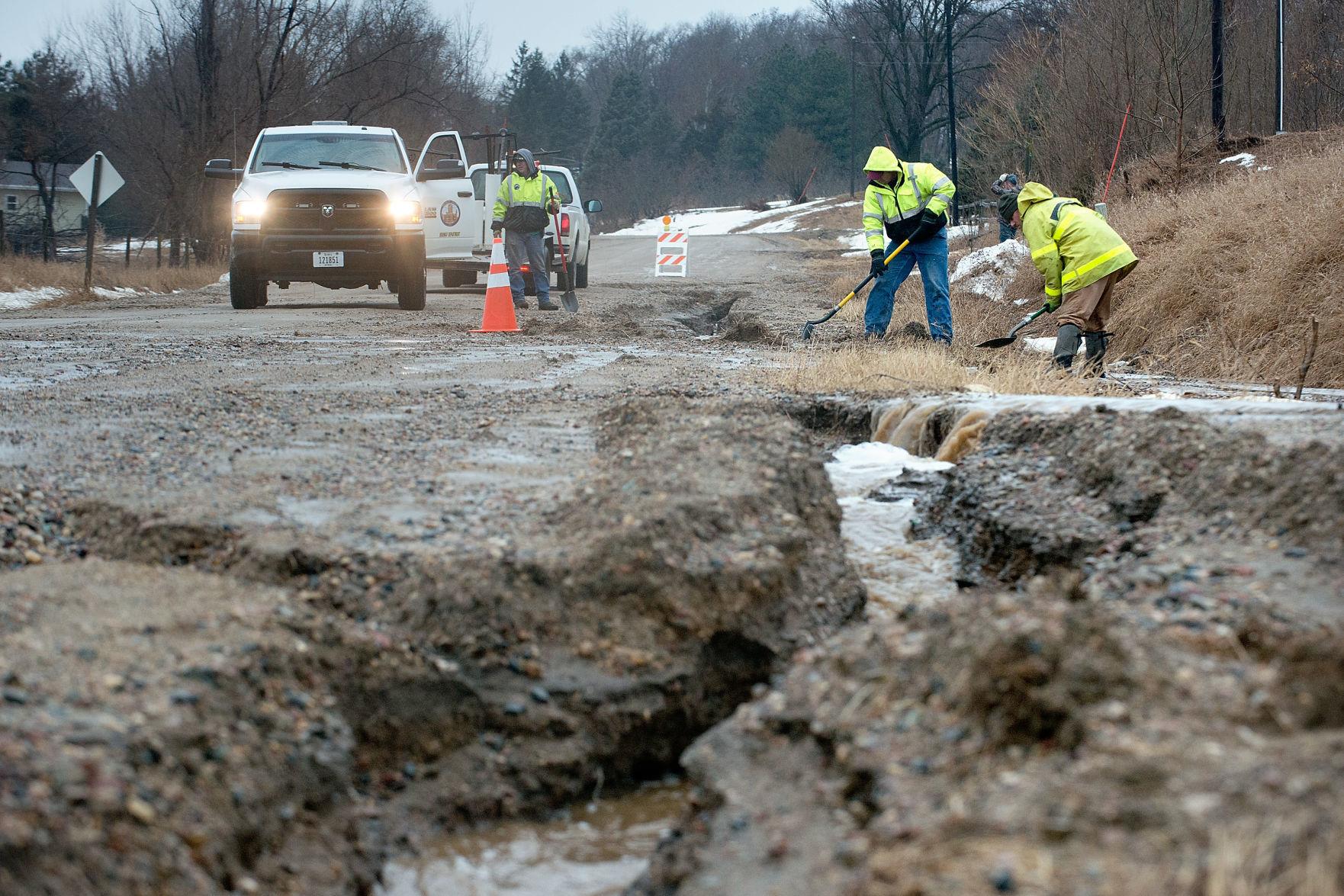 "I'm getting reports from deputies and the road department and county roads are not good, not good at all," said Deanna Hagberg, Dakota County Emergency Management Agency director.
Cedar County, Nebraska, officials ran out of barricades to mark closed roads and advised motorists to stay off rural roads, many of which were flooded or damaged.
After a frigid February, the frozen soil is of no help to absorb all the rain and melting snow, said Kerry Hanko, a meteorologist at the National Weather Service in Sioux Falls.
"In this case, we have frozen ground, which acts almost like concrete. (The water) can't absorb, so it ponds or just flows toward the rivers," Hanko said.
And boy, did it ever flow on Wednesday, when Sioux City received 1.55 inches of rain, a new record for March 13, surpassing the old record of 1.20 inches in 1973.
Social media pages were filled with photos and video of water flowing over roads and streets and filling rivers to the top of their banks.
Flood warnings remain in effect along most rivers in the region, Hanko said, and moderate to major flooding can be expected along the Big Sioux River in Hawarden and Akron, Iowa, along the Floyd and Rock rivers in northwest Iowa and the James River in southeast South Dakota.
Residents in Randolph, Nebraska, living in low-lying areas were asked to evacuate their homes. Hornick, Iowa, residents were urged to remove valuable property from basements in anticipation of basement flooding throughout town.
In Sioux City, Perry Creek was forecast to crest Wednesday night at 25.5 feet, just below minor flood stage. City officials did not expect water to leave the banks, but residents near the creek could expect to see water in their back yards, a normal occurrence when the creek reaches that height.
City utility workers spent the day responding to calls throughout the city from homeowners with water in their basements and chipping frozen debris out of storm sewer inlets.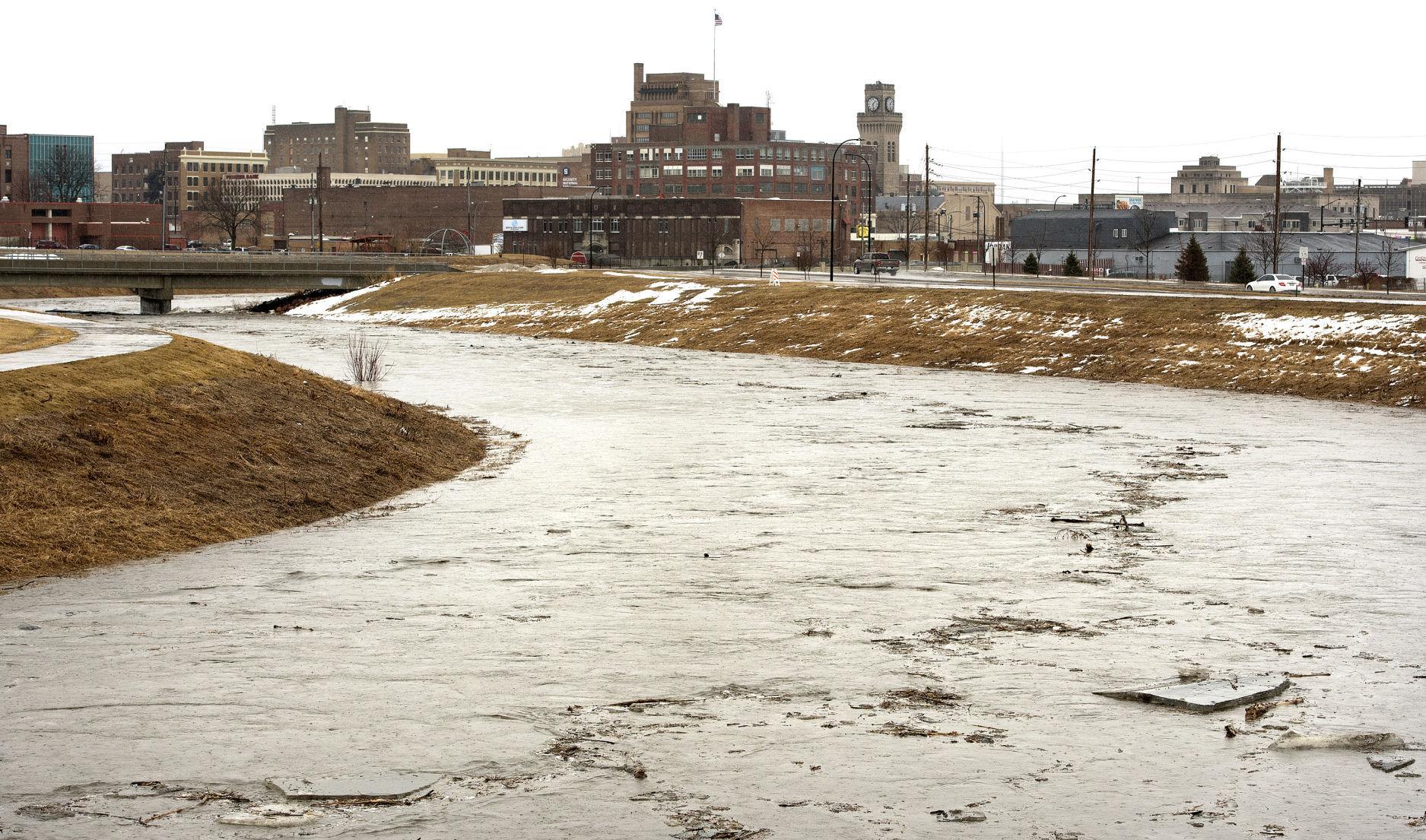 "I think everyone just understands there isn't much of a place for the water to go," city utilities manager Mark Simms said.
Simms said there were several reports of sewers backing up into basements and manhole covers popping off into the street.
Conditions may not improve much Thursday, Hanko said.
Another half inch of rain was expected overnight into Thursday morning before changing over snow by mid morning. Hanko said most of Siouxland should see up to an inch of snow, but that's not the main concern. Winds will increase throughout the day and gust up to 50-60 mph before the snow stops falling in the late afternoon or early evening.
Relief is on the way, however. After Friday, when highs are forecast in the 30s, the weekend forecast calls for sunny to partly cloudy skies with temperatures in the 40s.