SIOUX CITY --  A female student walked up to an early voting satellite station at Morningside College on Oct. 15, taking a photo of the "Vote Here" sign stand on the ground.
She rushed back to her two friends, announcing she would tweet out the image on her Twitter account. But will she vote?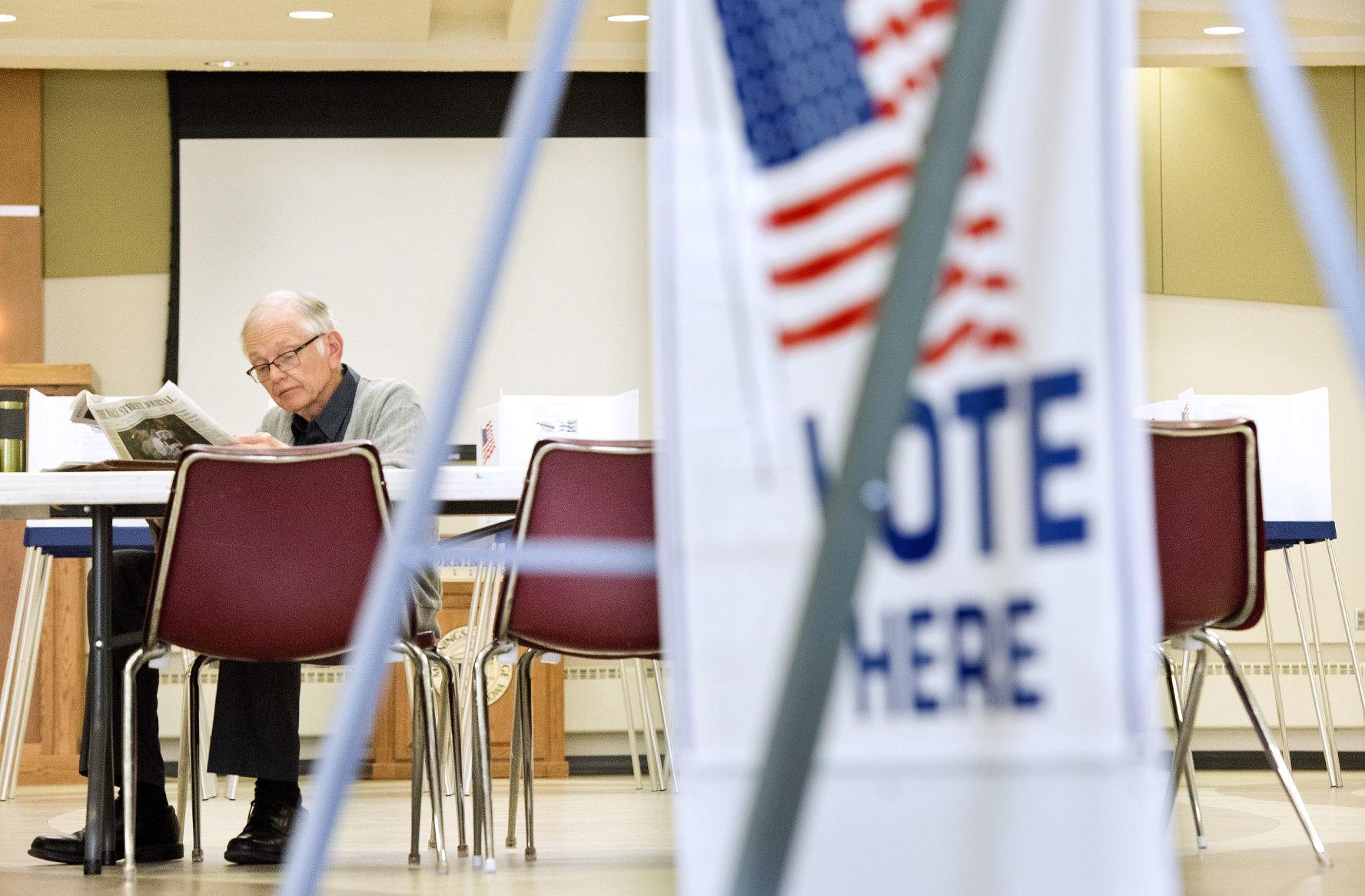 While that co-ed might have been excited about the Nov. 6 midterm election, political observers --- and candidates hoping to win contests -- are wondering if millennials will just talk and air social media observations or turn out and vote. Young people historically don't have a strong track record of voting, Buena Vista College political science professor Bradley Best said.
Best noted the U.S. Election Project shows less than 20 percent of eligible voters ages 18 to 29 participated in the 2014 midterms.
Best said that young voters certainly could have a big impact out political races, if they vote. He said voting behavior experts estimate that since the November 2016 presidential elections, just over 8 million young people turned 18 and joined the voting-eligible population.
"That equates to about 3.5 percent of the overall voting-eligible population in 2016. Thus, the number of new and first-time voters who could potentially vote and impact the 2018 elections is, for sure, substantial," Best said.
He added that Americans, as a whole, vote far less in midterm elections.  Thirty-seven percent of the voting eligible population cast ballots in 2014, In 2016, a presidential election year, the turnout was 60 percent.
Also on Monday in the Morningside College student union, Kailyn Roberts strode with purpose into the early voting satellite location. Roberts, a 20-year-old junior from Osage City, Kansas, first voted in the 2016 election during her freshman year of college.
Roberts said she is more politically motivated than some Morningside students, as she is president of the Morningside Civic Union group that tries to educate students on public policy. She said college students need a lot of information, as they are deciding whether to begin the habit of voting.
Therefore, Roberts said it is good there are organizations and professors who give information and prodding.
"A lot of people don't even know how to find their polling place, so it deters some people," Roberts said.
Roberts and Morningside senior Anthony Patton said many students on campus have been gearing up for months towards voting this year, following the surprising 2016 win by President Donald Trump. They said students who like Trump want to vote for other Republicans, while those who don't support the president want to elect Democrats as a counter balance.
With that reality in their minds, Siouxland political party leaders are pushing to add young adults and voters in other age groups to use early voting and or cast ballots on election day. 
Woodbury County Republican Party Chairwoman Suzan Stewart and Woodbury County Democratic Party Chairman Jeremy Dumkrieger said they're doing outreach to young voters.
"We have made concerted efforts to reach younger voters through door knocking, calling and registering voters," Stewart said.
Dumkrieger said many young people are using the early voting period to vote Democratic.
"They are voting and will continue to vote. Not only are they voting, but they are also volunteering to make sure others vote too," Dumkrieger.
Roberts said she discusses the election and urges her Morningsider classmates to vote.
"I always say, I don't care what your party is, but vote," she said.
Patton voted for the second time in his life via the satellite option, and said he's on social media noticed "a lot more pushing by people my age to actually go vote." Just before casting his ballot, Patton said he discussed what he was about to do with a group of fellow Morningside cross country team members, and the majority said they planned to vote by November.
He said on election day, however, "might not be the most feasible" time for students to vote, given how busy some Tuesdays can be on campus.
Roberts said key issues to her include immigration reform and women's health care.
"For younger people, it is less on things like the budget or the economy, but it is the hot button (social) issues that get the attention," she said.
Patton, a registered independent from Lincoln, Nebraska, said a lot of students are motivated by the Senate confirmation hearings three weeks ago that resulted in Brett Kavanaugh being confirmed as a U.S. Supreme Court justice.
Kavanaugh was nominated by Trump, and in the hearings a combative Kavanaugh denied California college professor Christine Blasey Ford's testimony to the committee that he sexually assaulted her at a 1980s high school party while they were teenagers.
"I think it motivates a lot of women to vote," whether conservative or liberal, Patton said.
Best said political scientists are viewing whether young women register and vote in record numbers this November. He also is watching to see how young people view the Trump presidency and Republican lawmakers who support him, including whether they lead a "blue wave" of anti-Trump reaction.
"It would be unwise to neglect the possibility that the youngest voters are mobilizing in ways that could make 2018 an exception to the rule where youth engagement in politics is concerned," Best said.
Each county leader said their political party has good policies to entice young people.
"We look toward expanding opportunities in renewable energy and technology that will allow young people to stay in Iowa to create and build businesses or work remotely for companies from around the world. We want to bring back high paying jobs; high-quality, healthy, sustainable employment that will provide security and benefits for families for decades," Dumkrieger said.
For the Republican side, Stewart said, "Jobs and economic progress are hallmarks of the Republican Party and young people recognize this. Young people in our area know government funding and handouts come with a price and understand that the best way to make progress is through good jobs and a great economy as we are currently experiencing under the guidance of Governor Kim Reynolds."