Gestring offers vision for University of South Dakota as she is inaugurated 18th president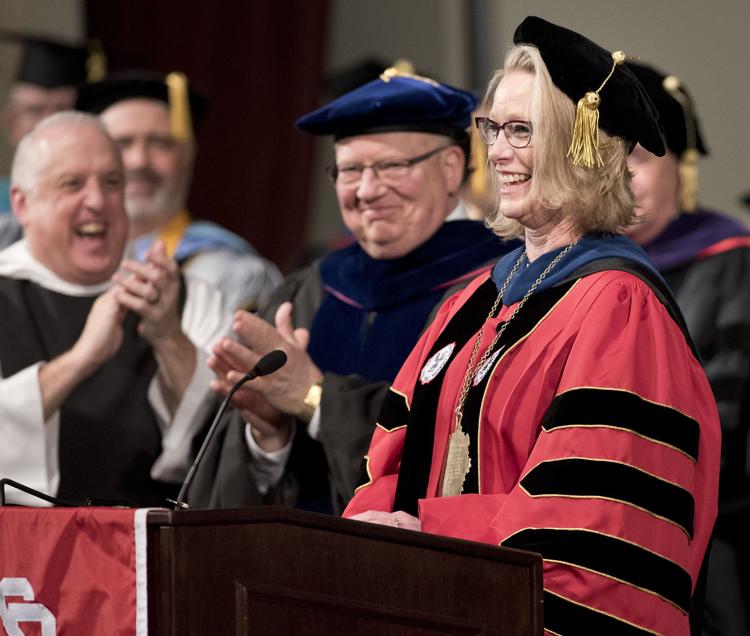 VERMILLION, S.D. -- Sheila Gestring laid out her vision for making college more affordable for South Dakotans and growing the state's skilled workforce as the 47-year-old was inaugurated Wednesday as the University of South Dakota's 18th president.
Gestring assumed office on June 22, succeeding retiring president Jim Abbott, who led the university for 21 years.
Abbott touted Gestring's leadership and her fiscal prowess as he introduced her at the school's first presidential inauguration ceremony in more than 20 years.
"USD's strong financial position is the result of her ability to solve complex budgetary problems and meet financial challenges in innovative ways," Abbott said of Gestring, who previously served as the school's chief financial officer.
During her remarks at Aalfs Auditorium, Gestring, the university's second female president and the second graduate to hold the office, emphasized college access, affordability, career-focused education and her enthusiasm for the school's "Discovery District" in Sioux Falls, which is under development.
"This year alone, the University of South Dakota Foundation awarded more than $7 million to 3,673 students," Gestring told the audience. "But despite this significant contribution, for too many South Dakotans, the promise of an education remains out of reach. Each year, an estimated 6,000 South Dakotans would benefit from a state needs-based scholarship. Now is the time for South Dakota to join the rest of the country in providing that opportunity to students."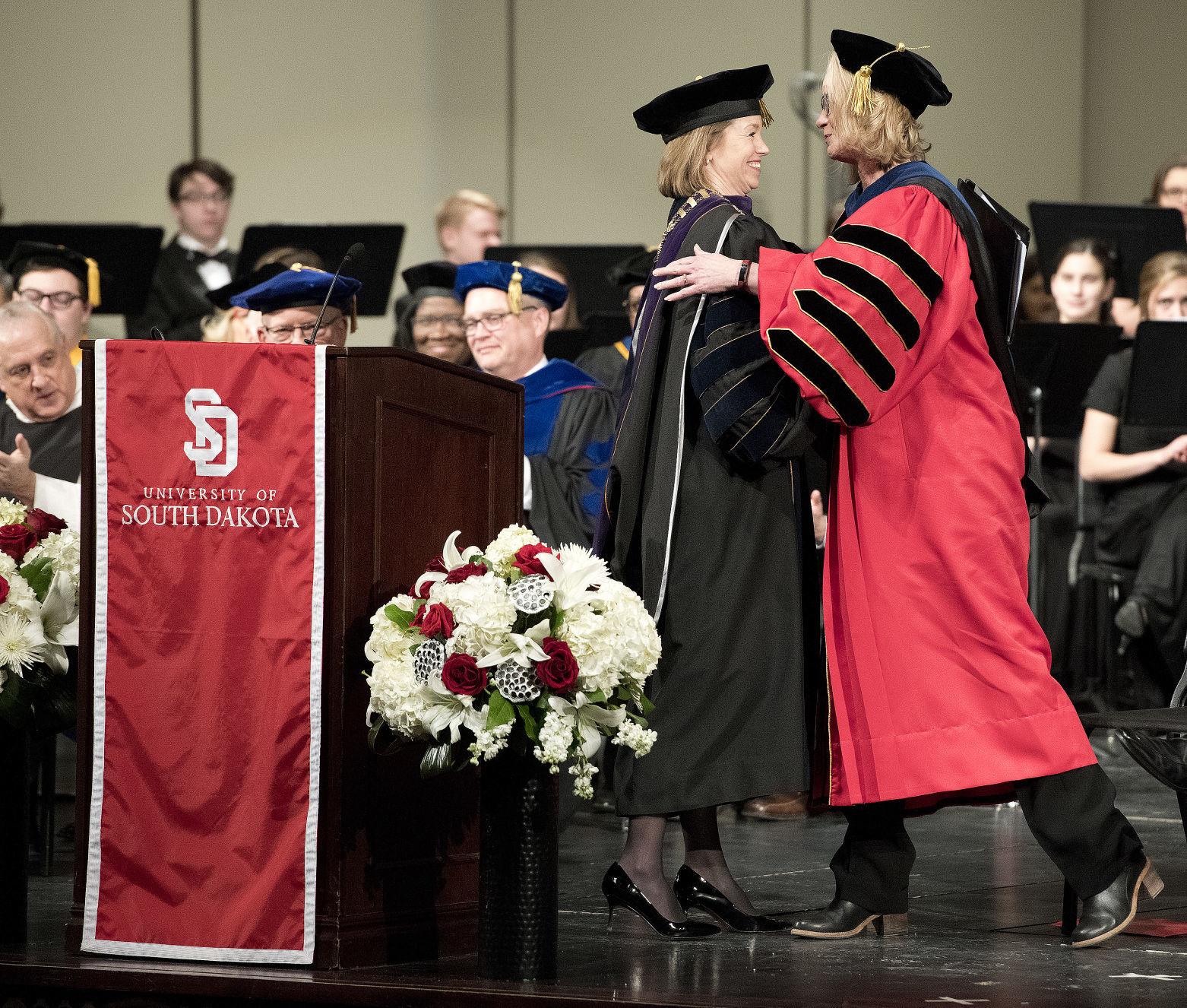 She also touted the "Dakota Advantage Program," which offers in-state tuition to students from the nearby states of Iowa, Nebraska, Colorado, North Dakota, Montana and Wyoming.
"Another way USD will be able to help fulfill our state's workforce needs is by attracting students from out of state, who would otherwise have never had the benefit of living and working in South Dakota," Gestring said. "It's estimated that 30 percent of these students that attend a South Dakota public university, will stay in South Dakota after graduation."
During a brief interview with the Journal following the ceremony, Gestring said she would like to explore renovations and improvements to the aging Fine Arts building. She noted a survey taken by the student government association showed that a majority of students would like to see updates to the facility.
Gestring also said USD's law school, which in the past has struggled with poor bar exam passage rates, financial challenges, fewer applicants and threats to its accreditation, is moving in the right direction. 
"This past year, the law school has just taken off in the best way," Gestring said. "We added a top scholars program, which is full tuition and fees for the top 15 students. We ended up with a class that had a higher average LSAT than we've had since 2010. The class size actually increased in the process, by 22 percent. And our bar pass rate improved from 52 percent to 82 percent."
At one point, university leaders considered moving the school to Sioux Falls. After a series of meetings and study, USD decided to keep it on the main campus in Vermillion. The law school, the only one in the state, is currently seeking a new dean. 

Among those in attendance for the inauguration Wednesday were Gestring's husband, Keith, and their two children, Dillon, 16, and Wyatt, 14, as well as Gestring's parents.
Gov. Kristi Noem, U.S. Sens. John Thune and Mike Rounds, and U.S. Rep. Dusty Johnson were all invited to Wednesday's ceremony, but were unable to attend due to legislative obligations. Each sent a staffer to speak in their place.
"I am sure that continuing to prepare the next generation of students to be in the workforce of tomorrow will be a top priority for this new administration," Steve Westra, commissioner of the governor's Office of Economic Development, said. "I know the governor looks forward to working together on these issues."