SIOUX CITY -- In 1994, Jackie Baker and Candy Gaskill were recruited by the Sioux City Art Center to develop a big new event: It would be called ArtSplash (also known at the time as ARTSPLASH, and other spellings). 
It would be a "free riverfront extravaganza," the Sioux City Journal wrote of it the inaugural event in September 1994, that "intends to show Sioux Cityans that art offers a world of enrichment and enjoyment." 
Gaskill remembers the early years of ArtSplash fondly. 
"It was our baby," she said. "We met with the coordinator of the Omaha (Summer) Arts Festival, and she trained us and helped us, and we put it all together." 
In its first year, ArtSplash was a novelty in Sioux City -- the two-day event aimed to bring people who weren't too familiar with art into the fold. And if ArtSplash in its formative years wasn't the juggernaut it is today, the newness made up for that.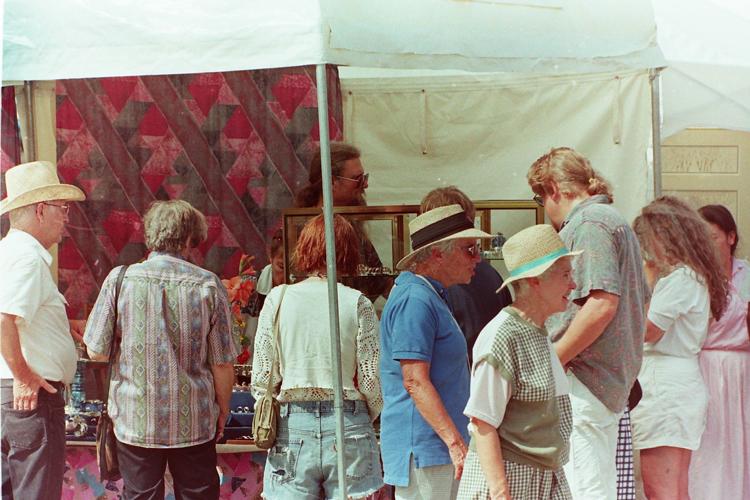 "It was much, much smaller, (yet) I think that the public was very surprised it was as large," Gaskill said. 
Like anything that's brand new and in flux, the rules and conventions of ArtSplash weren't set in stone in 1994. Would there be booze? Should the entertainment be local or national? Does the entire event have to be art-centric? Where should it be held? 
"We had a lot of people trying to convince us to have a beer garden, to keep it more like Saturday in the Park. And we chose to keep it a family festival -- so we had no alcohol," she said. 
Organizers looked at several possible locations for the first ArtSplash, including Riverside Park (the event's current location), the riverfront at the Anderson Dance Pavilion and Grandview Park. Local artist Mary Munger advised Gaskill and Baker when they were scouting a place. 
"We took her to the different sites, and she helped us choose the riverfront -- mainly because of it being flat," Gaskill said. "She thought, as far as the artists are concerned, that would be the most feasible for them." 
The event was held at the riverfront until 2011, when flooding forced the event onto the higher ground at Grandview Park, where it stayed in 2012. In 2013, they moved to Riverside Park, and have stayed there since. 
You have free articles remaining.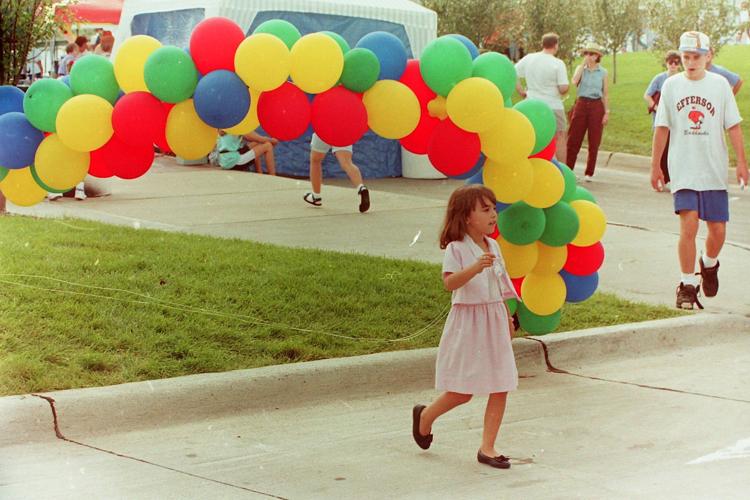 The location change is, naturally, the most obvious change that's come to ArtSplash. Gaskill said she has mixed feelings about having it in Riverside Park. 
While Gaskill now lives in Sioux Falls -- her participation in ArtSplash ended in 2006 -- she still has fond memories of the days when ArtSplash was a riverfront affair. 
"There's something about that (riverfront) area that has a -- maybe it's the atmosphere, I don't know if I can really describe what it is -- I love that area, being on the river," she said. "But Riverside has those beautiful, big trees and the shade is very nice, and I'm sure the artists love that." 
The 25th ArtSplash, Sept. 1 and 2 in Riverside Park, will feature main stage headliners The String Beans and Jill Miller and her band on Saturday and Sunday, respectively, at 1 p.m. 
Other main stage acts include Paul Imholte, Noah Towns and Kelly Quinn and Patchouli, returning from a recent tour of China. Children's activities will include inflatables and bungee bounces, Poppin' Penelope and her balloon sculpting skills and a variety of art activities. 
Entertainment at the Children's Stage will include The Amazing Arthur, Lisa Ryan Zumba, Marshall's Taekwondo and the Sioux City Police Department. 
And of course, there will be voting. Attendees are invited to cast a ballot for which color they want the 1977 John Henry sculpture "Sioux City" (better known as "The French Fries") to be. The options are yellow (current color), red and blue. 
Some 94 artists "from your neighborhoods and from around the country" will be displaying and selling their work at ArtSplash, Sioux City Art Center development coordinator Erin Webber-Dreeszen said. 
"Heart and soul has been put into this festival," she said.