A musical about 9/11? Several writing teams thought it was a terrible idea. But Irene Sankoff and David Hein preferred to look at what it could say about an international community coming together.
"Throughout New York, there was this overwhelming sense of kindness," Hein says. Living in a graduate student residence that was home to people from more than 110 countries, he and Sankoff saw how people overcame their differences and bonded.
"They gave us hope on that day," he says. "They reminded us that people can be good ... that kindness is a way you can respond."
Using Gander, Newfoundland, as their setting, the composers told the story of residents coming together to help 7,000 passengers who had been stranded. A former fueling stop, Gander had the space to accommodate the 38 planes that were grounded. Townspeople, who barely outnumbered the guests, rallied to bring food, clothing and comfort to the passengers.
"It's a universal story," Hein says. "It reminds people where they were. We were all in the same boat that day, all wrestling with feelings of helplessness."
After interviewing Gander residents at the 10-year commemoration ceremony, Sankoff and Hein developed a bond with the community. "We had become friends," Hein says. "We'd talk for hours at a time, they'd invite us back to dinner and we'd stay over with them. When we started writing, we wanted to represent our friends on stage."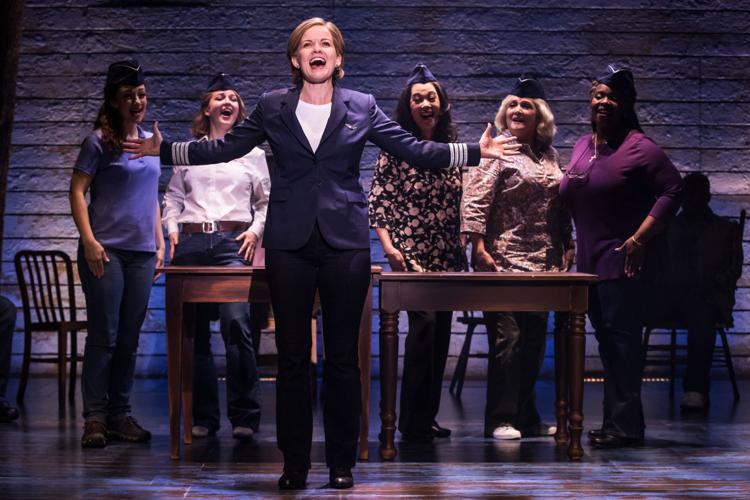 The result, "Come From Away," is an amalgamation of the residents, passengers and airline personnel they interviewed.
"The first draft was hundreds of pages and hours long," Hein says. The writers rewrote and rewrote and rewrote until they had a piece for 12 actors and 12 chairs.
"Maybe it's a Canadian aesthetic," Hein says with a laugh. "We only have so much money. We can afford 12 chairs. How do we make it theatrical?"
You have free articles remaining.
What the writers – and the director, designers and actors – realized was "Come From Away" had to have the same spirit of cooperation as the people it was chronicling. Instead of reordering the characters (so the actors could make a quick change), they had other actors move chairs, hand props, offer costume pieces. "It's taking someone else's jacket or moving someone else's chair. The staging became a metaphor."
The "team," as Hein calls those who contributed to the show, "just put their whole heart into it."
Gander played host to two benefit concerts and loomed as the show's toughest crowd. "We had 2,500 people at each one," Hein says, "and we were basket cases. We didn't know how they were going to react. In the middle of 'I am an islander,' they stood and started cheering."
Since then, Gander residents have been "Come From Away's" biggest supporters. When the show moved to Broadway, they were out in force. It was nominated for seven Tony Awards (including Best Musical) and now is up for nine Olivier Awards.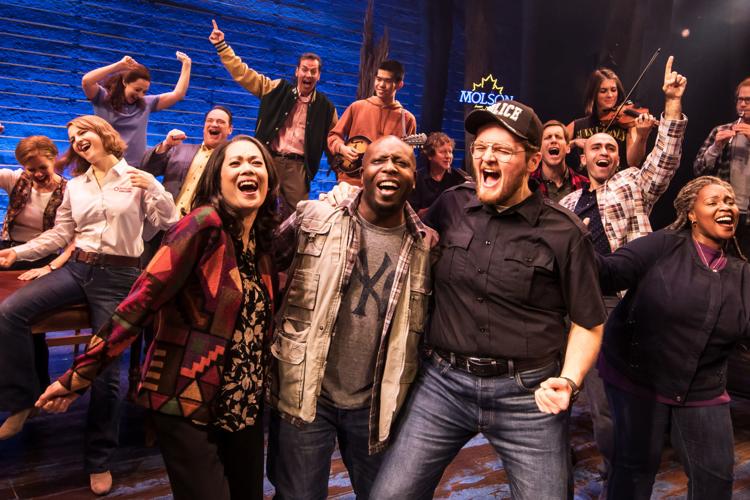 "London, right now, feels electric in its response to the show," says Hein. "(Residents) are wrestling with Brexit and there's a real feeling of divisiveness. Social media is filled with hate and anger and there's an 'us' versus 'them' divide."
The musical, he says, has convinced audiences, "we can overcome those differences and come together as a community."
A film version is planned and, instead of using chairs, the producers will show the planes, the people and, yes, the real Gander.
"We'll definitely be there," Hein says.