SIOUX CITY | Evan Michael's job is to be a pig patriarch. 
Michael plays Daddy Pig, the father of central character Peppa Pig in the popular stage production, "Peppa Pig's Surprise," based on the animated British television show. The show will play at the Orpheum Theatre on Nov. 14. 
In addition to Daddy Pig, Michael plays Peppa's friend Danny Dog and another character, Mr. Bull. 
The character of Daddy Pig, Michael said, is one that just about everyone in the audience likes. 
"I think he is so relatable, and so consistent with what you'd expect from a dad who loves his kids, always tries to do right by them, and even when he doesn't succeed, you can laugh and smile along with him, because his efforts are so genuine," he said. "As an adult, you'll really have some funny moments laughing at Daddy Pig because, as a parent you're probably like, 'Oh, I've been in his position. I get that pig up there!'"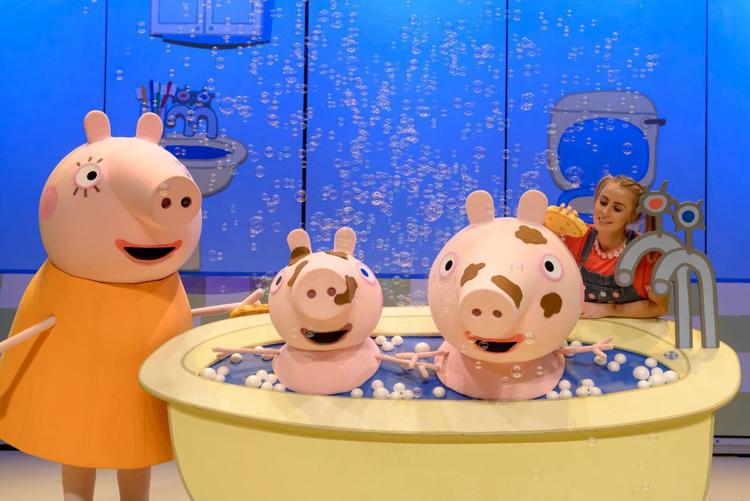 The performance features Peppa and her brother George trying to guess what surprise Mummy and Daddy Pig have for them. Audiences can expect interactive fun, games and (of course) surprises during the show.  
"They lift so many of those great moments of Daddy Pig trying to surprise Peppa and George, trying to jump in muddy puddles but then clean themselves up after, we take those great moments and bring them to life on stage," he said. 
Michael, who was previously a television news anchor in Michigan, got the Daddy Pig gig two years ago, after he moved to Los Angeles and started doing voice-over and commercial work.
One day, his agent called him and said there was a voice opportunity with a family stage production but didn't offer many details about the job. 
"I showed up, and it was Peppa Pig," Michael said. "And they wanted actors who were great with bringing the iconic voices from the TV show exactly as kids and families recognize them, to life on stage. And although I didn't have a lot of experience or suit work, I was able to match the voices and the oinking."
These pig vocalizations are a pretty important part of the job -- the tone of the characters' oinks often help indicate what mood they're in. Particularly important was Michael's ability to get Daddy Pig's "oink-citement" to come across. 
"I oinked for like 20 minutes at the audition," he said. 
The realness of the performance is a theatrical achievement in its own right.  
"It's as if the characters from the cartoon stepped out of your TV set that you watch at home, and appeared right in front of you on stage," he said. "The look, the feel, the colors, the costumes, the songs, they're just so recognizable from the cartoon." 
The show, Michael said, features a lot of back-and-forth between the audience and the pigs, which makes things even more real. 
"The kids, and mom and dad, and grandma and grandpa, they feel like they're going along on the adventure with Peppa and George and Daddy and Mummy Pig," he said. "The show's so interactive -- we can't solve the problems on stage without the kids helping us." 
Children, Michael said, go wild when they see Peppa Pig on stage. 
"If you can picture like, what adults would be if they went to a Beyoncé concert, or an Aerosmith concert, you know just rockin', jumping up and down, going nuts -- that's what these kids are like at Peppa Pig," he said. "We love it when they have that much fun."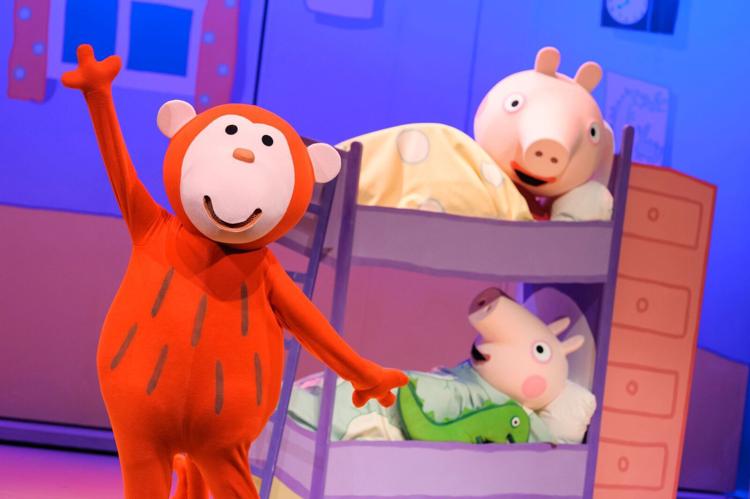 But it's not just for kids. British fans have noted the show's "cheeky humor," which kids don't often pick up on because of their fixation with the colorful puppets and the singing. 
"But your moms and dads, your grandmas and grandpas, the older siblings who are there, they will laugh and smile and smirk, especially at Daddy Pig, with all of that cheeky humor," he said.