SIOUX CITY | Parents and grandparents who bring children to "Daniel Tiger's Neighborhood Live: King for a Day!" at the Orpheum Theatre Feb. 3 might have a blast-from-the-past experience. 
The live musical production of Daniel Tiger is based on the animated PBS children's show "Daniel Tiger's Neighborhood," which is based in part on Fred Rogers' "Neighborhood of Make-Believe." 
Because so many elements of the production are drawn from "Mister Rogers' Neighborhood," the children's program that ran from the 1960s until 2001, adults might see bits and pieces they remember from the earlier show. 
"It's really cool because it's an inter-generational story," said Nora Moutrane, who plays Daniel Tiger in the stage version. 
Moutrane said the television version of Daniel Tiger came about in 2012 partly because of a desire to carry on the legacy of Rogers, who died in 2003, and to re-use some of the memorable materials and the spirit of his show. 
Then, finding Daniel Tiger a hit on TV and streaming services, The Fred Rogers Company decided to parlay it into a theatrical experience for children. The production is currently in its third round of touring, now with its new "King for a Day" script. 
In "King for a Day," Daniel is cast as king in a school play. The young tiger initially assumes that being a king is all about power and material wealth, but learns there's more to it than that. 
"He's sort of trying to figure out how to be a king, what does it mean to be a king," Moutrane said. "So the whole show is about exploring what it means to be a leader." 
Both the TV and stage versions of Daniel Tiger are filled with homages to Mister Rogers -- Daniel Tiger in particular is something of a caricature of Rogers, in the form of a 4-year-old tiger. In the stage production, Daniel even learns about kingship from King Friday, a character from the Neighborhood of Make-Believe. 
"Daniel wears a red sweater, and sneakers, and that's what Mister Rogers used to always wear," Moutrane said. "It was like his classic, iconic look. So it's sort of like, Daniel Tiger is the memory of Mister Rogers.
"He's sort of, has a lot of elements of Mister Rogers -- he's very pure, he's very endearing, he's very kind."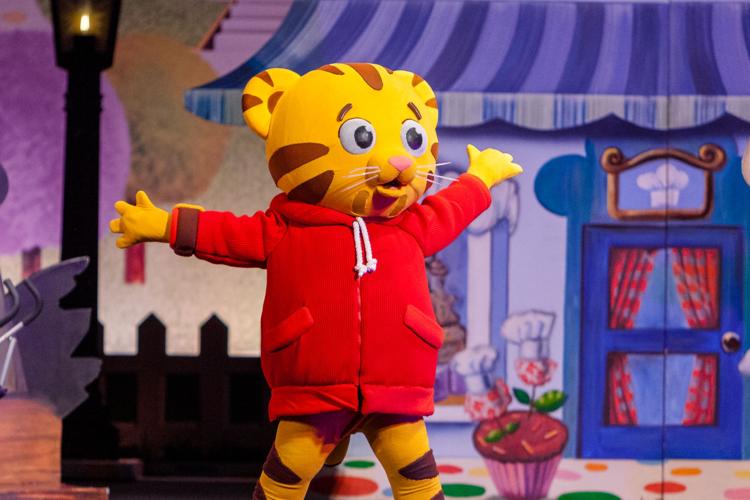 And, like Mister Rogers' Neighborhood before it, Daniel Tiger aims to imbue young viewers with a lesson. Not one of arithmetic or spelling, but an object lesson in decency and morality. 
"The show is basically about learning what's important in life, in terms of how to be a leader and how to be kind to other people, and how to accept people with differences," Moutrane said. "All of these lessons that Daniel learns for the first time.' 
If she were a child today, would Moutrane be a Daniel Tiger fan? 
"I just think the cartoon is super-progressive and forward-thinking," she said. "It is just very, 'with it' and with the times, so I think if I was a kid now, I think I would definitely be watching it."