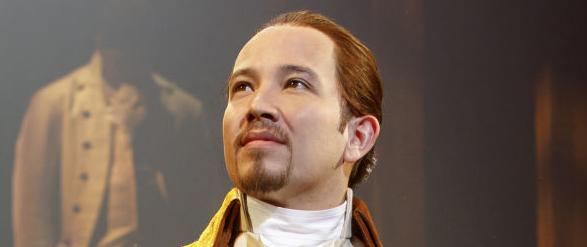 OMAHA -- "Hamilton" is one of those musicals that is so much more than its original cast album.
If you've listened to the songs, seen snippets from the show or even read about the phenomenon, you have no idea what you're in for.
The show is a masterpiece of movement, a dictionary of detail. Between those hit songs by Lin-Manuel Miranda, there's so much to consider, you'll want the actors to slow down so you can savor every rhyme, every smart piece of direction, every nuanced performance.
"Hamilton," however, moves like its subject – Alexander Hamilton – a man who believes his time is limited.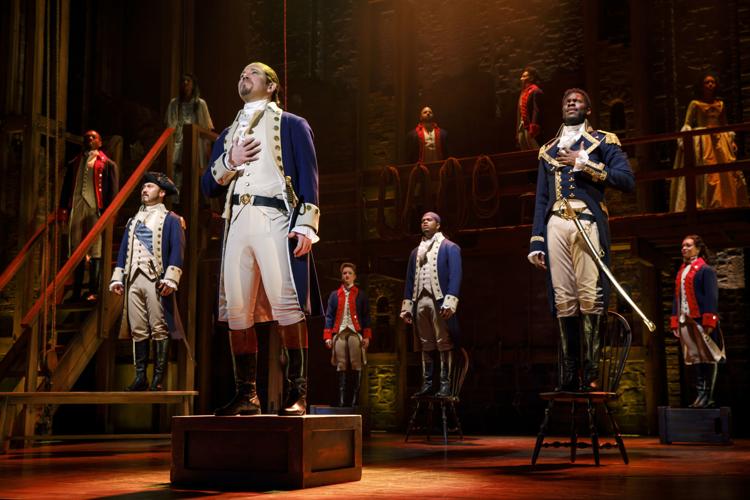 In the current touring production, which opened this week at Omaha's Orpheum Theatre, Joseph Morales finds ways to play into the each of the adjectives detractors use to identify him. He's a brash, bold vibrant Hamilton who gives his rival, Aaron Burr (Pierre Jean Gonzalez on opening night) every reason to hate him.
The two begin as friends following similar paths. Both are part of the country's founding; both want to move ahead in the new world. Hamilton, however, is a classic overachiever, writing 51 Federalist papers when his nearest competitor only completes 29. He wins the ear of George Washington (Marcus Choi), too, and has the ability to wow society. Meanwhile, Burr watches in surprise.
Director Thomas Kail makes the Mozart/Salieri relationship sting, putting the two at opposite ends of most situations and using a turntable to spin them out. Rolling characters on and off the stage, that not-so-lazy Susan is a key player in making a nearly bare set become a nation of possibilities.
Thanks to Andy Blankenbuehler's choreography, we get a sense of letters being mailed from overseas, duels being played out in fields and battles being fought on unfamiliar turf. Something as simple as ensemble members passing papers becomes poetic.
But because there's so much story here, Kail and Blankenbuehler can't light on any one thing for long.
Hamilton marries Eliza Schuyler (Erin Clemons) while retaining a strong friendship with her sister Angelica (Ta'Rea Campbell). He has a wandering eye, too, and a popularity that's easy to resent. When he's in play with those in "the room where it happens" (and Burr is not), Hamilton becomes someone everyone can identify.
Interestingly, Hamilton is not the best role – Burr is – and Gonzalez embraces every bit of it. While he is a tad shorter, he doesn't cower. Gonzalez savors something like "Dear Theodosia" and never lets you forget he's in the picture, too.
The Schulyer sisters are well matched (yes, even Peggy) and Neil Haskell (as King George) is one of those scene stealers who can provide relief just when you need it the most.
Because much of "Hamilton" is done in rap, it could be difficult to grasp in the beginning. Two songs in, though, and you're in the groove, ready for the big rap battles and that great one-two punch from Warren Egypt Franklin as Lafayette and Thomas Jefferson.
Kail uses several actors in dual roles and never fails to impress with the ways he can make uniformed dancers look like whole armies.
"Hamilton" is one of those once-in-a-lifetime shows. It's dramatically dense (based on Ron Chernow's detailed biography) and musically memorable.
If you've seen the show with a different cast, you'll find yourself discovering new elements, particularly when it comes to supporting players like Warren Egypt Franklin and Desmond Sean Ellington, who are revelatory as Jefferson and James Madison.
Thanks to Miranda, they're in a chameleonic show you can see over and over again and still be amazed.
If you've seen it once, you haven't seen it all. 
"Hamilton" runs through Sept. 29 at the Orpheum Theater in Omaha. Information is available at omahaperformingarts.org
Stay up-to-date on what's happening
Receive the latest in local entertainment news in your inbox weekly!