SIOUX CITY -- One would assume that a principal dancer with Riverdance, that perennial troupe of Irish dancers, would be Irish-born. 
Not so with Maggie Darlington, who, despite a vaguely Irish-sounding name, comes from California. 
"I've been Irish dancing since I was 3. I have two older sisters, and my oldest sister started dancing," Darlington said. "We actually do have family in Ireland, and I think she saw a postcard or something with the big, elaborate dresses and said, 'I want to do that!'"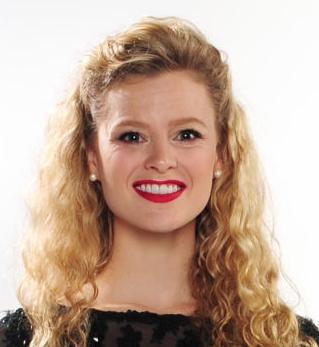 While Darlington has dabbled in other dance forms "a little bit," Irish dancing is the only she has mastered. "I know some of the basics, but I wouldn't say I'm like, trained, not in the same way that I do Irish dancing."
For years, Darlington studied Irish dance with instructor Máire O'Connell, eventually reaching the level of mastery that got her a spot in Riverdance in 2011. And apparently seven years isn't all that long of a tenure with the 20-plus-year-old Riverdance troupe. 
"I've heard of people being with them like 10 (years), or even some people that are now in the office, you know have been there since the beginning, all 20 years," she said. "So people tend to stick around. I'm definitely not the one that's been here the longest, by any means."
The show's dance numbers contain subtle themes -- the first half is rooted in Irish myths and legends, while the second half addresses the Irish Potato Famine of the 1840s, and the ensuing mass exodus from the country. 
"So it's like, you're moving somewhere else, but you're still rooted in your culture, kind of like a celebration of that," Darlington said of the Great Famine routine. 
There will be other types of dancers doing their own numbers on stage -- including tap, flamenco and Russian dancers. All these disparate performers contribute in their own way to the experience. 
"I'm really not sure how they came across the Russian ballet, but the music is phenomenal and it's one of the best numbers in the show," Darlington said. 
Another number to be on the lookout for is a new "percussive" dance for the female troupe members. 
"There's no music, it's just the rhythms of the feet," she said. 
Being one of the show's three principal dancers means Darlington also gets to do a solo in the show, "and come out and be more of a personality" on the stage.