What do you learn about Kevin Hart by looking at his social media channels?
1. He's on a fitness kick designed to make him even stronger than he was when he stared out from the cover of Men's Fitness magazine.
2. He loves his kids (#stronglikehisdaddy "#daddysgirl).
3. He isn't afraid to retweet raves about his concert.
Just one look at last week's Instagram/Facebook/Twitter posts (@kevinhart4real), reveals plenty of hashtags (#HustleHart, #MoveWithHart), a love for the Eagles ("Let's gooooooooo EAGLES!!!!!!! E A G L E S…..EAGLES!!!! Fly eagles flyyyyyyyy") and a desire to retweet those "best time of my life" reviews from concertgoers. 
Let's gooooooooo EAGLES!!!!!!! E A G L E S.....EAGLES!!!! Fly eagles flyyyyyyyy

— Kevin Hart (@KevinHart4real) January 13, 2018
If you're headed to the Tyson Events Center Saturday night, be sure to tweet Kevin after the show. You may just end up in his feed.
Among the more interesting offerings? A restaurant is offering a sandwich called the "Kevin Hart-attack: ¼ pound burger topped with American cheese, cheddar cheese sauce, fries and five strips of bacon on a pretzel bun." His response: "Super dope….I love it." Never mind that it's probably not on that diet.
On Instagram, we can see him lifting a big tractor tire as part of his workout and hear a bit of his motivation. "The days you take off are the days that the person that wants your spot" (he doesn't complete the sentence). In a video he says he's trying to become "the best version of myself. Adapt the mindset."
Even better, he shows a photo of himself in another post on a tube, ready to go down a snowy hill. "Sliding into this new year with a bang….New Year + New Goals = More Accomplishments."
Besides that killer tour ("The Irresponsible Tour"), he has four films on his IMDB page slated for 2018.
In case you didn't realize it, "Jumanji: Welcome to the Jungle," is the No. 1 film in the country. In it, he plays Fridge and gets plenty of laughs, particularly when he's playing off Dwayne Johnson, his "Central Intelligence" co-star. That film's tagline: "A little Hart and a big Johnson." Yup, that one was box office gold, too. To prove he's not just into promoting himself, Hart gives a shout-out to Taraji P. Henson and her new film, "Proud Mary."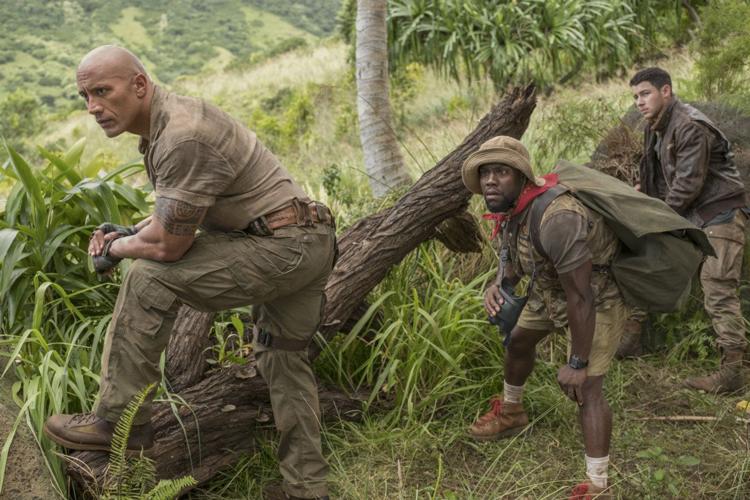 If you need to see the spoils of his success, look at the cool plane he's taking on tour (he offers a look), the series of watches he wears in just about everything and a peek at his home in various family videos.
A Christmas card, titled "Santa's workshop with the Harts," looks like he's up for nudging Martha Stewart, as well.
There's a peek at his appearance on "Poker Stars" (apparently that's another passion) and we get glimpses of the standup show that will come to Sioux City.
If you're into Kevin swag, look at KevinHartNation.com. You'll find hoodies, hats and water bottles.
There are no spoilers regarding his routines (even the fans don't spill the punchlines when they tweet their praise) but his Wikipedia page does offer a couple of examples. Stay away from the parody accounts. They don't offer up the real stuff, just lines they wish he had written.
Better? Live for that Saturday night moment at the Tyson Events Center.
His best offering of the week: A photo of himself leading the pack in one of those Nike Equality ads. "We all sweat the same color," he writes. "Happy MLK Day."