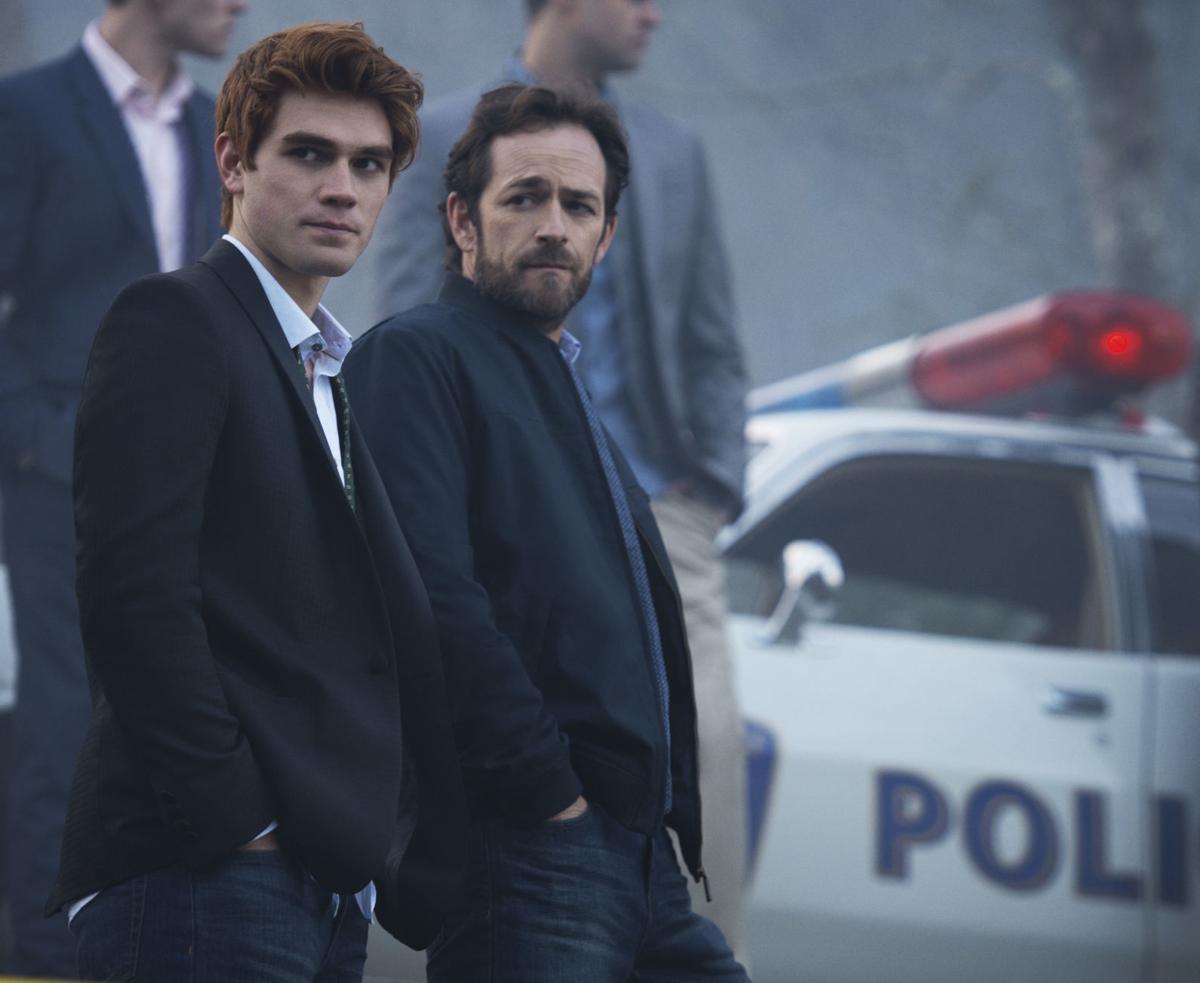 This story appeared in the Journal on Feb. 25, 1994. Perry died Monday at age 52. 
LOS ANGELES -- Until he got on the back of a brahma, Luke Perry had no idea how dangerous bull riding could be.
Experience, however, proved to be a quick teacher.
"It was exactly like being in a car wreck," the "Beverly Hills 90210" star says. "You're whipped around and smashed and, before you know it, your face is in the dirt and you don't know how it happened."
If you knew you were going to get hit by a truck, you wouldn't get in your car. But these guys do it as a sport. It's really amazing."
Perry took the risk, too, because he wanted to make Lane Frost's story as authentic as possible. A champion bull rider -- the "Michael Jordan of the rodeo" -- Frost was gored by a, bull after a string of rodeo successes.
Because he lived a colorful life -- and was a hero to many -- Frost seemed ripe for big-screen treatment. Several producers pursued the story but had difficulty getting studio backing.
Perry, however, thought it could be an uplifting tribute to a man who excelled at a very dangerous sport.
When he heard about Frost's death on George Michael's "Sports Machine," he shifted into gear and "couldn't see anything else."
Perry found a Lane Frost script at 20th Century Fox and began the hunt for a studio, a producer and a director.
In time, he found them all -- including director John Avildsen, the man who won an Oscar for helming "Rocky." Since that was one of Perry's favorite films, the actor knew his project was in good hands.
In order to make "8 Seconds," Perry turned down other, more lucrative offers.
"I had blinders on," he says. "I wanted to get this story made because I wanted people to know about rodeos. Once I'd gone to a couple of them, I realized they were great, undiscovered sports. There were times, though, when it seemed like we were dead in the water."
Studio politics aside, Perry had to convince Frost's family that a film wouldn't sensationalize Lane's life. "I couldn't have done it without them. I wouldn't have done it without them. But I was the perfect guy for the part and they knew it.
"When I talked to them, I let them know I would make this the biggest priority in my life."
Indeed, Perry talked about the Frost film two years ago when "90210" was at its peak. Although producers dangled brooding, James Deanish roles in his face, Perry remained firm. "I loved this story and I wanted to see it done."
You have free articles remaining.
To get in shape, Perry took a crash course in riding. He filmed all the non-rodeo segments first, then hopped on eight bulls for the climactic scenes.
Producers told him, "If you die, we've still got a movie." Perry, however, didn't want to sign off on the picture until he had had a chance to do some of his own riding.
He handled the stunt work in two sessions -- one in California, one in Texas.
Protected by a bullet-proof vest, surrounded by some of the best riders in the business, Perry jumped into the ring.
"I knew enough to do the shots and not get killed," he says. "But I had to promise (one of his advisers) I wouldn't ride anymore. There's no reason for me to do it ... and you take your life into your hands every single time. I had a reason before, but I don't now."
Because he had to worry about his own safety, Perry couldn't think about Avildsen or motivation.
"Ultimately, you find the best films are made when people aren't acting, they're behaving." And that's what Perry believes he did in the most memorable moments of "8 Seconds."
Set for release today, the film represents Perry at his best -- or what he believes is his best.
"If it fails, I'm not going to duck the responsibility. But I'm also not going to say I and I alone got the film made. It doesn't happen that way. But I knew I wasn't going to let go until it was done."
By comparison, he says, marriage turned out to be a snap.
"Nothing's near as scary anymore," he says with a smile. Perry and longtime girlfriend Minnie Sharp married in November.
Their wedding was relatively subdued -- by celebrity standards -- largely because the couple didn't drop clues to the press. "If you give them too much of a head start, they'll beat you to the punch," he says.
"It was pretty difficult to keep it quiet, but we got to have a private ceremony that I was happy with. We ended up husband and wife…what more could you want?"
Pleased with his new life -- and his big-screen opportunities -- Perry has no intention of leaving "90210." "I wouldn't have the film career without the television show. I don't want to turn around and seem like an ungrateful person who got the best he could out of a show and then took off for the high country.
"I made a commitment to (producer) Aaron Spelling and I want to honor it. I still go in every day trying to make it the best show that I can make. It's getting harder and harder. But that's what they pay me to do."
Good storylines, Perry says, are difficult to find. "I'm willing to take chances but the people who write the scripts aren't."
Rather than cause trouble, TV's Dylan does what he's told. "I tell the producers, 'You write 'em and I'll say 'em. You bring the girls in and I'll kiss 'em. We try to make it the best we can and, in the confines of that, they're going to do whatever they're going to do."
Copyright 2019 The Sioux City Journal. All rights reserved. This material may not be published, broadcast, rewritten or redistributed.