On the scale of Marvel superheroes, Ant-Man is pretty low.
He isn't in the front lines with Captain America and Thor. He's blazing his own trail -- which could be a clue to the ending of "Avengers: Infinity War."
In "Ant-Man and the Wasp" there's a hint that someone as clownish as Ant-Man could be crucial.
Given a new suit by the "get small" genius Hank Pym (Michael Douglas), Scott Lang (Paul Rudd) is able to get into something called the Quantum Realm, where the first Wasp (Michelle Pfeiffer) is trapped. Pym's daughter (Evangeline Lilly) has her mom's mantle and partners the goofball when he isn't quite smart enough to control the suit.
Together, they have to battle real and superhero villains to actually get to the realm. Because their size changes repeatedly, it's hard to keep a handle on the suitcase-sized lab that puts this all into play.
Unlike "Thor" or "Doctor Strange," Ant-Man doesn't need extensive research to understand. The guy gets small. The guy gets into tight places. The Wasp does, too, but director Peyton Reed doesn't reveal her sting, only her flight plan.
The two work well together, even though he doesn't take the job as seriously as she does. When they're confronted by a thug just looking to cash in (Walton Goggins in yet another churlish villain role), she has to take the lead. She does so nicely, but often resembles Kate Capshaw more than Pfeiffer.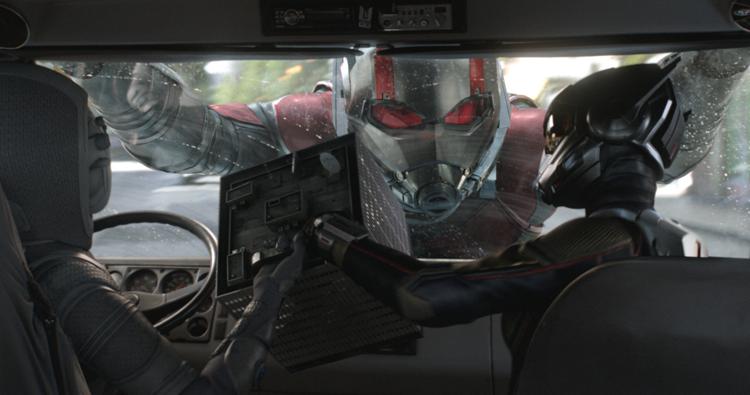 Thanks to some of that high-level CGI, Douglas and Pfeiffer get to look like we remember them from the 1980s. The trick is neat, but it's really just diversion from connecting the dots to "Avengers: Infinity War."
Laurence Fishburne, as one of Douglas' colleagues, figures into this plot, too, but you really have to sit through those oh-so-long credits just to get a hint of what's to come.
Rudd (who also looks like the beneficiary of the CGI stick) isn't as snarky as Robert Downey Jr.'s Iron Man or as deliciously fun as Ryan Reynolds' Deadpool. But he is a comfortable lead who makes something seemingly inconsequential still worthy. Lilly needs to distinguish herself from the other Marvel women without becoming her company's Wonder Woman.
"Ant-Man and the Wasp" is a work in progress. There's likely to be another round. But, first, there's a visit to the Quantum Realm that could be crucial to everyone – no matter how Thanos plays it.