"Crawl" wants us to believe giant alligators are one of the bigger threats from hurricanes. But the lumbering special effect is so unrealistic you kind of think the weather should come first.
Directed by Alexandre Aja, the film has a very set-like look, too. Nothing seems very real. Nothing appears lethal. Only a house – that should have been repaired much sooner – has the ability to take out strong men and loyal pets.
The gator? That's a whole other matter.
How it got so massive (and made it through the drain without some kind of detection) isn't answered. Instead, Haley, a driven swimmer (Kaya Scodelario), stumbles upon it when she's searching for dad (Barry Pepper), who just happens to be injured in the basement of the family home. Because he's passed out, she has to figure out how to drag him to safety before a hurricane reaches deathly levels and the alligator catches wind of them.
Before long others head to the crawl space and, soon, the place is swarming with gators.
Never mind the family dog (named Sugar) is the smartest one of all. He knows where the reptiles are, where dad is and how everyone can get out without losing more limbs than they already have. This is not a case for Toto, too.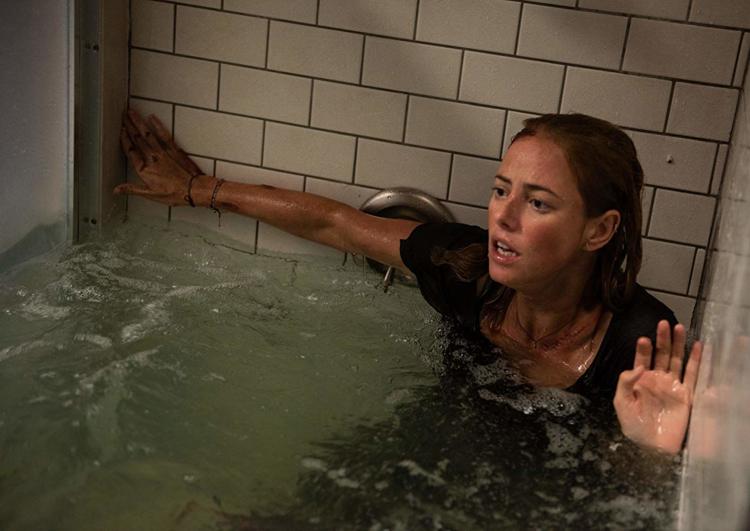 No, first we have to see how dad drove his daughter in swimming, how mom left because she couldn't put up with his attitude and how cops didn't find some way of preventing Haley from driving out to see if dad was OK.
There are plenty of issues but that isn't what sinks much of "Crawl." It's the poorly animated alligators. They don't look remotely like anything real and when they're inside a set that obviously was designed on the cheap, it's hard to believe this wasn't another attempt at cashing in on "Sharknado."
"Crawl" doesn't have many stars, just the two who have to get out of that tear-down of a house.
Because Haley can't hang on to her cellphone, there are several scenes just searching for that. And, because dad shouldn't be allowed to work alone during a storm, there are too many opportunities for him to lose limbs (which he does), bleed out and shout annoying inspirational messages.
Aja makes sure all of the emotional baggage gets carted away, but he doesn't explain some of the other actions, including a burglary at a nearby convenience store. There, three dumb kids try to cart off an ATM and a bunch of cheap sunglasses. Instead of leaving when they should, they wind up chum and, yes, look like the stars of a student film.
Because the two have lived in the house for quite some time, it's odd they don't know more about its construction or how they could have avoided killer gators in the first place. As bad as it is, the basement should have had an inspection before it went on the market. Then, someone might have discovered the drainage problems and, quite likely, the gator infestation.
Still, who defies authority just to check on a dad who should know better?
There's a croc of something in "Crawl," but it's not what you think. This comes from rushing out a film that should have had at least one Google search to check the facts.
Stay up-to-date on what's happening
Receive the latest in local entertainment news in your inbox weekly!