Daniel Day-Lewis didn't win an Oscar for what he said is his last performance, but that doesn't diminish the work.
In "Phantom Thread," he's so meticulously detailed as Reynolds Woodcock, a fashion designer, you half expect him to introduce a fall line. Day-Lewis doesn't play roles, he inhabits them.
Set in the 1950s, "Phantom Thread" shows what a controlled life Woodcock leads. He insists on silence at the breakfast table, consistency in his schedule and power in his life.
"I cannot begin my day with a confrontation," he tells a breakfast partner. Sure enough, she's gone and his life goes on.
When he meets an intriguing waitress (Vicky Krieps), she becomes a muse and, to some degree, a partner.
His sister (Lesley Manville) knows the relationship will never be equal, particularly since she's in control of business. She offers a warning, but the waitress presses on and becomes the woman most likely.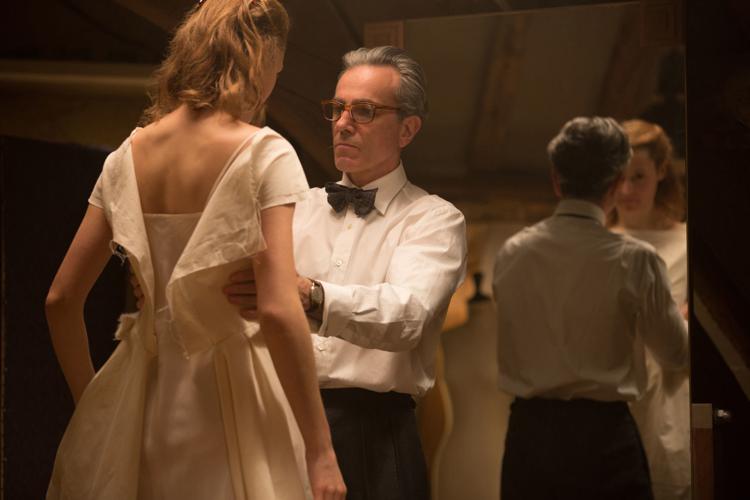 Writer/director Paul Thomas Anderson could have settled for a perfect slice-of-life drama but he pushes it even more and shows how truly screwed up Woodcock can be.
"Phantom Thread" takes a surprising turn, then drifts. It's an interesting choice. But until it happens we get to see the master at work.
Royals ask for his dresses; the wealthy insist on them. When he's upset with one of his customers' behavior, he pulls the dress off her and never looks back.
Anderson gives Day-Lewis plenty of moments, never pulling the camera away. To emphasize the man's elegance, he accompanies each scene with a piano score that can be both vulnerable and forceful.
The Oscar-winning costumes are gorgeous; the settings sumptuous.
While the "Pygmalion" underpinnings show through, they can't hide the thriller that lurks.
When Woodcock becomes annoyed, simple tasks (like buttering toast) become aurally amplified. It's a neat trick, designed to help us understand what Day-Lewis is creating.
Both Krieps and Manville are good foils, pushing and pulling in opposite directions.
Harriet Sansom Harris adds humor; Brian Gleeson gives "Thread" a tinge of "Masterpiece Theatre."
The film, though, belongs to Day-Lewis, who makes a control freak utterly interesting. Thanks to his work, it's an exquisite creation.