Even though it's not family friendly (the R rating is wholly earned), it has enough laughs to make you remember just how innocent middle school was.
Invited to a "kissing" party, sixth-grader Max (Jacob Tremblay) wants a little guidance before he enters the vast unknown, so he enlists the help of his best friends Lucas (Keith L. Williams) and Thor (Brady Noon). They're invited, too, but they don't seem bent on doing much more than improving their reputations (Thor is called "Sippy Cup" because he drinks from a juice box).
The three Google "porn," discover things they haven't seen before and, as a way of getting firsthand information, use a drone to peek in on a neighbor and her surly boyfriend. Sure enough, the drone is grounded and they've got to figure out a way to get it back.
Not unlike "Ferris Bueller's Day Off," "Good Boys" is a journey of discovery for all three. Yes, it has a lot of profanity and adult situations. But it also promotes a touching subplot about innocence and the things that pull friends away from friends.
You have free articles remaining.
Packed with one-liners and sight gags, "Good Boys" suggests 12-year-olds are living in a much tougher world than you ever did. Adult sex toys are everywhere (even though the three are, thankfully, clueless); drugs play a supporting role in the plot.
Tremblay continues to impress as a natural kid actor and Williams is probably the best find since "Stranger Things" was cast. With Noon, they dare to do plenty of things (including cross the freeway) before the fateful night arrives.
Like "Superbad" (which was also produced by this film's producers), "Good Boys" squeezes a lot into a little.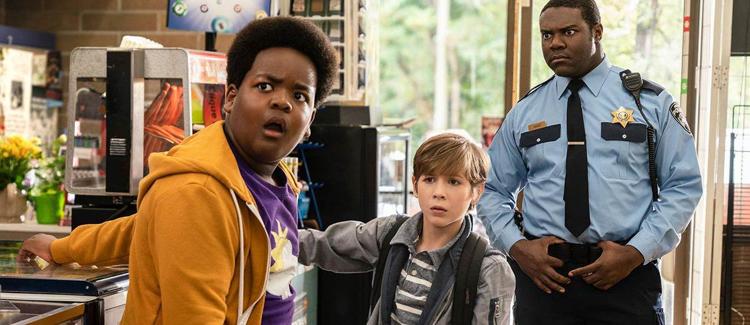 It shines because director Gene Stupnitsky isn't looking for studied performances. He lets the boys be boys and, in the process, gets natural work that makes sense.
Calling themselves the "Bean Bag Boys," the three represent different branches of the development tree. Lucas is the good cop, Thor is the bad cop, and Max is somewhere in between. When he's talking with dad (Will Forte in a brief guest appearance), we get a sense this isn't a neighborhood where anything goes.
The language is raw, but the emotions are real. When the boys come to a realization about their friendship, "Good Boys" may be more heartfelt than any film since "Stand By Me." It cries for a sequel.