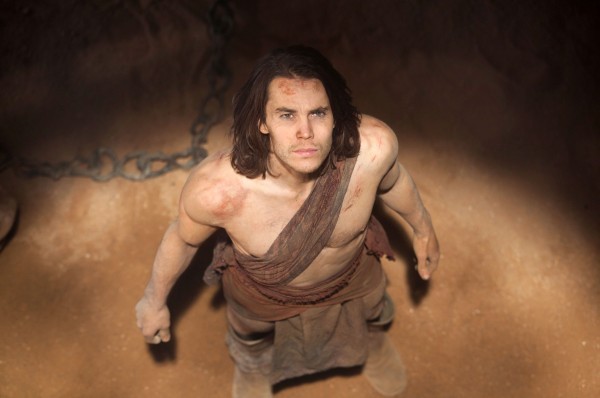 Taylor Kitsch, you might say, struck while the iron was hot.
Before "John Carter" was released, he signed to do a host of other films -- including "Battleship." Had he waited for "Carter" to be released, he might be longing for a "Friday Night Lights" reunion.
Frequently laughable, "John Carter" is a sci-fi flick that hardly warrants the effort needed to don 3D glasses.
Kitsch plays an American zapped onto Mars where he runs into 12-foot green folks with four arms. They become fast friends, then meet up with a Xena clone who eyes the widowed veteran. In no time at all, he's helping her defeat a bunch of aggressors who want to marry into her tribe and bring it down.
There's a quick trip back to America, too, and enough gladiator scenes to make you wonder if someone didn't go to too many movies before writing this thing.
Even though Michael Chabon is listed as one of the writers, it's confusing, but simple.
Kitsch tries -- oh so hard -- to look like he could be another Jason Statham, but it's really hard when basically all he does is the long jump.
Clad in a loin cloth, he makes a perfect workout buddy for Lynn Collins, the warrior princess from -- get this -- Helium.
A whole bunch of very good British actors turn up in an incredibly boring subplot that just extends what could have been a passable 90-minute movie.
Extended, "John Carter" is like the outtakes George Lucas tries to pass off as DVD extras.
Directed by Andrew Stanton, an Oscar-winning animation pro, the film isn't poorly made, just poorly paced. When it feels like it's over, Stanton adds a dumb coda and cracks a door on what could be another installment.
No worries. "John Carter" winds up on Mars and, we're almost certain, he'll stay there. This thing is so dull there's hardly a single American screaming for his return.