What happened to "Aladdin"? As an animated film, it was lively, fun and a nice addition to the Disney canon.
Then someone got the bright idea of remaking all of the 'toons in live action and, well, the wishes didn't come true.
Ignoring the extra songs that were created for the Broadway version (and adding one of their own), the producers of the new "Aladdin" created a new edition that plods like an elephant through the streets of Agrabah.
Even worse? Will Smith, as the genie, can't sing. Here's something "Aladdin" producers didn't consider: Will Smith can't carry "Friend Like Me" and several other songs in the live-action adaptation.
Had they taken a cue from the producers of the stage version, they might have discovered the role requires a triple threat – someone who can sing, dance and act circles around everyone else. Will Smith often settles for being Will Smith.
Mena Massoud does a fine job as Aladdin, the "street rat" who falls for the sultan's daughter. But, somehow, his story has been turned into a female empowerment statement for Jasmine (Naomi Scott). It's nice that she's getting more screen time (and some new songs) but should this really be about her?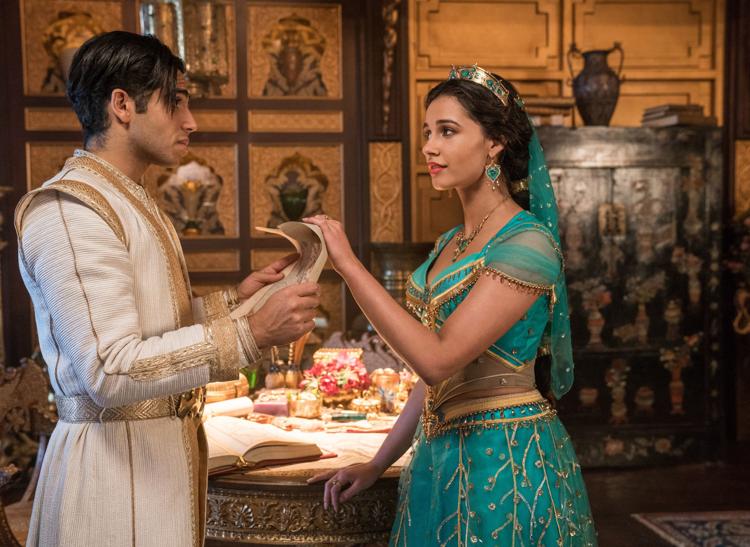 You have free articles remaining.
Director Guy Ritchie has messed with the plot in ways that only extend the film. By the time Jafar (Marwan Kenzari) gets a finger on the lamp, "Aladdin" is off on so many stray carpets it's hard to get it all back to home base. Scenes go on too long, special effects look cheap, and the Genie/Aladdin relationship is abandoned so often you wonder if that final wish should be used on either of them.
Only Billy Magnussen as a goofy suitor coming to win Jasmine's hand and Nasim Pedrad as her handmaiden are welcome additions. The rest of this is either the result of producer interference or animation envy. Clearly, the animated version of "Aladdin" is more efficient and entertaining. It gets the job done. This "Aladdin" messes around too much.
Key to that is casting someone like Smith. Because he comes with a built-in identity (not unlike Robin Williams, by the way), there's a desire to play into that hand. What you discover is just how weak that hand is. Much of Smith's work is done by computers and when we do see him dancing in the streets, Ritchie pulls away whenever the choreography seems a little too complex.
Worse, Jafar isn't as evil as he needs to be. If you've got a film with a flying carpet and a CGI monkey, you should be able to make the villain villainous. Kenzari doesn't bring it (or seem remotely clever). His sidekick Iago (nicely reinvented as a human in the stage edition) is just an annoying bird here.
As much as Ritchie and company think they're in the same league as the animated "Aladdin," they're really not. That was a crown jewel for the Disney company. This is merely an expensive imitation.