Not all right, all right, all right.
That's Matthew McConaughey's latest drama, "Serenity."
Full of atmosphere and little substance, it's one of those ocean-adjacent thrillers Jeff Bridges might have done in the 1980s.
McConaughey plays Baker Dill, a heavy-drinking fisherman, out to land The Beast, a big tuna that keeps eluding him. Although he takes tourists out on the water, he's the one who wants to reel in the big one. His attitude (coupled with a loose moral code) brings his ex-wife (Anne Hathaway) into the picture. She's the battered spouse of a rich cad (Jason Clarke) who wants him to die in a boating accident. She'll pay Dill $10 million if he can make it happen.
Complicating matters? A teenage son who has had to put up with the abusive stepfather for some time.
Writer/director Steven Knight suggests there's more to this than just a quick "man overboard" and tosses in a salesman (Jeremy Strong) who hints that he knows more than he should.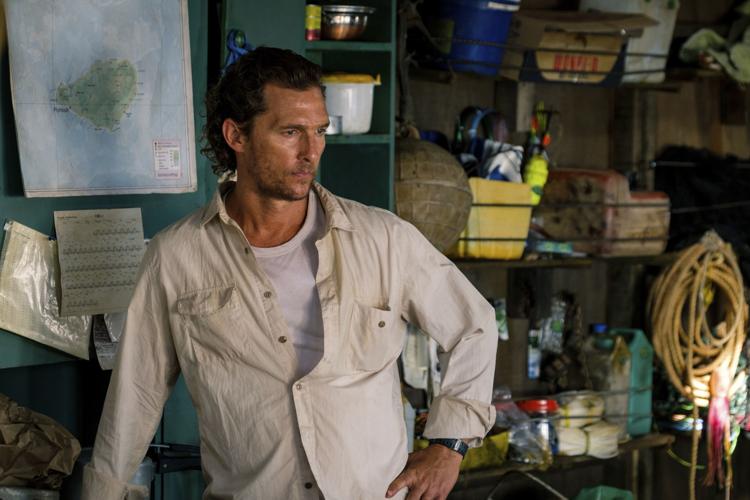 "Serenity" has plenty of atmosphere (you can almost feel the sweat rolling off Diane Lane's body), but little substance. McConaughey and Hathaway speak like Tennessee Williams characters; Djimon Hounsou (as Dill's first mate) looks like he wandered in from another film.
Clarke doesn't budge from his initial impression. He's the bad guy – no question. But McConaughey and Hathaway look like they could be playing one another for their own benefit. He bares his butt more than a stripper in "Magic Mike"; she dons more hats than Audrey Hepburn in "Breakfast at Tiffany's."
The two don't have believable chemistry together (even though both have sex scenes with others) and seem like iffy parents once we actually get a chance to see Patrick, the son they're both so worried about.
Because it has a stupid overriding concept, "Serenity" offers little in the way of satisfaction. When Knight finally reveals what's up here, all the sweating, drinking and one-dimensional role-playing seems pointless.
Sure, a tropical thriller is a good diversion in the winter. But when it's this thinly written, it's hard to work up a sweat. McConaughey needs to make better choices; Hathaway would be smart to avoid all roles that require her to dye her hair blonde.
"Serenity" is the chum both landed when they went fishing for something bigger.