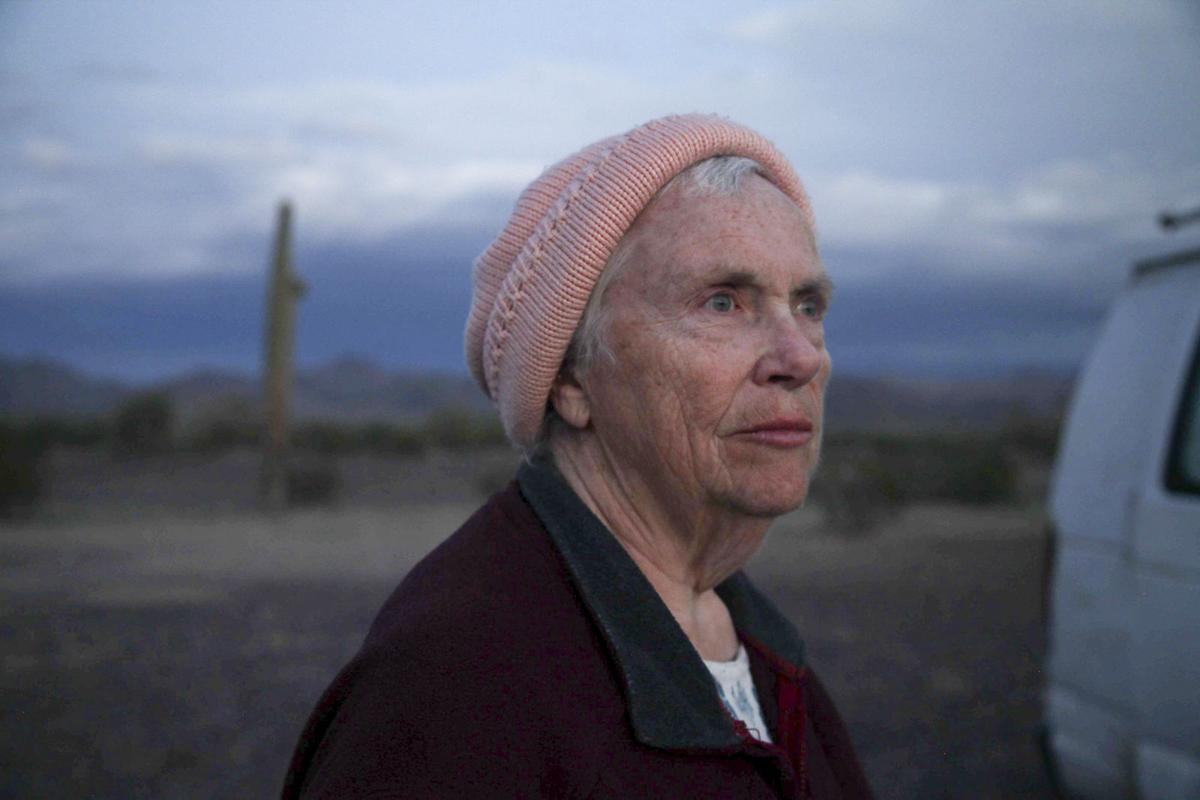 Starring in a hit film is one thing, but kayaking all 50 states? That's an accomplishment, says Charlene Swankie, one of the van dwellers featured in "Nomadland."
"Acting was not on my bucket list," she says during a Zoom interview. "I don't consider myself an actor but in some magical, surreal way, I've become a movie star."
Cast as a nomad in Chloe Zhao's award-winning film, she plays more of a character than most of the real nomads in the film. Swankie (the character is named for her) gets cancer in the film and has to make tough decisions about the life she has chosen. The situation, the newly minted star says, helps point up one of the key elements of the nomadic life.
"You've got to have health insurance," Swankie says. "I was lucky that I had health insurance. I would never tell women to go out there if they had pre-existing conditions. I would never advise them to hit the road if they didn't have medical coverage."
Enough money for gas and a vehicle "that gives you shelter and transportation" are also key. Swankie moved into her van at 64 – a time when she was struggling to pay her rent. It was, she says, a wise decision.
"Where do you get a decent place to live for $500 or $1,000 a month and still have money for food and gas? It's impossible in this day and age. Most women don't understand that in their early years. They give everything to their family and then they end up being forced on the road. I wasn't forced; I chose to go on the road."
That leap of faith came after she leveled with herself. "If you don't have a reason to stay, then you must have a reason to go," she says. "I was in a bad situation that wasn't healthy for me and I found I had to find something healthier."
A love for genealogy helped fuel her quest. That "50 state" kayaking goal didn't hurt, either.
"I set out in 2009 to kayak America. On my 70th birthday, May 16, 2014, I kayaked my 50th state, which was Hawaii." Out in the ocean – away from other people – Swankie let out a big scream. "I sat there in my kayak, in the ocean, screaming, 'I did it. I did it.' That has been the highlight of my life so far."
Uncertain what would happen to "Nomadland," Swankie kept the venture a secret. "I didn't tell my kids anything about the movie, prior to the premiere." After her youngest son saw it, she got an email and "all he said was, 'Was it true?' I knew what he was talking about. He couldn't tell if I was acting or not." (Spoiler alert: Swankie is fine, even though she says, "Most of the time, I wasn't acting.")
When she first saw the movie, Swankie admits she paid too much attention to detail. "I was picking it apart – 'Oh, we filmed that scene there'; 'There's so-and-so' – and I couldn't enjoy the story."
She watched several more times and saw where director Chloe Zhao was going with the plot. "I cried when I finally got it."
Now, she's like the poster child for "Nomadland." Once she kayaked states that were east of the Mississippi, she realized she didn't need to do that again. "I decided to stay west of the Mississippi. It's prettier, the water's cleaner, there's more space and fewer people. West is good."
To get into that road life mentality, however, she needed to rid herself of the past. "Give them away," she says of the possessions holding a person back. "Every time I took a load out to the street corner, I'd go back and take another load out." All of her dress clothes went to a women's shelter.
She kept family pictures, videotapes and her genealogy research (she was able to track her family to France in 1410 and got hooked on the venture). "Now, I'm trying to get everything digitized and sent off to libraries. I've been a genealogist for 50 years."
Generations from now, relatives will probably wonder what it was like to be Swankie in 2021.
And when they look up the stories that were written, they'll discover the truth: "I knew it would kind of re-prioritize some things for me," she says of the film. "But, basically, it hasn't changed my everyday life at all."