Photos: Look back at movie theaters in Sioux City
Walk down memory lane with our photos of movie theaters across decades in 20th century Sioux City.
Uptown Theater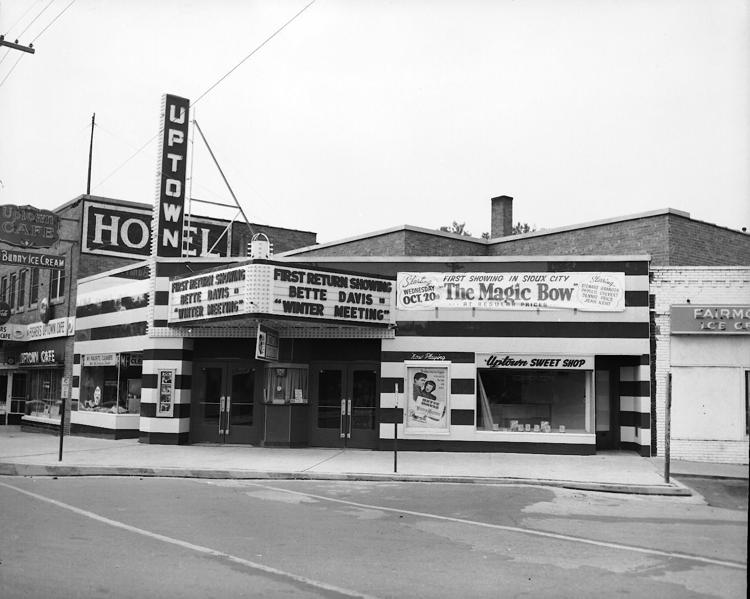 Iowa Theater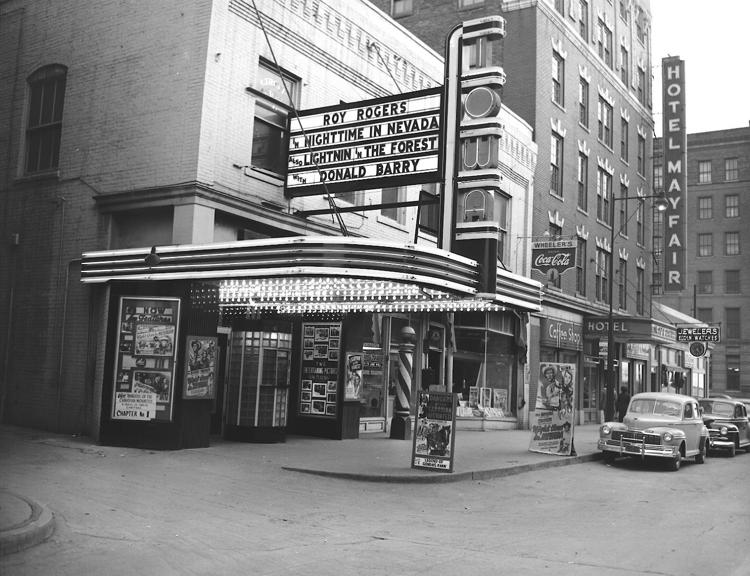 Riviera Theater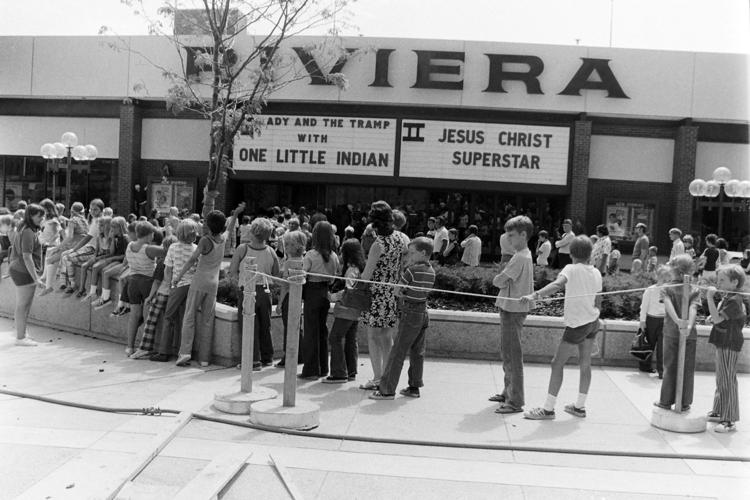 Hollywood Theater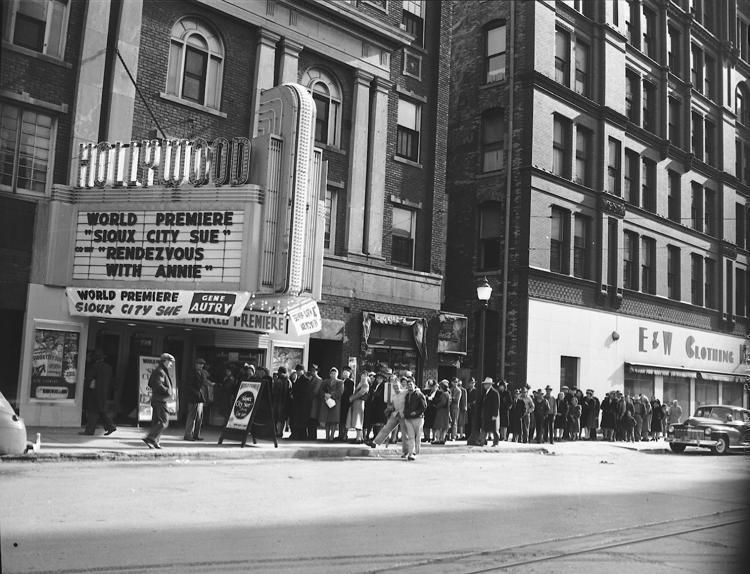 Hipp Theater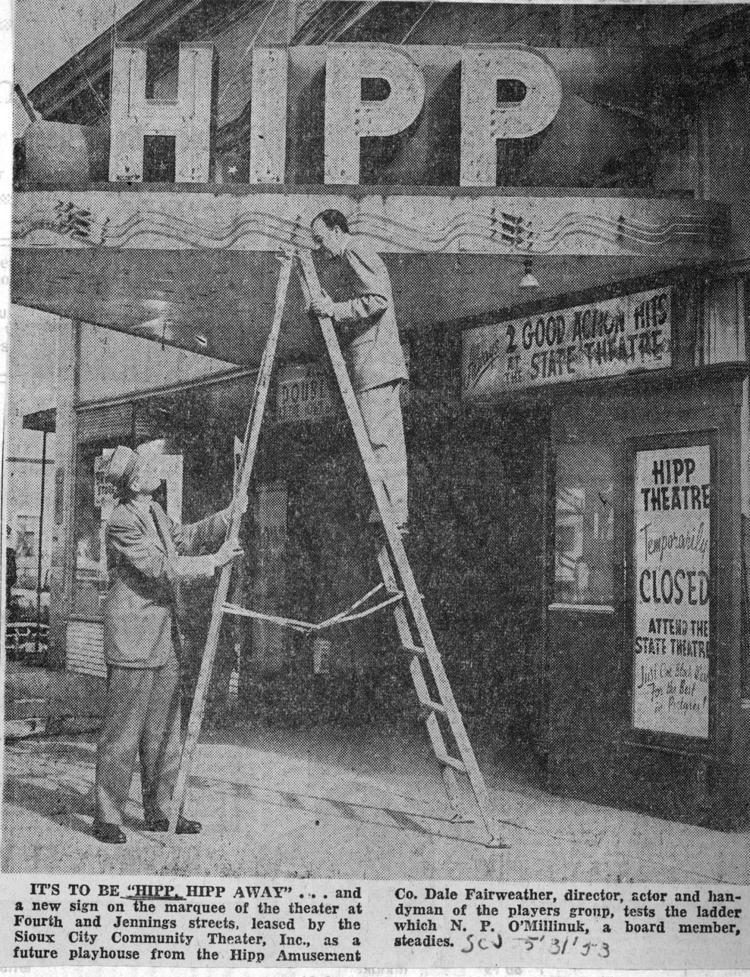 Orpheum Theater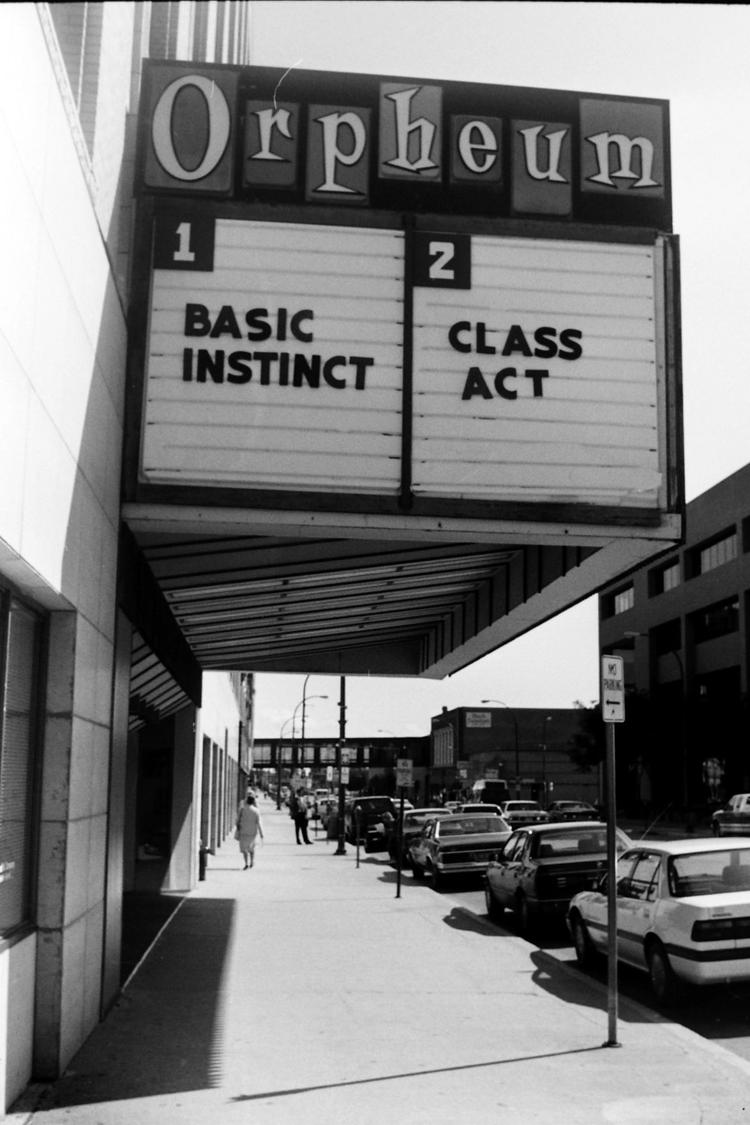 Lower Fourth Street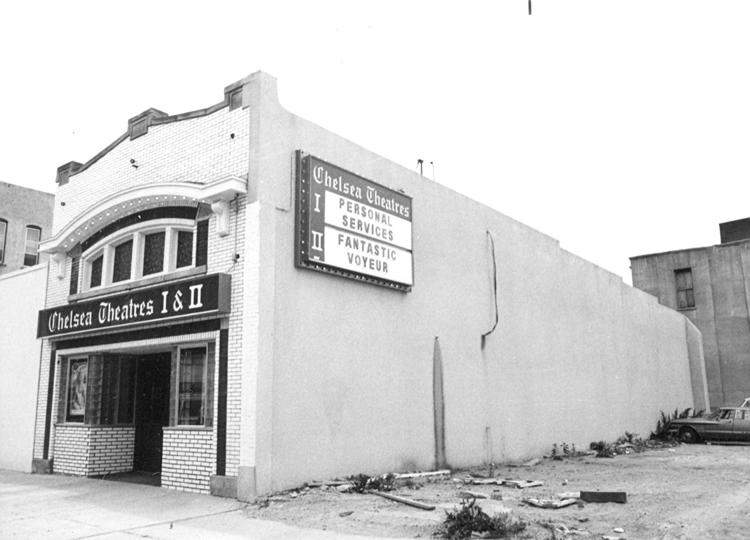 Capital Theater 1940-1959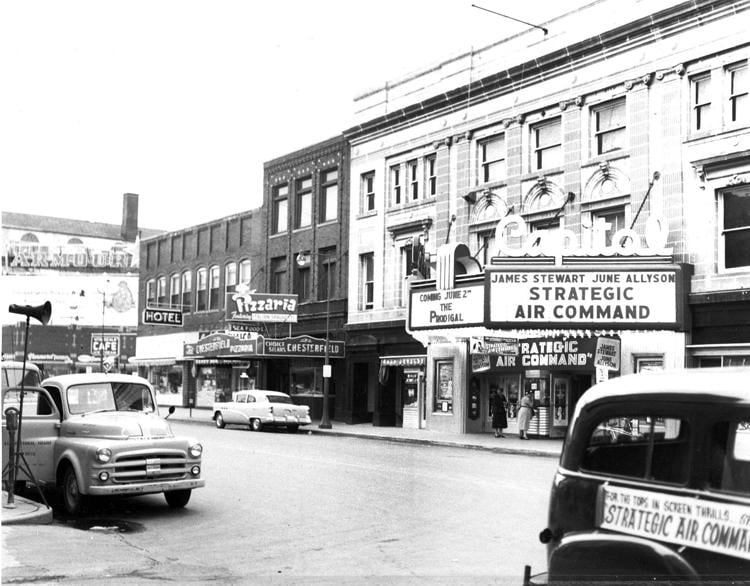 Riviera Theater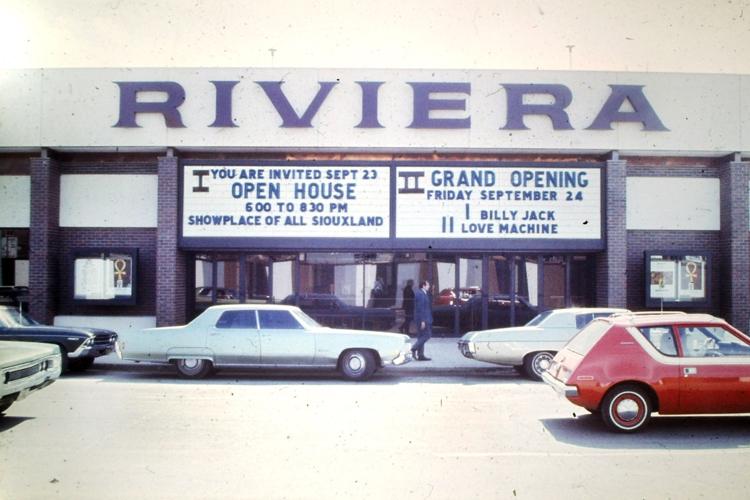 Gordon Twin Drive-In Theater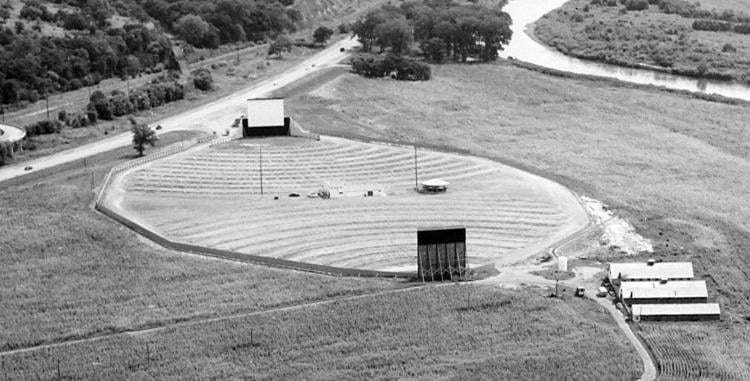 Esquire Theater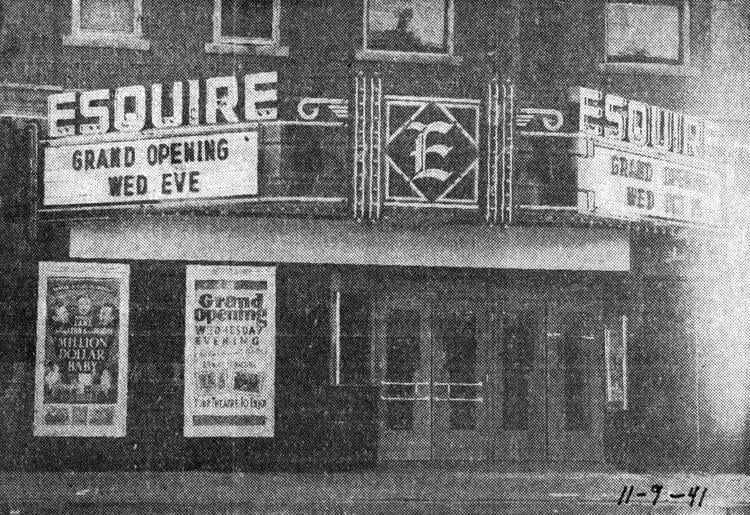 West Theater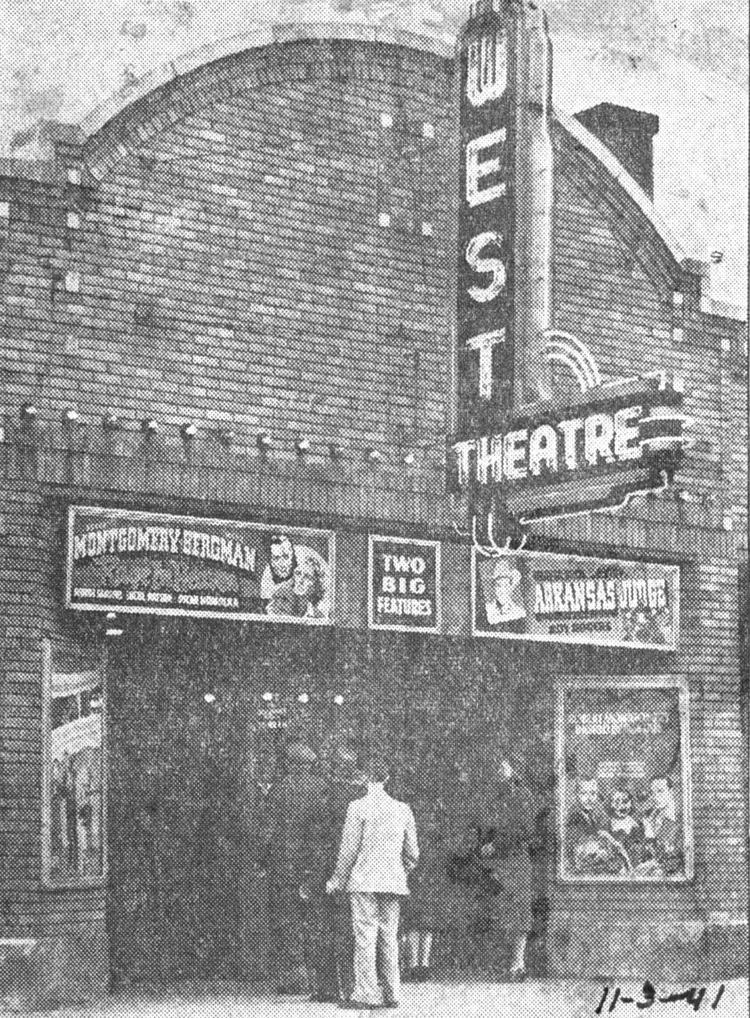 Lower Fourth Street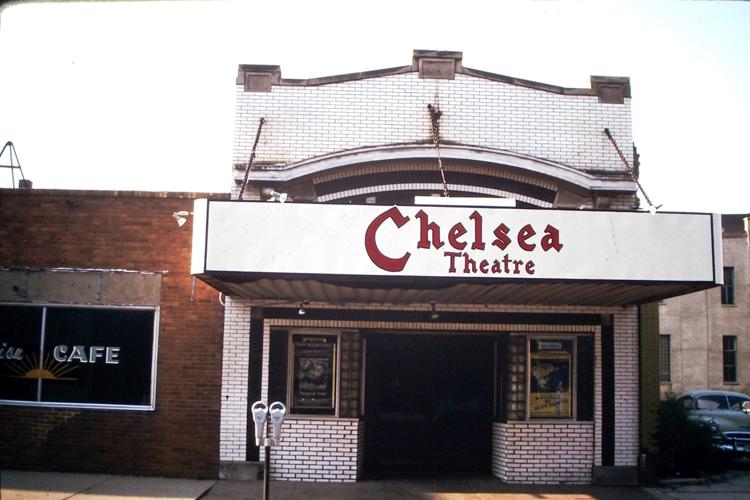 South Sioux City Drive-In Church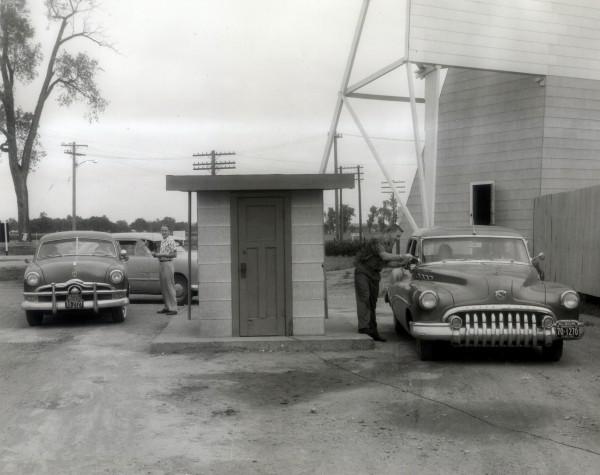 Victory Theater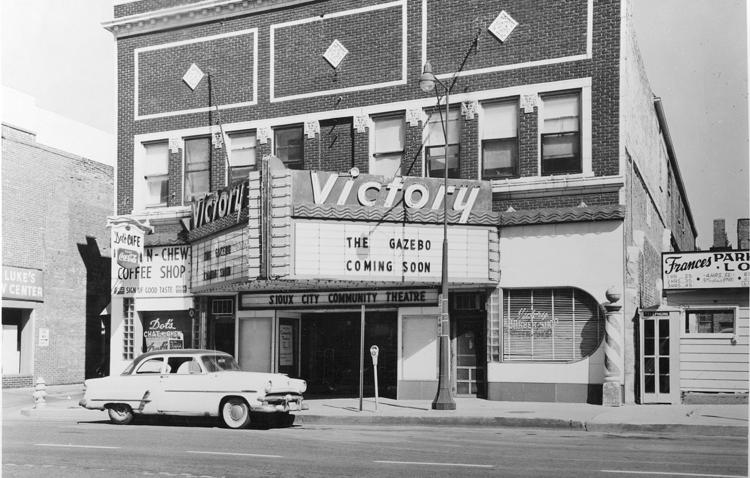 Related to this collection
You know you want to find out what sunk to the bottom of the movie morass in 2019. Join us as we count down to the very lowest of this year.
Historic images of blizzard conditions in and around Sioux City.
The Sioux City Journal profiles 50 Vietnam War-era veterans in 50 days.
As waves of older Sioux City School District buildings have closed over the past few years, developers have swooped in with a vision to make t…
See photos from the archives of Christmas in Sioux City.
SIOUX CITY | In its day, the 90-year-old Orpheum Theatre was no doubt a glamorous venue -- replete with crystal chandeliers, dizzyingly high c…
SIOUX CITY | Of the almost 1,200 artworks in the permanent collection of the Sioux City Art Center, only about 60 to 110 are actually on displ…
Photos from the archives from the Sioux City Public Museum.
SIOUX CITY -- For nearly 30 years, Country Music Hall of Fame members The Oak Ridge Boys have been a part of their fans' holiday seasons with …
DAVENPORT, Iowa (AP) — Police say the drowning of two men in a backyard Davenport swimming pool occurred when one man tried to save the other.
SOUTH SIOUX CITY -- New Stage Players will roll out a new program with acting workshops, scene work and complete productions for senior citize…
SIOUX CITY -- Overall attendance at Sioux City's three public swimming pools dropped slightly from 2018 to 2019, according to data provided by…
SIOUX CITY -- Federal authorities in Michigan are conducting a criminal investigation into a Sioux City plastic surgeon who already is accused…
SIOUX CITY -- The Sioux City Council moved forward an ordinance Monday that would require organizers to scale back the length of outdoor event…
Less than two weeks remains until the Aug. 23 opening of a new Bryant Elementary School, which replaces a prior school with the same name that dated to the 19th century.
After wrapping a short film, "The Ghost in Her", Dr. Michael Gerard White has just completed his feature film "Ever Fallen", a punk-rock tribu…
SOUTH SIOUX CITY -- New Stage Players will be presenting two performances of "The Orphan Train" as benefits for drama departments at designate…
Iowans have two options to place a sports bet: in any casino that applied for and received a state license to conduct sports betting, and through an online account. There is no option to call in a sports bet.
Animal control supervisor Ron Edwards says the smell of animal waste and decaying carcasses in the apartment was overwhelming. Workers found 41 live animals and more than 60 dead. Edwards says many of the animals had no access to food or water.
"Ready or Not" doesn't know if it's a horror film or a comedy.
A New York stage veteran, Walker says "Hamilton" is an assignment he and his castmates don't take lightly. "This piece is a testament to the fact that there is no such thing as an overnight success," Walker says.
Only Billy Magnussen as a goofy suitor coming to win Jasmine's hand and Nasim Pedrad as her handmaiden are welcome additions. Clearly, the animated version of "Aladdin" is efficient and entertaining. It gets the job done. This "Aladdin" messes around too much.
"Country Music" isn't definitive, but it comes pretty darn close, particularly when it uses those unforgettable songs as evidence.
Growing up in Nigeria, Olowofoyeku watched "The Fresh Prince of Bel Air" and "Martin" and dreamed of living in Hollywood. "I just never believed that it wasn't possible," she says. "I just had to be prepared for it."
As angry as he might seem on screen, Black is fine with the amount of work he already has. "I had started doing a bunch of Conans and a special or two for Comedy Central," he said. "All that came into play and then 'The Daily Show' pushed me to another level."
For Sanders, the show's reboot meant a chance to work with people who helped him carve a career in the industry. "If you're able to do what you love and you're able to go to work with people you actually want to work with, you're incredibly lucky and blessed," he says.
The reopening is set to happen with showings of "The Lion King." "The fact that we can get a movie with 'King' in the title, how awesome is that?" city councilman Doug Clough said energetically.
Similar shows like "Sesame Street Live" and "PAW Patrol Live" have gone over well on tour, a tour official said. The Midwest, in particular, is a good supporter, which made it easy for producers to launch the latest outing in Iowa.
Director Andy Muschietti isn't just reminding you of the characters from "Chapter One," he's also introducing their adult counterparts and tossing in a few extras. It's a lot to consider – too much, frankly, for a franchise that had a great first entry.
When an installment is as weak as "X-Men: Dark Phoenix," it's time to follow Wolverine's lead and check out. Jean Grey (Sophie Turner) is zapped, given super super-powers and acquires a nasty temper that makes her go ballistic when she discovers truths about her past.
In the current tour, which opened this week at Omaha's Orpheum Theatre, Joseph Morales finds ways to play into the each of the adjectives detractors use to identify him. He's a brash, bold vibrant Hamilton who gives his rival every reason to hate him.
Lopez makes this more than just another hustling film. She shows great depth, grit and intelligence. You don't look down on Ramona because she's determined to make sure she holds her head high. Her big dance sequence is remarkable and her lifestyle is attractive in a way that doesn't seem dirty.
Fans of the book may enjoy seeing how someone realized the characters. Others may wonder where the nuance went when Peter Straughan was adapting Donna Tartt's 780-plus-page book. The premise is plenty interesting; the execution not so much.
Unlike "Bohemian Rhapsody," the show isn't simply a retelling of the life of Queen's late frontman, Freddie Mercury. Instead, "We Will Rock You," which features a book by British comedian Ben Elton, takes place in an oddly Orwellian world 300 years in the future.
Aubrey Plaza's sense of humor isn't tapped in this film, nor is Brian Tyree Henry's innate acting talent. The two are simply bystanders in the ultimate Black Friday. "Child's Play" leads its characters down a path no one wants to go.
A lot of the shows are just mediocre. There's not a broadcast series that looks like it will stand the test of time. Nor is there a streaming series that makes you think you're in for another "Stranger Things." Wait for it, as "Hamilton" suggests. Something good should turn up.
The show – which stopped at the Orpheum Theatre on Sunday night -- throws a lot at the wall and little of it sticks. Spread out, the show might seem more interactive. On stage, it looks cramped.
Though the film obviously pitched at the television faithful, there's enough here to keep newbies interested – and maybe inspired to look at the whole series.
This isn't the space film to end all space films, but it is a good way to show that Pitt is much more than the sum of his parts. He make the most of every minute of silence.
Even more remarkable: She has been deaf since childhood but uses other parts of her body to absorb the music and create. Saturday, she opens the Sioux City Symphony Orchestra season with a program that demonstrates how she is able to mesh with orchestras and, as she says, "make music for the moment."
When Heaton ended her run on "The Middle," she vowed to live in London and experience a different lifestyle. Then life interfered, she put England on hold and she returned to work. "I still have dreams at the age of 61," she says with a smile.
There's still a question about Spider-Man's future.
While Everest is big and fluffy (just right for stuffed animal sales), he doesn't register the way other abominable snowmen have in two earlier films. It's also the kind of film that doesn't always play to restless children.
The festival will feature 52 movies from as far away as Japan, Kosovo and Tunisia on a big screen at the Promenade Cinema. "For the first time, the film festival is being held in a movie theater with proper equipment, proper movie snacks and comfy seating," an official said.
Since childhood, McMann has been a fan of the Nancy Drew books, Nancy Drew computer games and, yes, the Pamela Sue Martin version that aired on ABC. "When it came about, I was like, 'I've been doing this my whole life. I'm ready to go," she says.
Drugs are common but the decorative folk art that fills buildings takes any kind of edge off. Because it's so bright and seemingly nonthreatening, the world is immediately attractive to outsiders. And then? Director Ari Aster shocks early on and never quits.
Joaquin Phoenix is the reason to see "Joker." At the same time: This is not a film looking for a sequel.
"Brittany Runs a Marathon" doesn't cover new ground. It merely lets Jillian Bell travel a road Rebel Wilson and Amy Schumer (among others) hav…
The final season – which begins this week – will be like "Arrow's" greatest hits, executive producer Beth Schwartz says. "We're kind of tying up some stories that you could have seen in seasons three or two."
Directed by Alexandre Aja, the film has a very set-like look, too. Nothing seems very real. Nothing appears lethal. Only a house – that should have been repaired much sooner – has the ability to take out strong men and loyal pets.
From 1993: Tim Burton's "The Nightmare Before Christmas" is much more than a director's vanity project. Though it may never rival "Aladdin" terms of box office clout, it has the timelessness to be around for decades.
The Orpheum Theatre is going to be turned into Halloweentown on Saturday night, as the full "Nightmare Before Christmas" film will be shown alongside the symphony's performance.
A fire official said Wednesday that someone heard the man's cries for help a little before 6 p.m. Tuesday. First responders couldn't immediately find the man. Once he was found, he was rescued within 30 minutes.
When King died in 2015, some feared it would be "Partin' Time" for his music because "The Thrill Was Gone." But trumpeter James "Boogaloo" Bolden and other members of King's original band have regrouped without the maestro.
This is a lot of visual stuff that borrows heavily from the original TV series. Just as disappointing: There's a sing-along to the TV theme show at the end, but it's so tacked on you don't even really want to bother.
"Judy" isn't the tribute Garland deserves but it's certainly a step in the right direction. And Zellweger puts her heart into the project, coming away with an appreciation for her work and the woman's she's portraying.
It's gorgeous, but there are times when you miss the animated versions that didn't seem so threatening. Here, when animals attack, the fights are vicious. When wildebeests stampede, they're overwhelming. Even the "circle of life" meals have a decided taint.
Pauling, 35, who previously served as the Journal's retail and digital advertising director, had served as interim publisher since former publisher Ron Peterson retired in June. Pauling joined the Journal in 2008 as an advertising sales executive.
King – who's always good – ups her game as a budding baker who keeps a secret hideaway in her back room. She gets plenty of opportunity to play a fully formed superhero, too, and isn't afraid to confront the enemy head on.
Sisters-in-law in February opened the store, an appointment-only boutique with a vintage, bohemian vibe. Freebird Bridal offers high-end wedding gowns in a variety of styles and sizes, plus bridesmaid dresses, veils and jewelry.
Basically more of the same (with a new cast of "visitors"), the sequel is set 10 years later when a new breed of zombies – Terminator-level – are making it difficult to cull the herd.
An EP included "Drinkin' Problem," a single that attracted considerable attention and helped foreshadow what fans see today – a headlining tour. The song also brought two Grammy nominations and a slot with Tim McGraw and Faith Hill on their tour.
Sioux City schools superintendent Paul Gausman, a former high school band director, was among the local experts who participated at Community Arts Day at Hunt, a specialty school that emphasizes a music, dance, acting and visual arts curriculum.
She loved what "The Good Place" had to say about how we treat others. Because the series wasn't filmed before an audience, she and the others could get much of their work done in a reasonable amount of time and still have space for their families.
"You're going to see a lot of hopefulness and a lot of positive and really 'way-out-there' surreal creativity," he says, a departure from the first season. "We're doing things that they shouldn't allow us to do."
As with most "Fast & Furious" films, there's a silliness factor that isn't tempered by the impending doom. Instead of just road races, you get James Bond antics that let Dwayne Johnson and Jason Statham trade off the role of leading man.
The beginning of the trailer had little appeal for me. But where I started getting all of the feels was once Rey started talking. "People keeping telling me they know me. No one does."
The company is selling its Sheldon and Orange City operations to focus on theaters in Omaha and Sioux City. The latter underwent nearly $1 million in renovations in the last year, including the addition of recliner seats.
As a part of its two-month tour in the United States, the group is performing at various engagements across Siouxland until departing for Minnesota in early November. 
Routinely, a lot of the chatter wears thin, which prompts director Alfonso Gomez-Rejon to turn to maps that manage to namecheck just about every city the film is in.
To pay homage to the film, ABC will air a special, "The Little Mermaid Live," that uses live action musical numbers interspersed with scenes from the Oscar-winning film. For Menken, it's a great way to see the story in a different light.
Best known for such seminal hits as "Iris," "Dizzy" and "Name," the group hits the Orpheum this weekend for a show that coincides with the recent release of "Miracle Pill," the band's 12th studio album.
Drama nerds are going to love Disney+. In addition to a vault of old musicals, it boasts two new series that should kindle a little high school nostalgia.
When "Racing in the Rain" finally gets to its inevitable conclusion, tears fall – uncontrollably. Still, this film has little in the way of art, just a lot of familiar curves before the finish line.
The story many may be missing with the launch of "The Morning Show" is the rise of female voices in the entertainment business, the veteran actor/director said. "To be part of something with this large of a reach? That's really cool," he said.
The language is raw, but the emotions are real -- as will viewers' laughs. When the boys come to a realization about their friendship, "Good Boys" may be more heartfelt than any film since "Stand By Me." It cries for a sequel.
In pulling off the show, Westwood teacher and director Tom Gerking over two months will at varying times both lightly cajole and get tough with more than 100 students, who are juggling numerous other school and personal tasks.
The orchestra's principal flutist, Allred has performed with numerous ensembles and orchestras in solo capacities, but never with something as demanding as this. The catch: He's a college professor in Wisconsin and commutes to rehearse and perform.
Directed by Tim Miller, "Dark Fate" has so many similar battles it's frequently exhausting. Chase sequence after chase sequence just delays the obvious and doesn't really make this the "women power" exercise it should.
Rather than detail the emotional evolution Tubman went through, director Kasi Lemmons chronicles her many journeys and how she avoided being caught. That makes for natural drama, but Erivo never gets the moments that could have sealed the Oscar deal. 
Because the new edition follows a high school staging the Disney musical, the characters aren't exactly duplicates. Teens may be vying to play Troy or Gabriella, but they're not those characters. 
"About half of our choir is made up of music educators," music director John Flanery said. The other half? "Elementary school teachers, dentists, attorneys or anybody with a passion for music."
Unlike the Hallmark films this seems to resemble, this film spends too much time making Henry Golding seem mysterious. The two stars, Golding and Emilia Clarke, are cute, but both of them have been down this road before and gotten better results.
Touching, vulnerable and heartbreaking, Awkwafina enters the world of drama with great confidence and comes away with a performance that shouldn't be lost in all the holiday film hoopla.
The odds are good you haven't seen this year's Best Picture. Or Best Actor and Actress, Bruce Miller says. Why? Because most of the Oscar-bait films don't get released until the last weeks of the year, a so-called prestige season for producers.
Because few were aware of the concept when "The Masked Singer" started, the stakes weren't high. Now, as one of the hit series on Fox, there's plenty of buy-in and attention.
Boring for long stretches at a time, it tries to show what a celebrated architect does when she's confronted about her behavior. But we know where Bernadette went. We're just not sure she's worth the effort to follow.
Both Tony winners for Best Supporting Actress in a Musical (Mendez won for "Carousel," Miles won for "The King and I"), the two found "All Rise" the perfect setting for a new chapter. But it's a learning curve best taken with a friend.
Czuchry read physician memoirs to get in the head of someone just beginning the profession. He quickly realized medicine is not a perfect science. He also concluded a patient needs to be honest with a physician.
Because it's not the Fred Rogers story, "A Beautiful Day" has the ability to take risks without betraying its inspiration. Hanks make it a beautiful day in the movie theater with his performance.
Thanks to Oscar winners Robert Lopez and Kristen Anderson-Lopez, there's ample music for all. Idina Menzel gets another wailing "Let It Go"-type song and Jonathan Groff comes out of the female leads' shadows and delivers a pretty good power ballad.
In "The Walking Dead," Payne was constantly battling zombies. Because he was surrounded by them throughout the day, he often had zombie dreams when he got home. Now, he says, "I'm super scared I'm going to get serial killer dreams with this."
The man told police that movies were "ruining the world." He was arrested Saturday after he tried to set a fire at a movie theater and later set fire to paper towels in the movie aisle at Wal-Mart.
In this mounting, which was nominated for an Olivier Award for best revival and heads to Omaha next week, Jesus is like a rock star, a singer/songwriter who has amassed a group of fans.
Based loosely on her life, the Showtime sitcom started as a Sundance film, then attracted network attention and, finally, a series deal. "At 51 and never having had an acting gig? That's unreal," she said.
Because he's on the bandstand throughout the musical, Clove says he gets to marvel at the moves the show's dancers execute. The show's choreography won the Tony Award and, routinely, wows the audience.
In the process of exonerating Jewell, Clint Eastwood also manages to take a broad swipe at reporter Kathy Scruggs. Because Scruggs isn't around to defend herself, Eastwood's storytelling is just as questionable as the case against Jewell.
Writer Steven Knight says he wanted to see an attractive Scrooge, someone who, "given a different circumstance, a different history and a different way of being, would be a personable human being." Enter Pearce.
The series is obviously pitched at "Downton" faithful, but there's enough here to keep newbies interested – and maybe inspired to look at the whole series.
Trumpets have been used to signify the start of battle, to cast a mournful motif at funerals, and to create a festive soundtrack for all sorts of celebrations, the legendary Vince DiMartino said. It can also really make a Christmas party swing.
"I expect sold-out shows," the general manager of one Sioux City theater said. The Promenade is expected to dedicate at least its four largest theaters to show "Skywalker" on the first few days.
Charlize Theron looks so much like Megyn Kelly in "Bombshell," you'll think it's a much more substantial film than it is.
Veteran directors like Quentin Tarantino and Martin Scorsese offered career-defining works. Lulu Wang and Greta Gerwig proved women can be a powerful force. Here's the finest in big screen work this year.
Capturing all of the "Wizard of Oz" star's mannerisms and vocal tics, Zellweger storms through the singer's final days and gives us a glimpse of what it must have been like to achieve stardom so early in life.
The singer, whom the iconic musician Chet Atkins once said was "single-handedly saving country music," is bringing his Bluegrass and Christmas show to a Sioux City audience.
When there's so much content to view, it's difficult to say what tops the list. Still, certain series, specials, and films tend to linger. When the dust settles, those are the projects that matter. Here's Bruce Miller's best.
To show what cheerleading is like – and how grueling it is – filmmaker Greg Whiteley took a film crew to Corsicana, Texas. There, he captured who got on a championship team, how they maintained their positions and what their personal lives were like.
What should you expect from the Oscar nominations? Bruce Miller says timing is everything, and there's intrigue about how well the 800-pound gorilla will do. (That's Netflix.) But Golden Globe results could be an indicator too.
Creator Austin Winsberg does a fine job with casting, and there's a germ of something here. But it's never quite clear what it could be.
When you normalize the Addams family, you ruin the Addams family. And that's exactly what happened here.
The suspect told police that movies were "ruining the world," court document said.
All three say they were excited to get to play the game one more time with host Alex Trebek. "If anybody is irreplaceable on TV it's this guy right here," Ken Jennings says, gesturing to Trebek. "He never fumbles a word."
When the new installment, "Star Trek: Picard," premieres this month, it will boast something other editions haven't had – a Pulitzer Prize-winning showrunner.
This sequel is just another visit, not a whole new twist. When the initial thrill is gone, it's just another Man versus Zombie video game.
The companion series to "9-1-1" finds the 55-year-old actor as the lone survivor of a Manhattan firehouse on 9/11. He's called south when a station there has to regroup after its own tragedy.