Even at the peak of his rom-com period, Hugh Grant was never better than he is in "Paddington 2."
Cast as a hammy actor forced to do dog food commercials, he chews more scenery than director Paul King can throw at him. He's a one-man show, shoehorned in a family film that never seems to lag.
Grant's Phoenix Buchanan turns up when the Brown family visits the Kozlova steam fair. He calls Paddington up on stage to help open the event and discovers there's a pop-up book that just might lead him to a big treasure.
On his way to finding it, Grant dresses in all sorts of guises and helps get Paddington arrested for stealing the book he wanted to give his Aunt Lucy.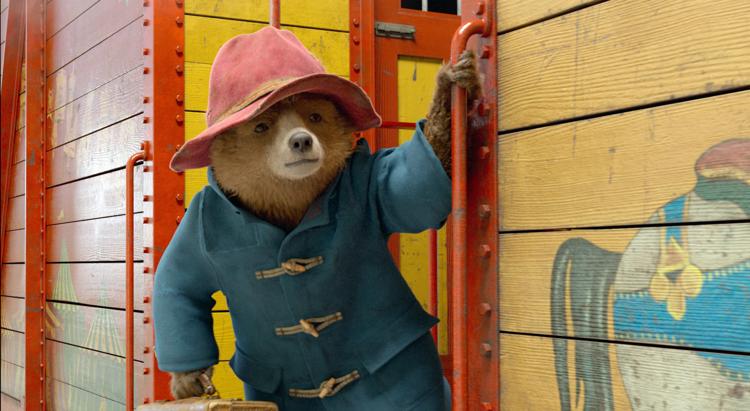 Sentenced to prison for his deeds, Paddington (voiced by Ben Whishaw) is assigned to the laundry where he turns the uniforms pink and manages to complain about the food.
When he teaches a fellow inmate how to make marmalade, the tide turns and, soon, the gang is willing to help him clear his name and get the book.
King makes sure there are plenty of goofy problems before Paddington lands the big one. The combination of animation and live action is so good you'll feel the bear's warm hugs and giggle at his ingenious way of washing windows.
Wherever Paddington goes, there's trouble. Wherever Grant goes, there are laughs.
He calls on the gods of theater and, in the process of eluding authorities, manages to mix it up with some of the current stars of the British stage. Jim Broadbent, Tom Conti, Peter Capaldi, Imelda Staunton, Brendan Gleeson, Eileen Atkins and Joanna Lumley are all here but they can't hold a skull to Grant.
When the Browns (led by Hugh Bonneville and Sally Hawkins) discover what's up, they zip into action and help chase Grant and Paddington on two trains headed in the same direction.
There are plenty of stunts, a big song-and-dance number and some of the cutest visual gags this side of Winnie the Pooh.
Paddington isn't quite as passive as Pooh but he has the same magnetic quality. When Buchanan doesn't warm to him immediately, we know he has to be a bad guy.
King lets it all play out in due time, but he also adds a heartwarming end and a credits sequence that will make you want to stick around until the bitter end.
If there's going to be a "Paddington 3" (and why wouldn't there? This is destined to be a huge hit), there has to be a way to bring Grant back.
He's the only person who could make the bad guy ferociously good and extremely fun to watch.