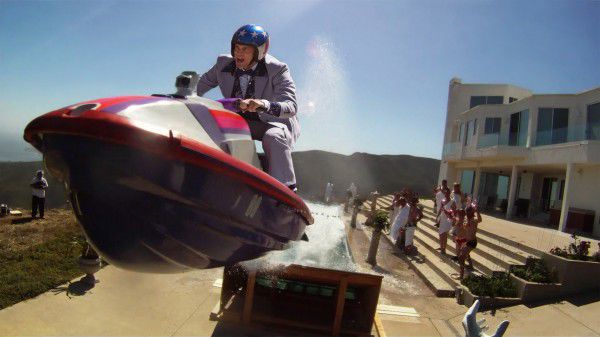 You know the "Jackass" guys have jumped the shark when they use a Lamborghini to pull a tooth.
And, that's just what happens in the latest 3D edition that brings them, um, up close and personal.
Using the same mix of pranks, dares and surprises that fueled their MTV series, Johnny Knoxville and company manage to entertain (in a 14-year-old boy's version of "America's Funniest Videos") in a way that says they've got a lot more money at their disposal. In addition to the flashy car, they trot out elaborate miniatures (for a vile pooh volcano), an oversized prop hand and a series of ramps and runways that would make Evel Knievel drool.
There is no plot – in case you were wondering. "Jackass 3D" is nothing more than a reunion of bad boys, no class required. The 3D just makes some of the stunts pop.
Because we've seen their antics many times, none is particularly fresh. In fact when the premise is revealed it's almost a certainty who's going to be involved.
Knoxville, the leader, for example, likes playing rodeo clown. He runs from rams and other animals until, ultimately, he gets hit in the privates.
You have free articles remaining.
Steve-O is the king of pooh and vomit, so he's the one who's locked in a porta-pot and sent flying on bungee cords.
Bam Magera gets his time in a pit with snakes (and lets his own loose with a hand-held camera) and Chris Pontius is naked more than anyone would like.
The new camera techniques enhance something like "Rocky," a stunt that involved a boxing glove and a bottle of water. In slow-motion, you see someone get a bottle of water from one side and a punch from the other. It's done in slow-motion and it has a neat, cinematic effect. The boys do it often, suggesting they needed more stunts to fill out this edition.
A Christmas Tree bit is good; a midget melee does, too. But a bit in which Preston is put in a plastic suit and forced to sweat is just gross. It prompts Steve-O to vomit – something few want to see.
There's more male nudity than a strip show and a weariness that suggests it's time for "Jackass" to extend its franchise to a younger generation.
Director Jeff Tremaine doesn't mess with his formula but he also doesn't have the originality that would make you think a third outing is necessary. This is business as usual. The guys are older, richer and slower but they're still game to try anything.
Even that tooth pulling smacks of payoff – if the guy gets rid of the crooked tooth, he can always get a better implant.
While too many reality shows have made us skeptical of anything that's spontaneous, there's something about "Jackass" that seems genuine. It's like tagging along with a bunch of frat boys but knowing they really don't care if they make it through college.