"The Post" isn't so much a film about the Pentagon Papers as it is the story of one woman's shift from figurehead to publisher.
Director Steven Spielberg uses the case to show how Katharine Graham dealt with a crisis of conscience – does she listen to her editor, Ben Bradlee, and publish the controversial documents regarding American involvement in Vietnam or does she keep the peace with her friends, many of whom are insiders in Richard Nixon's White House?
How Graham (expertly played by Meryl Streep) weighs her options is part of the film's thrill. She's tight with Defense Secretary Robert McNamara (Bruce Greenwood) and expected to woo potential investors when Bradlee (Tom Hanks) pushes for publication. Because the Post is behind the curve (the New York Times got the documents first), they have to play catch-up. When they do, the wheeling and dealing begins and Graham has to pick a side.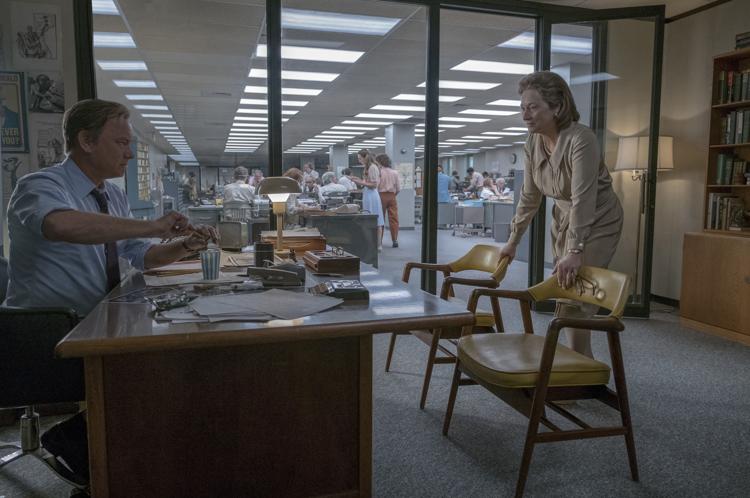 Spielberg captures the era with exactitude, showing just how laborious journalism was before the era of computers. When Bradlee assembles reporters to sort pages, you can see the legwork necessary to craft the story. Carrie Coon, Bob Odenkirk and David Cross get the vibe right while Jesse Plemons, Bradley Whitford and Greenwood give Graham's world dimension.
Spielberg uses familiar camera angles to telegraph the stories' highs and lows – the film's only weak spot. Real Nixon phone calls give it heightened reality.
While "The Post" isn't as revolutionary as "All the President's Men," it is a good reminder of the role journalism plays. At a time when "fake news" is bandied about as a way to undercut the profession, it's great to see why reporters do what they do.
Technology may have changed; commitment hasn't.
And that's what you see in Streep's performance. She shows Graham's ambivalence and anxiousness. Although she was thrust into the role (her husband died), she didn't want the ship to sink on her watch. Meeting with lawyers, she grows in confidence until Bradlee makes the call and the race is on.
Streep is better here than she was in her last Oscar winner, "The Iron Lady." Hanks keeps up but he isn't given the same arc.
When they're together, "The Post" moves faster than a high-speed printing press.
It's a crackling thriller, no matter what the headlines have to say.