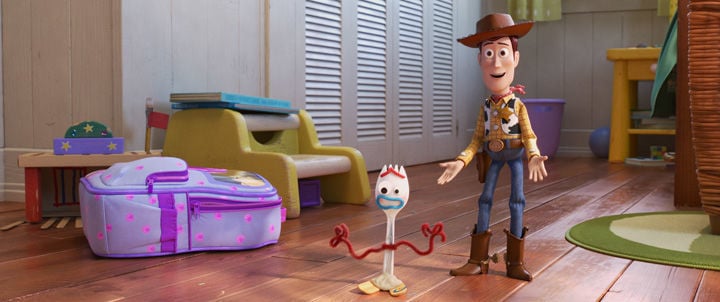 "Toy Story 4" is like the later seasons of "Glee."
The concept is still good, it just should have passed the baton to another generation.
Woody, Buzz and company are now in the employ of a girl named Bonnie. She's on her way to kindergarten and, naturally, she's apprehensive.
In that first class, she fashions a character out of a spork that she dubs Forky. He's her new best toy and Woody views it as mission to keep the outsider safe.
On a family trip to Yellowstone, Forky gets lost repeatedly, sending Woody into a panic.
Director Josh Cooley offers plenty of excitement but he also introduces a raft of new characters – from an antique store, a carnival and a bedroom that, frankly, has too many toys to begin with.
That means very few characters, Buzz included, get sufficient screen time. Most of it is taken up by Woody (Tom Hanks) and Bo Peep (Annie Potts), who reconnect after he slips into Second Chance Antiques looking for Forky. There, a bunch of new toys (including some creepy ventriloquist dolls) reign. Another pull-string doll, Gabby Gabby, seems nice at first but has Ursula intentions. She targets Woody and, before you know it, there's a sharp turn left from the "Toy Story" we've known. Buzz (Tim Allen) and company are still along for the ride, but they're accessories, not key players and that's where this installment disappoints.
Cooley wants to keep the team together, but he's torn by the newbies. Even Forky doesn't get the attention he deserves. With a pair of carnival toys, a daredevil (named Duke Caboom and voiced by Keanu Reeves) and those antiques store retreads, there's a lot to consider.
You have free articles remaining.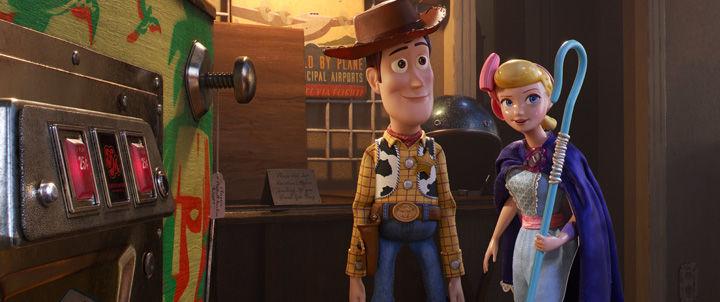 Luckily, Woody and a re-energized Bo don't let their moments slip. Bo gives the franchise a strong female presence (who makes a strong case for saving toys with broken limbs or missing pieces) and a reason to reboot this as a different "Toy Story."
Because the third installment was so perfect, it wasn't necessary to add a fourth.
Yes, it lets us see the toys in another child's home, but they're not exactly mowing new lawn.
The outliers, however, have another story to tell and that's where this should have gone. If there are more editions (and why not? They're beloved), it'd be good to tell their stories. The antiques store offers a host of possibilities (most of them extremely dark), while the carnival suggests a different brand of toy owner.
Forky (Tony Hale) is a great new character – extremely dim and unable to focus. But all those retro toys are primed for a new chapter.
Cooley conjures the saddest scene in "Toy Story" history (bring tissues), but he also gives it new hope.
To prove as much, he adds those credits sequences (a la "Avengers") that prime the pump. "Toy Story 5" seems inevitable. But a new class is likely.
This gives Woody, Buzz and the gang a heartfelt out.
'Toy Story 4'
Rated: G, suitable for all audiences
Stars: 3
Bruce's Take: It's a tearful goodbye to toys we thought had left several years ago.