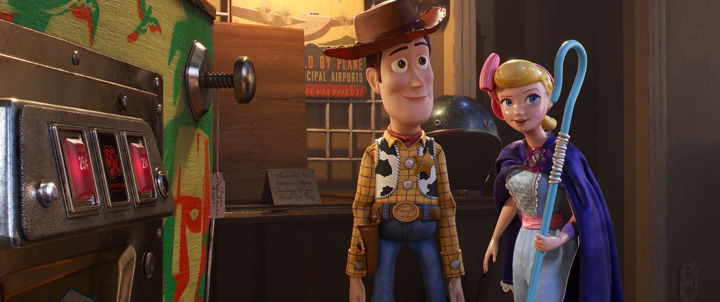 When it comes to summer blockbusters, "Endgame" was this year's endgame. We're not going to see anything bigger or more successful.
But that doesn't mean other films can't find a sliver of the leftover sun.
From a live-action "Lion King" to a screen biography of Elton John, there's plenty to savor and consider outside the Marvel Universe.
Post-Memorial Day, here's what stacks up:
"Godzilla: King of the Monsters" – OK, we don't need another Godzilla film. But what if we threw in Mothra and a few others? Vera Farmiga and Ken Watanabe represent the human side of the equation.
"Ma" – Easily one of the scariest films of summer. Octavia Spencer plays a woman who lures teenagers into her home, then lays down the law. Not since Kathy Bates have we seen such "Misery."
"Rocketman" – Could Taron Egerton pull a Rami Malek and win an Oscar this year? He plays Elton John in a heightened screen biography. The music is there and, yes, some of the secrets are, too.
"Dark Phoenix" – The X-Men are back (but which group, you say) and ready to deal with a darker Jean Grey. Forces have made her evil and the others have to do a little magic of their own. James McAvoy, Michael Fassbender and Jennifer Lawrence are back.
"Late Night" – Look for Oscar potential from this one. Emma Thompson has an early grasp on the prize as an acerbic late-night talk show host who has to do some maneuvering to stay relevant. She hires Mindy Kaling (who wrote the screenplay) to help punch up her comedy.
"The Secret Life of Pets 2" – They're back! This time they're headed outside their apartment to find a different world of fun.
"The Dead Don't Die" – Zombies have always been a problem. This time, they're making the lives of cops extremely difficult. Adam Driver and Bill Murray play the cops under Jim Jarmusch's direction.
"Hampstead" – Diane Keaton falls in love with a man who bucks developers wanting to take his home.
"Men in Black International" – Will and Tommy Lee aren't on duty this time out. Chris Hemsworth and Tessa Thompson slip on the black suits and have to deal with odd things happening in London.
"Shaft" – You get a real trifecta here. Richard Roundtree (the original), Samuel L. Jackson and Jessie T. Usher play three generations of the family, hoping to help the youngest discover who killed his best friend.
"Child's Play" – Chucky's back, but this time he's a little more high-tech. Aubrey Plaza and Brian Tyree Henry star. (Mark Hamill provides the doll's voice.)
"Toy Story 4" – As long as we're in a toy mode, why not bring back Buzz, Woody and the gang? They get separated during an outing and meet a new toy, Forky (voiced by Tony Hale). Expect tears.
"Annabelle Comes Home" – As if Vera Farmiga didn't have enough with Godzilla, she now has to deal with that wicked doll. This picks up that horror film set in the 1970s and shows how other spirits factored in. Patrick Wilson returns as her husband.
"Limited Partners" – Tiffany Haddish and Rose Byrne start a beauty company. Problems ensue.
"Three Peaks" – Two battle for the love of a child. Danger is involved and a lot of unnecessary maneuvering.
"Yesterday" – What if you pretended you wrote all the Beatles songs and everyone believed you? That wild premise comes to life in this comedy from Danny Boyle, the man behind "Slumdog Millionaire."
"Spider-Man: Far From Home" – You couldn't go a month or two, could you, without a new Avengers film? In this stand-alone, Peter Parker goes to Europe with his friends and meets Nick Fury who has a proposition. Tom Holland and Samuel L. Jackson (the man of summer) star.
"Midsommar" – The director of "Hereditary" now takes on a Swedish village where a vacationing couple encounter a cult.
You have free articles remaining.
"The Art of Self-Defense" – Jesse Eisenberg enrolls in a karate class in order to defend himself. In the process, he discovers much more.
"21 Bridges" – Cop killers. Conspiracy theories. New York lockdown. Chadwick Boseman and Sienna Miller star.
"Crawl" – Yet another horror film. This one forces a woman to fend off alligators following a hurricane.
"Stuber" – Looking for another mismatched pair comedy? Kumail Nanjiani and Dave Bautista play an Uber driver and a cop (guess who's who) who search for a killer.
"The Farewell" – Awkwafina capitalizes on her "Crazy Rich Asians" success with this charming look at a wedding designed to bring everyone together when she discovers her grandmother is dying.
"The Lion King" – You loved it so much as a cartoon and a Broadway musical, Disney had to bring it back. This time, you don't get Matthew Broderick. You get Donald Glover. The live-action edition should be similar to "The Jungle Book" since director Jon Favreau was behind both.
"Once Upon a Time In Hollywood" – A Quentin Tarantino film is always an event. In this slice of "what if?" he looks at the film capital in the late 1960s, when Charles Manson was a threat. Leonardo DiCaprio plays a fading actor. Brad Pitt is his stunt man. Expect Oscar attention.
"Brahms: The Boys II" – Katie Holmes gets to mess around with that doll named Brahms in this sequel.
"Dora and the Lost City of Gold" – The exploring goes to South America where Dora has to rescue her parents.
"Hobbs and Shaw" – New duo, entry No. 2: Dwayne Johnson and Jason Statham team up in this spinoff of "Fast and Furious." They're on the hunt for a bad guy who's even worse than Statham's character. Idris Elba and Helen Mirren are also in tow.
"Artemis Fowl" – A lot of big names turn up in a story about kidnapping and family fortunes. Kenneth Branagh directs.
"Brian Banks" – Aldis Hodge plays a former NFL player who was falsely accused of rape and spent six years in prison. Greg Kinnear co-stars.
"The Kitchen" – This almost sounds like "Real Housewives of New Jersey." Melissa McCarthy, Tiffany Haddish and Elisabeth Moss play mob wives who take over their husbands' businesses after they're arrested.
"Scary Stories to Tell in the Dark" – Teenagers discover a book written by a girl with issues. Guillermo del Toro produced this.
"Blinded by the Light" – Bruce Springsteen becomes the role model for a Pakistani teen, much to his parents' dismay. It's a push-pull kind of story that hopefully brings everyone together.
"Where'd You Go Bernadette" – Cate Blanchett plays a woman who wasn't the most popular among friends and family. She disappears and her daughter has to figure out what happened. Richard Linklater directs.
"47 Meters Down: Uncaged" – Girls. Sharks. Caves. Drama. Boom-boom-boom-boom.
"The Angry Birds Movie 2" – Are they really still a thing? The birds join the pigs to take on a new rival.
"Good Boys" – Like "Superbad," this shows how far an R-rated film can go with the younger set. Here, three 12-year-olds learn plenty while searching for a way to fix a drone. Jacob Tremblay stars. It's rated R.
"The Informer" – An ex-con works to take down a mob boss and winds up in prison. Joel Kinnaman stars.
"Playmobil: The Movie" – Animation. Girl. Magical world. Daniel Radcliffe's voice.
"Angel Has Fallen" – If you weren't a fan of the Olympus and London editions, you won't care for this either. Gerard Butler returns as the Secret Service agent accused of an assassination attempt.
"Overcomer" – A coach tries to help a girl achieve her athletic dreams. Alex Kendrick (who also directs) stars with Priscilla C. Shirer.
"It Chapter Two" – This picks up the first film, 27 years later and what happened to the Losers Club. Be wary of clowns bearing balloons.
Copyright 2019 The Sioux City Journal. All rights reserved. This material may not be published, broadcast, rewritten or redistributed.