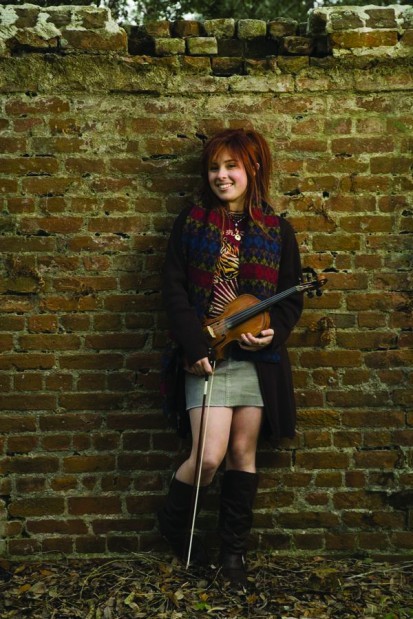 Miley Cyrus almost wasn't famous.
That's because Cajun singer/fiddler Amanda Shaw auditioned for the role of Hannah Montana before deciding against taking the part.
"I had done two Disney Channel movies previously," Shaw said. "But I realized it was something I didn't want to be a part of after I found out what the show was really about — being a product. I wanted to make records I was really proud of."
So is she jealous of Cyrus' success?
"I mean yeah, that could have been me," Shaw said. "But I wouldn't want that. I love music and I love sharing it with people – especially the fiddle. I want to do it my own way."
Growing up in a suburb of New Orleans, Shaw's musical interests began when she was 4 years old. While watching a TV show featuring violins one day, Shaw told her parents she wanted to play.
"My parents were like, 'Are you sure? We used to make fun of the kids in school who played that,'" Shaw explained. "I'm the only one in my family who has ever played music. But they are so supportive of it even if they don't understand where it came from."
Starting out taking classical violin lessons, Shaw soon became interested in the musical flavor of her home region — Cajun.
"I began by going out and sitting with bands," Shaw said. "I would listen and eventually they would allow me to play with them. Cajun songs are not written down and so it was all by ear."
Shaw remains adamant that both types of styles are important.
"I still play classical every now and then," Shaw admitted. "I even take lessons with my original teacher. It keeps me technically grounded. But fiddling is so important to keep the mind sound, improv is great because you never stop learning."
Standing just 5 feet tall on a good day, the singer claims that height has nothing to do with how great a performer a person is.
"It's all about playing from the heart," Shaw said. "Especially with the Cajun tunes it's all about filling up the room with the sound."
Just back from a month-long tour in Switzerland, Shaw said she's never played in Iowa before but is excited to be a part of the festival.
"Our set will just be about having fun," Shaw said. "We want everyone to just get up and dance. We'll play some Cajun tunes and of course stuff on the new record."
Her new record, "Good Southern Girl," describes Shaw exactly the way she is.
"The album and song (with the same name) is just about being proud of where I'm from," Shaw said. "It's about the sense of being home."
Fiercely proud of her roots, Shaw has been devastated not only by Hurricane Katrina but oil the spill in the Gulf.
"When Katrina hit, my family actually evacuated," Shaw said. "It was the first time we had ever left. But my grandparents stayed put. They were those people who had to be rescued from their roof because the water got so high."
Recently, she went to the Gulf to see the devastation.
"I met with fishermen who can't even read or write," Shaw said. "This is their only way of life and that is being stripped away from them. As a community we need to say prayers for these people and try our best to find a way to prevent this from happening in the future."
Maybe Shaw isn't the next Miley Cyrus, but she truly is a good Southern girl. 
"I live for every day," Shaw said. "I am such a lucky girl in everything that I have right now. I don't make goals, part of the fun is the ride, just being able to perform is enough for me."